Sports
It's time to answer your questions about Super Bowl LVII
Where is the Super Bowl? Who will perform at halftime? What should I know about the Chiefs and Eagles? We've got all of those questions answered for you.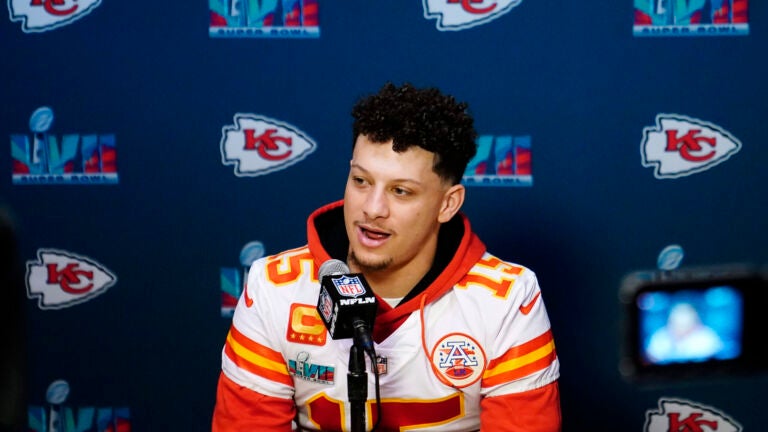 Q: What time is the Super Bowl?
A: The official kickoff time is listed as 6:30 p.m. Eastern time Sunday, although the bonanza of pregame coverage begins at 1 p.m. on Fox and several eternities earlier in other corners of sports television.
The scheduled kickoff time translates to 5:30 p.m. Central time, 4:30 p.m. Mountain time, 3:30 p.m. Pacific time and 1:30 p.m. Hawaii time.
Q: Where is the Super Bowl?
A: The game will be played at State Farm Stadium in Glendale, Arizona, northwest of downtown Phoenix. It looks like a spaceship in the middle of the desert and usually hosts Arizona Cardinals games.
Q: What channel is the game on?
A: The game will be broadcast on Fox in English and Fox Deportes in Spanish. Streaming is available on the Fox Sports app, the Fox Sports website and Fubo. Kevin Burkhardt and Greg Olsen, a former NFL tight end, will provide the commentary.
Among the broadcasters worldwide are Seven Network (Australia), CTV (Canada), L'Équipe (France), DAZN (Germany), A1 Max (Bulgaria) and ITV1 (Britain).
Q: Who is playing?
A: The Kansas City Chiefs, playing in their third Super Bowl in four seasons, went 14-3 in the regular season and slipped past the Cincinnati Bengals to win the AFC championship. The Philadelphia Eagles, who also went 14-3, advanced to their second Super Bowl in six seasons by walloping the San Francisco 49ers in the NFC title game.
This is the first time in five years that the top seeds from both conferences have reached the Super Bowl. The winner will have won more games at State Farm Stadium this season (two) than its main tenant, the Arizona Cardinals (one).
Q: Who will perform at halftime?
A: The NFL found its headliner in a hopeless place. Rihanna had rebuffed past invitations in support of Colin Kaepernick, the former 49ers quarterback who accused the league of blackballing him because he protested police brutality and racial injustice by kneeling during the national anthem.
Rihanna is scheduled to perform publicly for the first time since the 2018 Grammy Awards. Her presence is quite the coup for Apple Music, which has replaced Pepsi as the primary sponsor of the halftime show.
Q: What time is the halftime show?
A: It depends on how long the first half of the game takes, but probably around 8 p.m. Eastern. We fully understand that the concert is the main event for plenty of people.
Q: How much are tickets?
A: A lot of money. Like, a lot. Like, thousands of dollars. One ticket marketplace, Vivid Seats, is listing its cheapest seats at $3,863.
Q: Has either team won a Super Bowl?
A: Kansas City won its first Super Bowl in 1970 and its second in 2020, when quarterback Patrick Mahomes became our benevolent overlord. The team has also lost two Super Bowls, the first one in 1967 and another in 2021.
Philadelphia has also lost in the Super Bowl twice, in 1981 and 2005. It won its lone Super Bowl in 2018, inspiring a victory parade that lasted approximately nine weeks and four days.
Q: Will history be made?
A: We're glad you asked. This is the first Super Bowl to feature two Black starting quarterbacks, a celebratory — and overdue — moment for a league that for decades teemed with inequities. Perceived in the past as lacking the leadership qualities or intelligence to excel at the position, Black players were often discouraged from playing quarterback, and it took until the 22nd Super Bowl for a Black quarterback, Doug Williams of Washington, to start a Super Bowl and win.
But Mahomes and Jalen Hurts — along with Baltimore's Lamar Jackson, Arizona's Kyler Murray, Chicago's Justin Fields and Denver's Russell Wilson, who won a Super Bowl with Seattle — are among the quarterbacks, Black or otherwise, redefining how the position is played.
Q: What about Jalen Hurts?
A: Hurts is still rehabilitating a sprained right shoulder, sustained Dec. 18, that cost him two regular-season games. But he has developed, in his second full season as Philadelphia's starter, into the team's franchise quarterback. Elusive and powerful, Hurts demands defenses account for his mobility, and he has blossomed as a pocket passer.
This season, he joined Cam Newton and Kyler Murray as the only players ever to have thrown for 3,700 yards and 20 touchdowns and also run for 10 scores. Had he stayed healthy for all 17 regular-season games, Hurts very well might have been selected as the league's MVP. Instead, the honor went to —
Q: Patrick Mahomes, again?
A: Yeah. Mahomes, just 27 and set to play in his third Super Bowl, is already one of the greatest quarterbacks ever. The dude is a cheat code. Even on a sprained ankle, as in Kansas City's two playoff games, he routinely makes history when he touches the football.
Q: Does Kansas City have other stars?
A: Nope.
Just kidding! It has loads of them, but especially tight end Travis Kelce and defensive linemen Chris Jones and Frank Clark. They crush souls and dreams on a regular basis.
Mahomes probably has inspired the most fan tattoos, though.
Q: How about Philadelphia?
A: The Eagles' roster is stacked, with receivers A.J. Brown and DeVonta Smith, running back Miles Sanders, edge rusher Haason Reddick, right tackle Lane Johnson and the cornerbacks James Bradberry and Darius Slay.
But the team's emotional compass is its beer-chugging, Christmas-song-crooning, All-Pro center Jason Kelce, who — clad in a bedazzled costume worn by the city's famed Mummers — commandeered the podium at the Eagles' 2018 Super Bowl victory parade and warbled, "We're from Philly, (expletive) Philly. No one likes us, we don't care." He might be Philadelphia's most beloved athlete.
Q: Kelce … that name sounds familiar.
A: Yes, Jason's younger brother, Travis, plays for Kansas City. They are the first brothers to play against each other in the Super Bowl. But this is probably the first you're hearing about that, right?
Well, in case you've missed the brother vs. brother stories in every news outlet, Travis is one of the best tight ends of this generation, as crafty a receiver as he is prolific. Plus, he fights for his right to party. In the gleeful aftermath of defeating the Bengals in the AFC title game, he called Mayor Aftab Pureval of Cincinnati a jabroni (he deserved it). And he once had his own dating show, "Catching Kelce," in which he dated women from all 50 states.
Q: How can I bet on the game?
A: If you live in one of the 36 states (or the District of Columbia) where betting on games is legal and underway, you've probably seen many ads for online sportsbooks. (That's thanks, in part, to the NFL itself, which has had a tricky relationship with sports betting.) Of course, the wide availability of sports betting comes with significant risks. You can also set up a box pool — also known as squares — and then rue the money you flushed away by drawing a 2 and a 2.
If you are going to bet, the Eagles are a 1.5-point favorite.
Q: Who will be coaching?
A: Two men who never played a down in the NFL.
Andy Reid joined Kansas City in 2013, four days after his 14-year tenure ended in — wait for it — Philadelphia. Nick Sirianni, in his second season with the Eagles, spent the first four years of his NFL coaching career as an assistant in Kansas City but then wasn't retained by — wait for it — Reid.
Awk-ward.
Q: What should we be watching for?
A: So very much:
Will Reddick, Brandon Graham, Josh Sweat and the rest of Philadelphia's ferocious defensive front be able to pressure Mahomes and contain him in the pocket? Where will Kansas City's Chris Jones, probing for mismatches, line up? How will the Eagles defend Travis Kelce over the middle?
Can Kansas City's cornerbacks hold up in coverage against Brown and Smith on the outside? Will the Eagles' diversified running game torment Kansas City?
Will Mahomes account for eleventy touchdowns?
Will league officials grease any and all poles and columns at State Farm Stadium to deter rowdy Eagles fans from scaling them?
Q: What's this I hear about Eagles fans?
A: For the uninitiated, Philadelphia's professional football team has a rather passionate following, one that tends to celebrate momentous sporting achievements by climbing objects that shouldn't be climbed. Police tend to slather street poles and the like with Crisco (or similar substances) as a deterrent. Note: It doesn't work.
Q: Who's singing the national anthem?
A: The honor of singing "The Star-Spangled Banner" goes to country star Chris Stapleton. "America the Beautiful" will be performed by R&B singer Babyface.
Q: How much did the ads cost?
A: Several companies, according to Variety, paid more than $7 million for a 30-second spot. That's at least $233,333 per second. Or, roughly, the cost of three seats in Section 455 at State Farm Stadium.
Q: What's with the Roman numerals?
A: The NFL says that Super Bowls are numbered (this is No. 57) because the game is played in the calendar year after the regular season, and "Super Bowl 2023" could be ambiguous. Also, Roman numerals look cool, and no one matriculated the ball downfield better than Cicero.
Q: Is Tom Brady playing?
A: He just retired (again), so no, he won't be playing. But don't worry, he'll still win.
This article originally appeared in The New York Times.
Sign up for Patriots updates🏈
Get breaking news and analysis delivered to your inbox during football season.