Sports
At Blue Hills Ski Area, Boston's first family of extreme skiing honored at the place it all began
Dan and John Egan will be honored every day at the ski area's base lodge.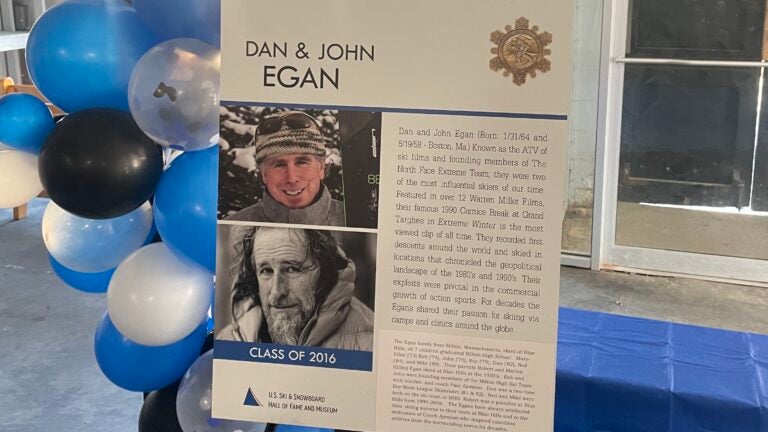 Though he became known for skiing harrowing descents on mountains all over the world, Dan Egan never forgot making his first turns at Canton's Blue Hills Ski Area.
Egan, 59, grew up in Milton with his six siblings. Along with his brother, John, he was honored on Wednesday in a ceremony at the Blue Hills base lodge, where a sign was installed noting the duo's careers as extreme skiers, and their 2016 induction into the U.S. Ski & Snowboard Hall of Fame.
"What a day to be here. Corn snow from top to bottom," Dan Egan joked as he spoke to the crowd. While it was an especially mild day with temperatures reaching the upper 50s, Egan extolled the importance of Blue Hills and other smaller ski areas in providing a place for younger skiers to learn.
"As we sit here with a ribbon of snow behind us, there's no more important place to be than these small ski areas," said Egan. "It's because of what they represent and what they instill in the communities, and where people can go and what they can do."
"It changes lives. I know it changed my life," he added. "I know that my mom was so happy to tip the house over and get the kids out."
Even before Dan's skiing career took shape, his older brothers Bob and John had already played an instrumental role in starting the ski team at Milton High School. Several Egan siblings, including Dan (Class of 1982), made their mark at Blue Hills.
Egan became Bay State League Champion in 1981 and 1982. Paul Ajemian, the team's original coach, recalled a comparison he made at the time between his star pupil and a local Boston basketball talent.
"This guy here is the Larry Bird of skiing," Ajemian said of Egan.
He admitted feeling like it was hyperbole at the time, now he's not so sure.
"Hall of Fame, and Hall of Fame," Ajemian noted at Wednesday's ceremony.
Both Dan and John were featured in more than a dozen Warren Miller ski films, energetically carving their way down picturesque peaks.
"We were just kids in one-piece suits, big hair, and headbands," Egan remembered of their trademark style.
"Warren Miller was rocket fuel for my life," he said. "He was one of those mentors — many that are sitting here today too — that really inspired me and moved me along, as well as my parents."
But for all of the places he's been, Egan still has a soft spot for his original ski area.
"I love that connection to skiing and Blue Hills."