Sports
Rory McIlroy says he'd retire if LIV Golf was the only place to play
"LIV is proposing that Rory McIlroy and Tiger Woods would own teams and play in at least 10 LIV events."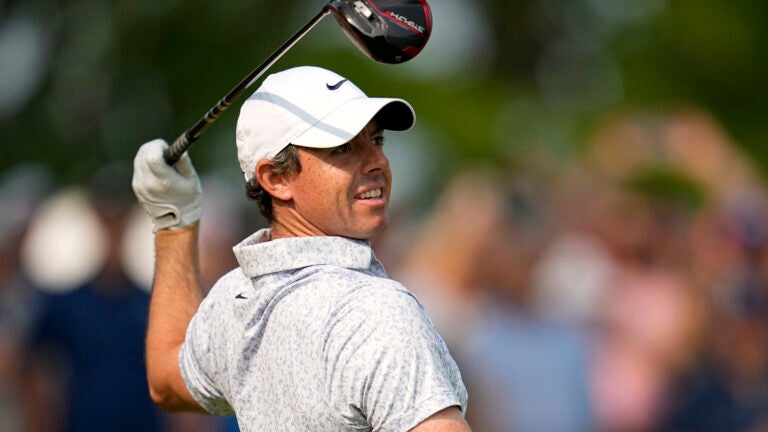 GULLANE, Scotland (AP) — Rory McIlroy laughed off a Saudi-backed idea that he and Tiger Woods own LIV Golf teams, saying Thursday he would retire if playing for LIV was the only option.
The concept came from an April document titled, "The Best of Both Worlds," provided to Congress ahead of a Senate subcommittee hearing Tuesday on the PGA Tour's agreement to partner with the Public Investment Fund of Saudi Arabia.
"LIV is proposing that Rory McIlroy and Tiger Woods would own teams and play in at least 10 LIV events. This and the participation of other leading players is subject to further discussions," one item in the proposal said.
That was brought to McIlroy's attention after his opening round of the Scottish Open, and he looked bemused.
"If LIV Golf was the last place to play golf on earth, I would retire. That's how I feel about it," McIlroy said. "I'd play the majors. I'd be pretty comfortable."
That was part of several pie-in-the-sky proposals in the eight-page presentation geared toward finding a compromise between the golf circuits. It was produced by Amanda Staveley of British-based PCP Capital Partners. She helped broker the Public Investment Fund acquiring Newcastle United of the English Premier League and is advising the Saudis in golf.
Other proposals included LIV players being able to have PGA Tour playing rights restored, world ranking points from LIV events applied retroactively and for Yasir Al-Rumayyan, the governor of PIF, to have an Augusta National membership.
McIlroy has left little doubt how he feels about the rival league, even before LIV Golf was formed. He was the first top player to declare loyalty to the PGA Tour in early 2020. A month ago, after the surprise announcement about the deal, McIlroy said, "I still hate LIV. Like, I hate LIV. Like, I hope it goes away."
McIlroy said he watched only a little of the Senate hearing because there wasn't much information he didn't already know.
"There was going to be some new information for other people," he said. "As I said, I've almost been too close the last year and a bit. So nice to be able to try to distance myself a bit."
McIlroy had said he learned of the agreement from Jimmy Dunne, a PGA Tour board member involved in the negotiations, about four hours before the June 6 announcement.
One email in the trove of documents released Tuesday indicated McIlroy had met in November with Al-Rumayyan in Dubai for a conversation described as "cordial and constructive."
He did not indicate how much he knew about the tour talking with the Saudi group. One complaint from PGA Tour players was being left in the dark, particularly because the tour is a member organization. McIlroy is among five players on the PGA Tour board. None was involved, along with three independent board directors.
Xander Schauffele said on Wednesday that PGA Tour Commissioner Jay Monahan had lost some of his trust, while Jordan Spieth said Monahan had "quite a bit" of trust issues to navigate when he returns to work next week.
McIlroy said trust issues with Monahan were not as serious for him.
"Because I sort of knew what was going on, so I wasn't quite as in the dark as some of the other guys," McIlroy said. "But yeah, people felt blindsided by it, and I can obviously understand why Jordan and Xander and a lot of other guys would feel that way."
Get the latest Boston sports news
Receive updates on your favorite Boston teams, straight from our newsroom to your inbox.