Sports
A new cricket league is underway in the busy US sports market. Organizers believe it can stick
One of Europe's most popular sports looks to strike gold in the States.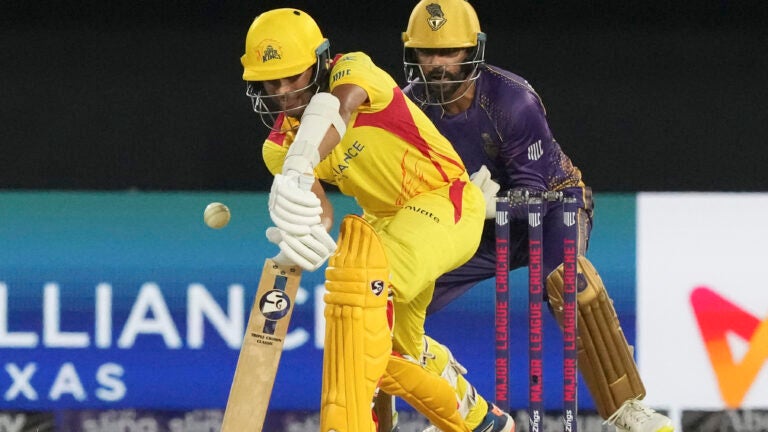 GRAND PRAIRIE, Texas (AP) — "Deep in the Heart of Texas" blared from the speakers during a timeout a few days into the debut of a U.S. professional cricket league near Dallas.
Fans waved the flags of the Texas Super Kings and the LA Knight Riders, with some wearing the jerseys of their favorite countries or clubs overseas. A couple had ballcaps of two of the biggest brands in the United States — the NFL's Dallas Cowboys and Major League Baseball's New York Yankees.
This unusual confluence comes during the debut of Major League Cricket, which is hoping to find a foothold for one of the world's most popular sports in a sports-mad country that knows little about the "other" bat-and-ball game.
Because of a willing partner happy to see a fading minor league baseball stadium turned into one of the few legitimate cricket pitches in the country, the league made its start in Texas, famous for the Friday night lights of high school football. The 7,000-seat stadium is in Grand Prairie, not far from where the Cowboys — America's Team, remember — play in front of 90,000-plus eight or nine times every fall under a retractable roof with a giant video board hanging over the field.
"Some days I think we're crazy," tournament director Justin Geale said. "We're in the middle of Dallas and we've got a cricket ground. I saw the vision. I got very excited. I got goose bumps when I first came in here. I thought, 'We can do this.'"
As with many things, money is the key, and co-founder Sameer Mehta said investors behind the initial $120 million aren't expecting to turn a profit for several years, if then. Much of the money is coming from India, where arguably the best T20 cricket — the three-hour version that most closely resembles baseball — is played in the India Premier League. Three IPL owners are helping run U.S. teams.
With a salary cap that's competitive with similar T20 tournaments around the world, Major League Cricket organizers secured most of the better-known players they pursued, including Texas Super Kings captain Faf du Plessis.
The South African was swarmed by autograph seekers during a match against Washington when his playing time was finished. There are U.S. players as well on rosters that allow six spots for international veterans. Mehta said he had no concerns about the quality of play even without IPL players because of rules preventing them from being here.
"There's some bloody good players out there, especially with the IPL owning some of the franchises here, they bring across some international players," said Australia's Matthew Short, the player of the match for Washington in a victory over Texas. "As the tournament gets on the next couple of years, I think it's important we get those players here and really bring up the local guys here as well."
Priyank Shah, a native of India who has been working and studying in the U.S. for six years, shouted toward the players he recognized as they walked to and from the locker room. There were plenty of them.
"Besides Indian players, the other players who are playing here, they are like rock stars," said Shah, who lives in the Dallas area, the metropolitan region that is seeing explosive growth in its Asian population.
The first eight matches in the six-team tournament were in Texas, with seven more set for Morrisville, North Carolina. The event returns to the Dallas area for elimination games, with the championship July 30.
For now, the league's six cities — Washington, Seattle, New York and San Francisco included — are merely represented by the players. The goal is a home-and-home league, with 30 matches per team spanning roughly two months, but that's several years off. Mehta said the clubs are contractually obligated to open venues within five years.
The 2024 plan calls for another tournament format, perhaps with two more venues. And organizers hope to build off the T20 World Cup, which will be held in part in the U.S. for the first time.
Geale is hopeful cricket will be added as an Olympic sport for 2028, when the Games are in Los Angeles.
"All of a sudden, we've got this five-year growth program for the sport," Geale said. "A big part of what we're trying to do is strengthen the USA national team."
Another part of the growth plan is more grass roots, which Mehta said will take time. Youth and recreational leagues will be crucial to the U.S. becoming more competitive internationally.
And while Houston has a strong enough presence in cricket to have hosted training camps leading to the Major League Cricket debut, the league will need similar facilities in the six cities with teams.
"The odds are stacked against us," Geale said. "We're trying to launch a new sport in a country that doesn't know it needs it. I think we need to be realistic. But I think if we can showcase how cool we think the game is, if we can put out a really good TV product, we can get that to people in America and the world to show this is going to work."
There are plenty of examples of how Geale and Mehta want to "Americanize" the sport. One of the best is the ball going into the stands for the cricket version of a home run — all of them are homers since the game is played over all 360 degrees of a circular field.
Baseball fans are used to keeping those balls. Cricket fans are conditioned to throw them back because of the "sanctity of play is that the same ball has to be used unless of course (it's) out of shape," Mehta said.
One day, Geale would love for fans to keep the balls. For now, he was worried about that for the debut — but didn't need to be. Fans promptly tossed the balls back, which made sense considering what Mehta said about marketing. The target for the debut was ex-patriots of countries in South Asia and the Caribbean, along with Australia and New Zealand.
That's another part of the short-term plan.
"What I would love to do is for these fans to quickly bring their friends, family, associates, colleagues along to a game and have them sample this," Mehta said. "But it's OK if it takes another year. And by next year, we'll be doing a lot of general marketing, trying to reach out to mainstream American sports fans."
There were a few of those fans in the tournament's first few days, including Dan Strick. The Dallas-area resident who got hooked on cricket through TV about a year ago brought his son to see a match.
"Based on a year and half of experience, I've only watched the best teams in the world play," Strick said. "So obviously this might be a little poorer. But it's still fun."
Get the latest Boston sports news
Receive updates on your favorite Boston teams, straight from our newsroom to your inbox.