Super Bowl LI
How the Patriots' record comeback forced these 3 reporters to rewrite their Super Bowl stories
The 25-point swing was wild—particularly if you're on deadline.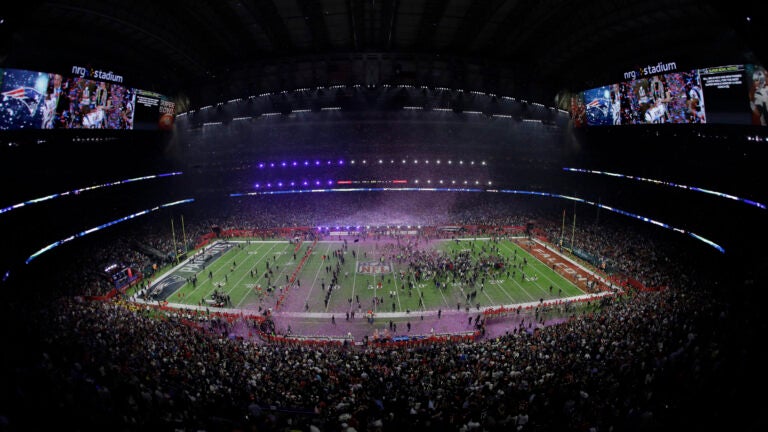 In high-stakes sporting events, it's not just the athletes who have to perform under pressure.
For every Super Bowl, World Series, NBA Finals, or Stanley Cup, there are scores of beat writers chronicling the game in a race against time, as well as each other. Not only must newspapers have game stories ready for the late-night deadlines of the next day's paper, the pressure is heightened even further in the age of the internet and social media to get stories online.
This means most sports writers are writing the bulk of their stories before the game has already ended.
So when what looked like a blowout in last Sunday's Super Bowl between the New England Patriots and Atlanta Falcons improbably turned into a historic comeback, let's just say it wasn't just the players who were sweating.
In interviews last week, Barry Wilner, football reporter for the Associated Press for 41 years; Mark Bradley, a columnist for the Atlanta Journal-Constitution for 34 years; and Jim McBride, a sports writer and editor with The Boston Globe for 28 years; recalled what it was like writing — and rewriting — the greatest comeback in Super Bowl history.
Pregame
McBride: The way we do it at the Globe, for football anyways, is we keep a chronicle to halftime — just keep writing series as they go and then do a lot of writing at halftime. After the end of the third quarter, we send that into the desk, so they can get a head start on editing it.
At the end of the game, we write a flash game lede — just one to two paragraphs that you can slap on the top of that running game story to get it up on the web and to make first edition as soon as possible.
Bradley: When I'm writing, I try to go along and shade things one way, but not do it in such a way that you are totally painted into a corner if events change. Just from experience and trial and error, and a lot of bitter experience, you learn how to do that.
Wilner: My approach is generally to have prepared at least the information, if not the tops to the story, for either team winning. With we being national, we don't focus on the local team. We would be leading with the winner of the game or the biggest story, depending on what the developments were.

McBride: The [deputy sports editor] of the Houston Chronicle, Reid Laymance, who used to be the assistant sports editor at the Globe — I was catching up with him before the game and we were talking about an ideal scenario for a 6:30 p.m. eastern-time game. And he was saying blowout either way, just not overtime.
I looked at him at him and I said, 'I can't believe you just said the word overtime.' And we both started laughing.
First half
After a scoreless stalemate in the first quarter, the Falcons put up two touchdowns within four minutes of each other in the start of the second, while the Patriots offense struggled to get traction.
Bradley: The Falcons had not only played well, but played even better than we had dared to dream it could.
Wilner: The Falcons defense was looking like the Patriots defense — being so stingy and having Brady so off-balance.
McBride: The way that first half transpired — particularly the second quarter — it was looking pretty bleak.
Wilner: I was going to make a comparison to the Giants and how they beat the Patriots in those two Super Bowls because it was a similar approach. And a lot of [the story] would've been this year of redemption for [Tom] Brady ending in defeat and, if it had continued in the way it was going, somewhat ignominiously.
Halftime
The Falcons went into halftime leading 21-3.
McBride: I remember thinking going in that the Patriots were going to win easily and looking forward to watching Lady Gaga at halftime. And instead, I really didn't get to enjoy her the way I had thought, because my fingers were pretty busy writing that the Patriots' dream season had come to an end.
Wilner: The good thing about the Super Bowl is at halftime you can really get a lot done. Of course, it turned out, much of it was wasted.
McBride: I started writing a full game story so I could hit the button as soon as possible. It was obviously reflective of that the Patriots had lost.
I kind of based my lede on the interception that Brady threw, which made it 21-0 and that picture of him diving after [Falcons defensive back Robert Alford] just to give it some flavor about how he was on all fours afterward watching the guy run down to the end zone.
Second half
With 8:31 left in the third quarter, Falcons quarterback Matt Ryan hit Tevin Coleman for a six-yard touchdown pass, pushing Atlanta's lead to 28-3.
Bradley: I'm pretty good about not giving up on a game, either way, and not saying, like, this one's over. I've seen enough to know the game's not over, especially if you cover Atlanta sports.
But that one seemed as over as one could get.
Wilner: Once it became 28-3, I really focused on it being not only Patriots losing, but losing decisively for the first time in a Super Bowl. I even considered mentioning how close they could have been to being 0-7 in the Super Bowl.
I was going to play up Ryan a little bit more, because he was the league MVP and beat out Brady for it. And here he was beating out Brady for the championship.
McBride: I know there was that unfortunate Florida edition that went out that kind of reflected that they had lost. It was just kind of the headline, because there was no story in there that said they lost or anything. It just said 'A Bitter End.' There was a lot of scrambling going on.
After a James White touchdown in the third quarter and a Stephen Gostkowski field goal with 9:44 left in the fourth, the Patriots had made it a two-score game.
McBride: By the end of the third quarter, I had about 900 words written and had shipped it into the desk so they could just fill in the final score and punch it.
Bradley: At 28-12, I still thought the Falcons were in great shape. In fact, it had been 28-9 and the Falcons had held them to a field goal to make it 28-12, and you think 'OK, that's a win, because they're still two full scores — two touchdown, two two-point conversions — from being tied.'
Wilner: When the Patriots made it 28-12, I got rid of the idea that it was going to be a rout and you could see Atlanta's defense was starting to wilt a little bit. But I still didn't expect that the Patriots would complete the comeback.
With 8:31 left in the fourth quarter and the Falcons leading 28-12 with the ball on their own 36-yard line, Patriots linebacker Dont'a Hightower blitzed from the outside, sacking Ryan and knocking the ball loose. The Patriots recovered the fumble on the 25-yard line.
Bradley: Even when the Patriots cut it to 28-12, I thought, 'No, they're still not going to win, you know, they're 16 down and there's under 10 minutes left.' But after the strip sack of Matt Ryan, that was the first time I thought, 'Oh, wait a minute.'
McBride: I felt the tide kind of turned on Hightower's strip sack in the fourth quarter.
We kept saying in the press box, 'If they're going to get back in this, they need a turnover,' and they got it, and it was a short field and they scored rather quickly to make it 28-20.
Wilner: The Patriots were in great position to pull within eight, if they made the two-point conversion — and then when they did that, I started writing a bunch of stuff on a potential comeback.
Fortunately, we had a couple of delays — I think there were some replays and obviously the long breaks for commercials. That gave me some extra time to look at a new approach that they may make this great comeback and they might fall short — or they may make this great comeback and win.
Bradley: The fumble changed the game. And the fumble was the only Falcon turnover of the postseason, which figures. They play 12 quarters and an overtime, and they make one turnover and it changes we course of the Super Bowl. That's Atlanta, as we like to say.

Wilner: At 28-20, I'm ready now to go either way. But then the Falcons get to the 22-yard line, and if they kick a field goal, I mean they're up 11 with three minutes left. If it gets to an 11-point lead, I'm going to dismiss that the Patriots might win and just stick with the Atlanta approach — mentioning that the Patriots made a bold comeback but it wasn't enough.
Bradley: The Falcons hit the long completion to Devonta Freeman and then Julio Jones made what I consider the greatest Julio catch ever, and I've seen a lot of them. And I thought, 'OK, they're in field-goal range. They're going to win. They're fine. It was a wobble. They're going to win and I can still write what I was going to write.'
And then they ended up getting pushed out of field-goal range and not kicking and then after that you thought, 'This is really happening.'
And sure enough, it happened.
After getting pushed back to the Patriots' 45-yard line, the Falcons were forced to punt on fourth down. And in just over two-and-a-half minutes, Brady drove the Patriots 91 yards for the game-tying touchdown.
McBride: I'll be honest with you, once they tied it, I was very confident that they were going to win the game, so that's when I went to work reworking what I already had to reflect the changes and to reflect the victory.
Wilner: There was no way [the Falcons] were winning that game.
McBride: I had to completely redo [what I had written so far], because every paragraph I wrote describing the earlier possessions reflected that the Falcons were going to win the game.
It was like a 900-word story that ended up in the trash can. I had to do what we call some serious 'meatball surgery' on it to get it ready for first edition.
Bradley: I've often wondered how many really good ledes and really good stories were lost to the dustbin of history just because the game went the other way at the last minute.
Overtime
McBride: I actually did connect with [Laymance] after the game, and I was like 'This is all your fault.'
The Patriots won the coin toss and elected to recieve.
Wilner: When the Patriots won the coin toss, the only way [the Falcons] were going to win the game was if the Patriots fumbled the kickoff.
Bradley: When the Falcons lost the toss, I had pretty much given up any hope then, because the defense had been on the field — I think the Patriots had 93 plays in the game — and it had really begun to show.
McBride: As soon as they won the coin toss, I said 'No way they're losing this game,' and luckily I was right or I would have had to do a third rewrite.
In less the four minutes, Brady led the Patriots 75 yards on eight plays, the last of which was White's game-winning touchdown run.
Wilner: It's incredible how good Brady is.
McBride: I just kept thinking about how, in the two weeks leading up the the game, every time we talked to coach [Bill] Belichick, the two things that he would drive home were the Falcons' speed and his own team's mental toughness.
That's how the game played out. You saw the Falcons' speed in the first half, but you saw the Patriots' mental toughness in the second half. So he was pretty prophetic.
Postgame
Wilner: I had I'd say 400 words on the wire five minutes after the game ended, but it was more basic stuff. Had the Falcons not collapsed and the game hadn't been so close, five minutes after the game we would've had maybe 700 words out, and it would've been a featurized type of story. But under these circumstances, we had to go with a quick lede and then keep doing write-throughs to update.
Bradley: I was also doing a lot of blog during the game, so I couldn't write as much as I could have otherwise. But I had written about three and a half paragraphs, and luckily enough, we had enough lag time on this one — and we don't usually — for me to make deadline without a whole lot of problems, even after I had to change gears.
If it had been a send-at-the-buzzer thing, I would have been in real trouble.
McBride: As soon as White got in, I just led a quick paragraph with the description of that touchdown run and then they threw it on top of the meatball-surgery kind of thing that I had done earlier.
And then I went down to the locker room and completely rewrote for second edition. That span was like 45 minutes: Get down to the locker room, talk to a couple of players, and then get back upstairs and get it in.
Wilner: Within 20 minutes, we probably had 800 to 1,000 words out there. And then we fine-tuned it and waited for quotes.
I don't really get nervous anymore at these kind of games, as long as I've done my homework.
McBride: Personally, I like the deadline challenge. My adrenaline kind of gets flowing and I don't have time to overthink things.
Bradley: What I ended up writing, the headline was, "The Falcons Lose the Most Atlanta Game Ever" because we have had a few of these.
Wilner: It's not even close to the toughest I've ever done [laughs]. Remember, I've been doing this a long time. I covered the Bills when they came back from the 35-3 deficit in the playoffs against Houston.
And I was doing it on an old Radio Shack computer that had only two screens, and you had to close one screen to get to the other. So you'd be saving it every paragraph you type, you'd be saving it and switching to the other screen.
So I was basically writing two ledes — one with the Oilers winning it and another with the Bills making this incredible comeback and winning. That was by far the toughest. There were other ones that were difficult in the regular season. I tend to get crazy games for some reason.
Bradley: I actually like writing on deadline. I know that makes me sounds like the biggest moron of all time. I'm not exactly the most composed person in all of real life, but for some reason I tend to be fairly calm on deadline. I don't yell at people. I don't tear out my hair. I just try to do what I need to do and I don't where that comes from, but I've been very fortunate in that I like to think I do OK on deadline.
But again, the other night was not a worst-case scenario, just because we had an hour afterwards. If we had had two minutes or so, that may have been a different story. I may have yelled at people and torn out my hair and dived out of the press box. But I hope not, anyway.