Super Bowl LI
'28-3′ was the running joke of the NFL offseason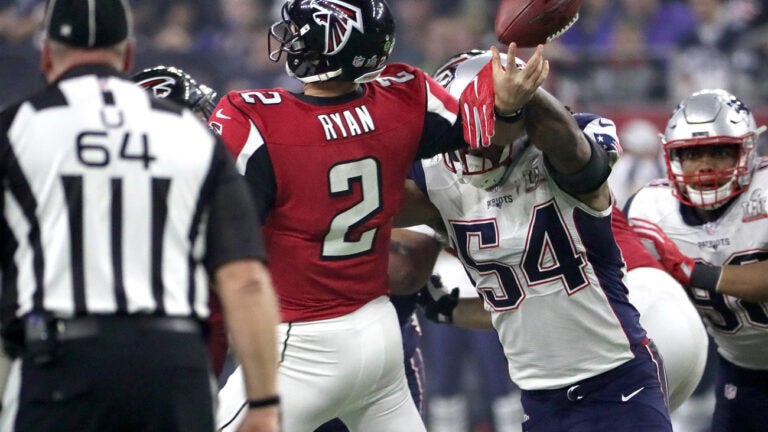 Eight months have passed since the Patriots' Super Bowl LI victory, but the memories from their unprecedented win have surely not been forgotten. New England overcame what seemed to be an insurmountable third-quarter deficit and forever ingrained that score, 28-3, not only in the record books but in also the minds of fans (for better or for worse, depending on their allegiances).
With the rematch between the Patriots and the Falcons set to take place at Gillette Stadium on Sunday night, here's a look at some of the many 28-3 renditions that hit the Internet this offseason:
The unofficial holiday
On March 28, the City of Boston celebrated "Falcons Day." For those who don't understand why, a closer look at the date should help clarify the reasoning.
Hope everyone in Boston is having a great 3-28. #Patriots pic.twitter.com/c1khF4VM1U

— City of Boston (@CityOfBoston) March 28, 2017
The butt tattoo
Interesting enough, the man who got a tattoo of the scoreboard on his behind did not do so in order to gloat in the face of Atlanta fans. As someone who said he can't stand Patriots fans, he instead decided to get inked up as a way to remind New England fans that their was once trailing by 25 points.
"When I tell them to kiss my ass, they will be reminded that they were getting blown out," the Connecticut native told SB Nation.
Graffiti
A street fire alarm box in San Francisco got a Massachusetts spin in June.
The antiquated boxes, which originated in Boston, naturally come painted in blue to signify a police telephone and red to signify a fire alarm. Their coloring, however, also makes them the perfect opportunity for Patriots fans to revel in the glory of the 25-point comeback.
Pats fans made it to San Francisco pic.twitter.com/25ZivGPU5k

— Curt Woodward (@curtwoodward) June 5, 2017
The license plate
A car with Maine plates was spotted on the highway with a very intentional selection of letters and numbers.
It was 28-3… #NeverForget pic.twitter.com/V3wAMiSE10

— Barstool Sports (@barstoolsports) July 24, 2017
The Freeze
In "Beat The Freeze," contestants are given a considerable head start along the warning track as they try to outrun a man, dressed in a teal morph suit, known as The Freeze. During one rendition of the race, a young fan was convinced that he was going to win and promptly threw his arms up in the air for a premature celebration.
this is the funniest thing that will happen at a sporting event this year pic.twitter.com/f6Yq9lErin

— Joon Lee (@iamjoonlee) June 10, 2017
However, The Freeze — in classic Freeze fashion — came from behind to pass the fan and ultimately crossed the finish line first. Upon realizing The Freeze was right on his tail, the fan attempted to pick up the pace but ends up falling right into the dirt.
Cue the photoshop.
Super Bowl 51 in one gif. pic.twitter.com/IvjraKa2X2

— Pats Pulpit (@patspulpit) June 11, 2017
Signs
Many spectators bring messages of encouragement for the runners at the Boston Marathon, so one bystander decided to show the motivating score of 28-3.
This sign #BostonMarathon pic.twitter.com/urwYQHqYdl

— Garrett Quinn (@GarrettQuinn) April 17, 2017
The Big Y in Walpole also specifically arranged their display of soda cans in a way to get their shoppers pumped up for football season.
The Big Y in Walpole is ready for football season… pic.twitter.com/ytOj692Qq4

— Only In Boston (@OnlyInBOS) August 31, 2017
ESPN's first stop on this year's College GameDay tour was Atlanta. The new Mercedes-Benz Stadium stadium hosted the Alabama-Florida State game on Saturday, and while many signs pertained to either of those two teams, there was (at least) one that made reference to a different contest.
Can you spot it?
Mayweater-McGregor fight
#MayweatherMcGregor Summary pic.twitter.com/mUmChXe7IC

— NFL Retweet (@NFLRT) August 27, 2017
NFC South banter
Over the summer, the Tampa Bay Buccaneers posted a tweet advertising their team-branded fidget spinners — a trending stress-relieving gadget.
These are going FAST! Check out the official #Buccaneers Fidget Spinner at our online store!

SHOP NOW: https://t.co/dp3Q13TNhL pic.twitter.com/RS2eoAKjFg

— Tampa Bay Buccaneers (@TBBuccaneers) May 22, 2017
Given the use of the product, the Falcons replied by asking if the Bucs were "nervous about something."
Are you nervous about something? pic.twitter.com/i6S4ExDCLF

— Atlanta Falcons (@AtlantaFalcons) May 22, 2017
To which the Bucs responded, "We ain't worried 'bout nothing!" along with a photo of cornerback Vernon Hargreaves III and quarterback Jameis Winston, who happen to wear numbers 28 and 3, respectively.
The team eventually deleted the tweet, however, and issued an apology to their division foe.
Head coach Dirk Koetter called the incident "totally unprofessional and not smart on our part."
"We want to be playing in the Super Bowl, and we were home sitting on our butt while they were playing," he said following an OTAs practice. "We have no room to be making fun of anybody that was in the Super Bowl, whether they won or not."
New Orleans Saints fans also piled on the Falcons, as a local Louisiana t-shirt company launched a campaign to install a 28-3 billboard in Atlanta as a permanent reminder of the score. Dirty Coast Press collected $10 donations to cover the costs of advertising, but while more than enough money was raised, the billboard companies in Atlanta reportedly turned down their requests.
Let's buy a billboard. https://t.co/W8cikaFrrL pic.twitter.com/ZIJn9feeKM

— Dirty Coast Press (@dirtycoast) August 2, 2017
The tip
A Saints fan dining in Atlanta left his waitress a tip of $4.07, which was roughly 20% of his tab. That amount may not raise any eyebrows upon first glance, but the total right below it might. The total cost of his meal? $28.03.
This may be the pettiest thing I've ever done but I needed something to laugh about today #Whodat pic.twitter.com/PFaMtRnhry

— Mason Ginsberg (@MasonGinsberg) August 15, 2017
The geofilter
On the eve of the NFL kickoff game at Gillette, someone designed a Snapchat geofilter for the city of Atlanta. The overlay read: "Hey Falcons fans… Remember 28-3?"
This savage geotag is currently popping up on Snapchat in Atlanta. pic.twitter.com/08rMnjfLx4

— Louise Chouinard (@_LChouinard) September 6, 2017
The media
Fans weren't the only ones to rag on the Falcons, as the media also offered their fair of digs at the NFC conference champions. Deadspin's Drew Magary published "Why Your Team Sucks 2017: Atlanta Falcons," which was just ridden with "28-3."
The storyline of SB Nation's latest video in its Gridiron Heights series also centers around the infamous collapse.
The Super Bowl rings
Perhaps no 28-3 reference will be as pointed as the Patriots' own, however. Their Super Bowl LI rings were the heaviest of all time and featured the highest stone count in league history. How many diamonds did it exactly have?
Well, 283, of course.
https://twitter.com/darrenrovell/status/873542049605222402