Super Bowl
Here's how the Patriots match up against the Eagles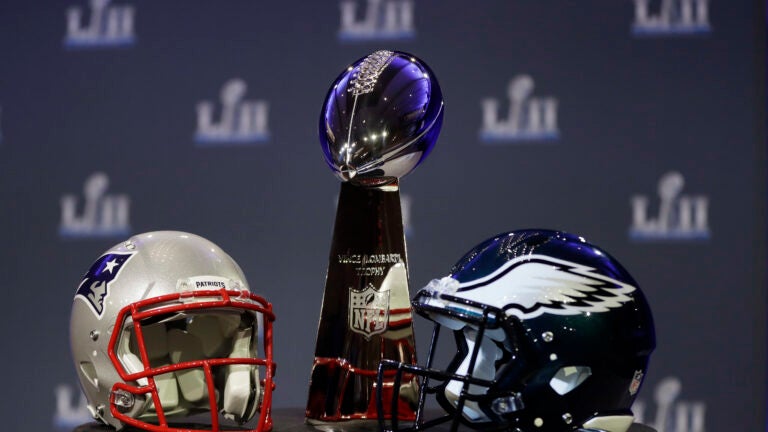 Matchups for the Super Bowl between the Philadelphia Eagles and New England Patriots:
___
When the Eagles (15-3) have the ball
The Patriots must be wary of a balanced offense that tore apart Minnesota, which has a better overall defense than does New England. Forget about Nick Foles (9) being a backup quarterback; his postseason performances, particularly in the NFC title game, have been strong.
Foles will try to get TE Zach Ertz (86) involved early; he was unstoppable against the Vikings. Indeed, the Eagles have three tight ends they are comfortable going to, including Brent Celek (87) and Trey Burton (88). That places an onus on safeties Devin McCourty (32), as reliable as any player at that position in the league, and Patrick Chung (23).
Philadelphia's wideouts supposedly were a weakness heading into the season. Not quite. Alshon Jeffery (17) is a clear No. 1 target with excellent hands and the ability to get open all over the field. That frees up vastly improved Nelson Agholor (13) and veteran Torrey Smith (82). They will challenge the Patriots' solid cornerbacks, Malcolm Butler (21) and Stephon Gilmore (24).
New England's defensive backs will need a bolstered pass rush, something the Patriots manufacture with a variety of players, from Trey Flowers (98) to Geneo Grissom (96) to Lawrence Guy (93) to rookie Adam Butler (70) to the rejuvenated LB James Harrison (92). Philly is most staunch at center with Jason Kelce (62) and right tackle with Lane Johnson (65), both All-Pros.
One thing the Eagles are sure to try to keep New England's offense on the sideline is getting Jay Ajayi (36), former Patriot LeGarrette Blount (29) and rookie Corey Clement (30) some open space for runs. New England LB Kyle Van Noy (53) figures to have a busy day unless Philly falls behind.
___
When the Patriots (15-3) have the ball
Tom Brady (12) has won five Super Bowls, four times as game MVP. Never mind that he is 40, he's playing as if he's in his prime — hey, he might be — and will test Philadelphia's versatile defense from the outset.
Oddly, while Brady led the NFL with 4,577 passing yards, no QB who paced the NFL in that category has won the Super Bowl in that season, going 0-5. Brady couldn't do it, and the others were Peyton Manning, Rich Gannon, Kurt Warner and Dan Marino.
It's essential that the Eagles get in Brady's face throughout. That means DLs Fletcher Cox (91), the best defensive player in this postseason, Brandon Graham (55), rookie Derek Barnett (96) and former Patriot Chris Long (56) must apply pressure. That's doable but not easy against an offensive line without any stars, but with plenty of skill. LT Nate Solder (77) and C David Andrews (60) are the key guys up front.
Philly must be alert not only for all of Brady's targets — WRs Brandin Cooks (14), Danny Amendola (80), Chris Hogan (15), RBs James White (28) and Dion Lewis (33) — but for Lewis and White in the running game. Both are shifty and flexible and have Brady's trust.
The Eagles' secondary, often criticized for its inconsistency, has gotten very stingy in the playoffs. Of course, CBs Ronald Darby (41), Jalen Mills (31) and Patrick Robinson (21) haven't faced this kind of offense.
Perhaps most critical among all matchups is whether All-Pro TE Rob Gronkowski (87) has recovered from a concussion. His confrontations with veteran S Malcolm Jenkins (27) could be telling.
___
Special Teams
Patriots K Stephen Gostkowski (3) rebounded from a rough 2016 to have a strong season. He made 37 out of 40 field goals in the regular season, going 4 for 4 on kicks of 50 or more yards. He is one of the league's most clutch kickers and is third in career postseason points in NFL history.
Lewis is the only player in this game to have returned a kickoff for a touchdown this season. He ranked fourth in the NFL with 24.8 yards per return.
Amendola is also a threat on punt returns. He averaged 8.6 yards per return during the regular season, including a long of 40 yards, and had a big one against Jacksonville in the AFC title game.
Philadelphia's Jake Elliott (4) set a postseason club record with a 53-yard field goal and has longer range than Gostkowski. But he is less reliable on extra points, having missed four.
P Donnie Jones (8) ranked 17th in net average and Kenjon Barner (38) filled in nicely after Darren Sproles was injured. Barner's best punt return went for 76 yards.
Coverage units are solid despite losing special-teams captain Chris Maragos.
___
Coaching
Philly was in attack mode from the outset against Minnesota, and that's a good reflection on Doug Pederson and his staff. Pederson knows he can't back off against New England, and defensive coordinator Jim Schwartz is known for being aggressive.
Not much has to be said about a New England staff that is 5-2 in Super Bowls. A twist, not unprecedented but interesting, has both coordinators, Matt Patricia on defense and Josh McDaniels on offense, bound for head coaching spots elsewhere. Don't look for it to have any effect on this game.
___
Intangibles
The Eagles have never won a Super Bowl; their previous NFL title was in 1960. They have that extra edge that perennial underdogs — even in home playoff games as the No. 1 seed — would carry. Their confidence is soaring after they tore apart the stingiest scoring defense in the league for the conference championship.
New England probably doesn't need anything in this category. But the Patriots always seem to find some extra motivation, and it usually works.