Super Bowl
Tom Brady's peers are getting older. He can't relate.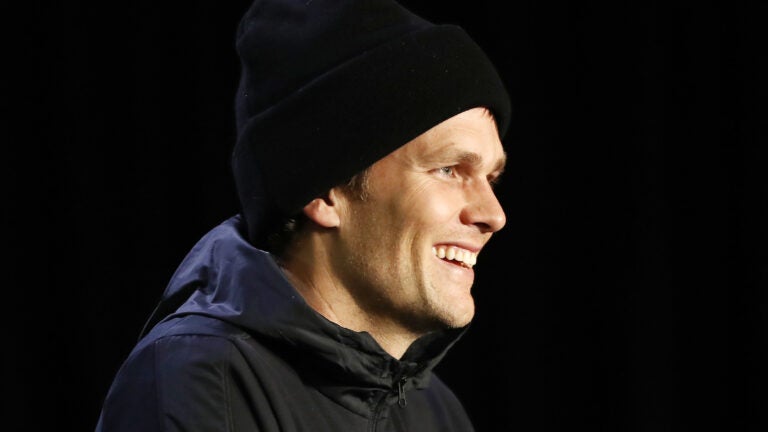 ST. PAUL, Minn. — On Saturday night, five years after the final game of his 14-season career, Randy Moss will almost certainly be announced as a new member of the Pro Football Hall of Fame. On Sunday, Tom Brady, the quarterback who helped revitalize Moss' career in 2007, will be on the field at U.S. Bank Stadium in search of his sixth Super Bowl ring with the New England Patriots.
To call Brady ageless is a cliché. But with many of his contemporaries in retirement — Moss is less than 6 months older — Brady, 40, shows no signs of physical decline and seems to have adopted a style of play generally associated with younger quarterbacks.
This season, 23.8 percent of Brady's passes traveled 15 yards or more in the air, according to Sportradar. That placed him eighth in the NFL, giving him his first top-10 finish in the 11 years the statistic has been tracked. His passes traveled an average distance of 9.53 yards before finding their target, which was more than a half-yard farther than his average in any of the last 10 years, and more than 1.2 yards farther than his average last season.
Throwing deep is one thing, but this season Brady was also one of the most aggressive quarterbacks in the NFL in terms of throwing into traffic. His receivers combined for 69 contested receptions — defined as plays in which the receiver had less than a yard of separation at the time of the catch — giving Brady the fifth highest number of such plays in the NFL.
If you combine the two statistics, with passes of 15 or more yards that required contested receptions, Brady finished second in attempts with 25, and first in completions with 22.
To have an aging quarterback keeping up with younger stars known for their big arms, like Matthew Stafford of the Detroit Lions and Jameis Winston of the Tampa Bay Buccaneers, was remarkable, but it came with added risk: Those three incompletions were all intercepted. Even accounting for that downside, Brady ended up with a passer rating of 92.9 on the deep contested throws.
Brady has always made great use of his running backs as receivers, and that strategy for the short passing game is unlikely to change. But as he is about to become the oldest quarterback in Super Bowl history, Brady's approach to the game defies the way aging in the NFL is expected to work.
Rather than being reduced to a game manager, as Peyton Manning was, or evolving into an interception machine, as Brett Favre was in two of his final three seasons, Brady is still trying to add elements to his repertoire. And it helped him lead the NFL in passing yards for the first time since 2007.
"What he physically is still doing at 40 years old blows my mind," said Frank Reich, the longtime backup quarterback of the Buffalo Bills who is now the offensive coordinator for the Philadelphia Eagles, the Patriots' Super Bowl opponents. "I played until I was 37, and the last three or four years, I don't know how much distance I lost, but it was a lot. I don't see any of that. I don't see his arm diminishing at all."
Brady said Monday that he believed evolving from year to year was just part of the game. He also said his current approach was somewhere near the top of what he was capable of.
"At this point, I'm very efficient with what I do," he said. "I know what works; I know what doesn't work."
Brian Hoyer, who is in his second stint as Brady's backup, described a drill in which the quarterbacks throw a ball 40 yards, trying to land it in a barrel. Hoyer, 32, has a stronger arm than Brady, but he said that didn't matter much when competing against someone so tireless and unwilling to accept failure.
"He just wants to keep the game going until he wins," Hoyer said.
The Eagles present an intriguing challenge to Brady's fondness for throwing deep and into traffic. According to Sportradar, the Eagles were the top team in the NFL at breaking up contested receptions, with opposing quarterbacks completing 13.8 percent of them, leading to a passer rating on those throws of 16.6.
Another complicating factor is the uncertain status of Rob Gronkowski, who has yet to be cleared in the NFL's concussion protocol. Gronkowski accounted for 25 of New England's 69 contested receptions, ranking third in the NFL among all players and first among tight ends.
But if Brady, new style or not, can win his third Super Bowl in the last four years, and sixth overall, he will have even less reason to contemplate a retirement date.
Brady said Monday he had no idea when that day might come.
"I never want to be a detriment to the team," he said. "For me, as long as I'm playing at a high level and I make the commitment to taking care of myself year round, then I'll continue to play."
But acknowledging the physical nature of the game, he added: "Things change quickly. Anything can happen."