Super Bowl
Cris Collinsworth on reviewed Eagles touchdown catch: 'I give up'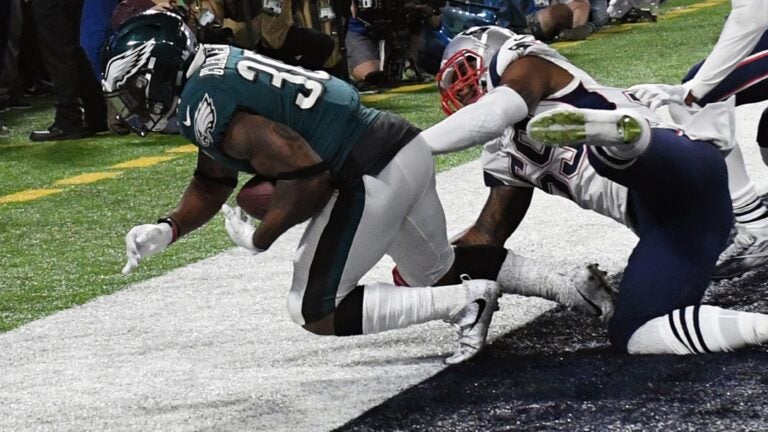 The definition of a catch continues to elude broadcasters and fans alike.
"I give up," NBC broadcaster Cris Collinsworth said after the officiating crew upheld a questionable Eagles touchdown. "I give up. If that ball is not loose in his arms when that left foot comes down, I give up."
During the third quarter of Super Bowl LII, quarterback Nick Foles connected with running back Corey Clement for an apparent 22-yard reception that extended Philadelphia's 22-19 lead over the Patriots.
Nick Foles with the absolute DIME! #SBLII pic.twitter.com/xVaZmET7Y0

— NFL (@NFL) February 5, 2018
All scores in the Super Bowl are reviewed, however, which sparked discussion of the ongoing question: What is a catch?
While officials were reviewing the play, Collinsworth and fellow sportscaster Al Michaels attempted to identify the moments when Clement gains control of the football and when he gets out of bounds. Collinsworth said he thought the ball was wobbling as Clement was going out of bounds, which would mean no catch.
"It's out," he said.
Once lead referee Gene Steratore announced the ruling on the field would stand, Collinsworth expressed his confusion.
"To me, here's the question: When does he gain control of the football? When does it start? Does he have control there?" he said, watching the replay of Clement's feet in the end zone. "I would argue no. That foot steps out of bounds. Obviously a close call, tough decision."
"I would've called that incomplete," he said.
"We've seen that called incomplete majority of times," Michaels noted.
When another Eagles touchdown was reviewed in the fourth quarter, Collinsworth said, "I'm not going to even try with this one."