Super Bowl
Rewatch Tom Brady's Hail Mary throw to end Super Bowl LII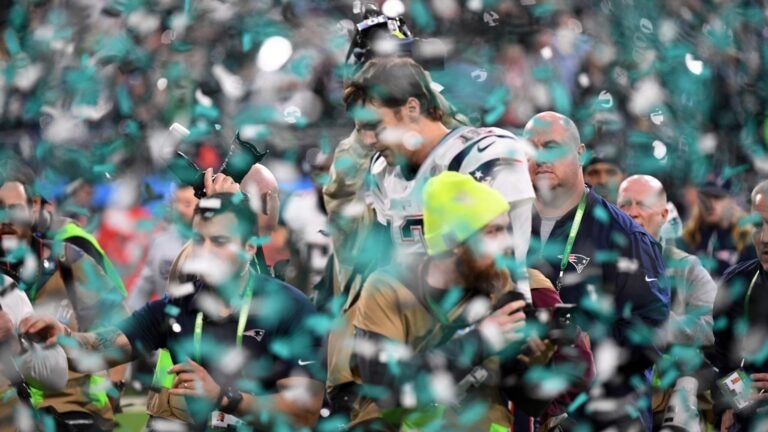 With nine seconds left in Super Bowl LII, Tom Brady threw a football that carried the Patriots' championship dreams into the Minneapolis sky. Those dreams were dashed when the ball came back to Earth, skipped off an Eagles defender, and landed inches away from the outstretched arms of Danny Amendola.
The Patriots trailed 41-33 when Tom Brady escaped pressure, stepped up in the pocket, and launched a Hail Mary from his own 45-yard line. The ball soared 55 yards through the air before descending into the Eagles' end zone, where Rob Gronkowski leaped to meet it.
The Eagles defenders knocked the ball away from Gronkowski, and it looked for a moment like it might fall to Phillip Dorsett, but the Eagles swiped it away again. Amendola dove and caught the ball, but not before it bounced off the turf.
The Patriots had an astounding 613 total yards of offense — 75 more than Philadelphia — but Super Bowl MVP Nick Foles threw for three touchdowns and caught another as the Eagles captured the Lombardi Trophy.
The Philadelphia #Eagles are Super Bowl Champions.#FlyEaglesFly pic.twitter.com/KyzzEiEgHz

— Philadelphia Eagles (@Eagles) February 5, 2018
Watch: Tom Brady—"We just didn't get the job done."
Must-see photos from Super Bowl LII:
[bdc-gallery id="6832009″]