Super Bowl
Why Zach Ertz's Super Bowl-winning touchdown catch wasn't overturned
It looked a lot like the overturned Steelers touchdown earlier this season. But it was different.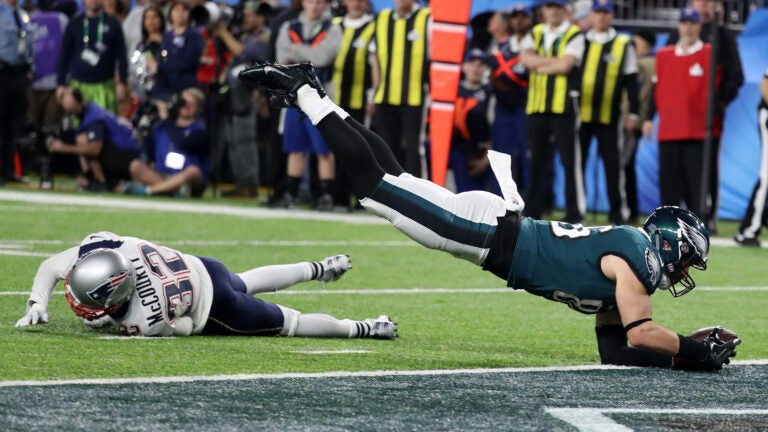 Football fans got a two-for-one touchdown catch controversy deal in Super Bowl LII.
The Philadelphia Eagles twice had their scores reviewed and each time officials decided that their scores would stand. The second time, Zach Ertz's 11-yard touchdown catch late in the fourth quarter, gave the Eagles the lead for good.
.@NFoles_9 to @ZERTZ_86 for the @Eagles TD!! #SBLII pic.twitter.com/WyaH93hkw2

— NFL (@NFL) February 5, 2018
Ertz's catch was evocative of a similar play during the regular season against the Patriots, in which Pittsburgh Steelers tight end Jesse James had his touchdown overturned. Like Ertz, James made a catch over the middle, turned to the end zone, and momentarily lost control of the football as he reached for the goal line.
Ruled incomplete. pic.twitter.com/PjM6JUUGCA

— Kevin Marchina (@kg_holler) December 18, 2017
What made Ertz's catch Sunday different?
According to lead referee Gene Steratore, the two steps and dive that Ertz took after catching the ball was enough to establish control as a runner before he dove toward the goal line, whereas referees in the Steelers game ruled that James did not secure control of the ball before going to the ground.
NFL rules experts watching the game Sunday said Steratore's call was correct and clear.
He had the ball long enough to be a runner and then went to the ground. Call should stand.

— Dean Blandino (@DeanBlandino) February 5, 2018
Control, two feet, on his feet turned upfield, he is then a runner. That is a clear touchdown. Surprised it took so long.

— Mike Pereira (@MikePereira) February 5, 2018
Perhaps it was for the best.
"If they would've overturned that, I don't know what would've happened in the city of Philadelphia," Ertz said from the podium after the game.
Must-see photos from Super Bowl LII:
[bdc-gallery id="6832009″]