Super Bowl
What we know about the decision to bench Malcolm Butler in Super Bowl LII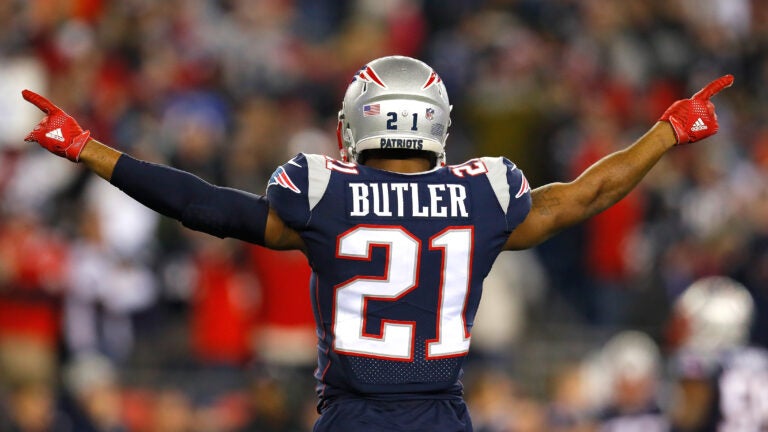 Malcolm Butler played one special teams snap during Super Bowl LII.
With 13 minutes remaining in the second quarter and the Eagles leading 9-3, the Patriots cornerback took the field as a member of the team's punt-return team for his lone appearance of the game.
The uneventful play, which resulted in a fair catch by wide receiver Danny Amendola, was the full extent of Butler's contributions in New England's losing effort against Philadelphia. The hero of Super Bowl XLIX spent the rest of the game on the sidelines because of a coaching decision.
After playing in all 16 regular-season games and the Patriots' first two playoffs contests, Butler told ESPN he didn't know the reasoning behind his benching.
"I guess I wasn't playing good or they didn't feel comfortable," he told ESPN's Mike Reiss. "I don't know. But I could have changed that game."
To keep Butler out of such an important game is a perplexing choice, especially given his past performances. Patriots head coach Bill Belichick was repeatedly asked about the move, but didn't offer much insights into the rationale behind his controversial decision.
"We put the best players and the game plan out there that we felt was best for tonight," he told reporters after the game.
There's undoubtedly some missing information that could help contextualize the bizarre circumstances surrounding Butler, who reportedly is expected to leave New England upon entering free agency this offseason. The Patriots are characteristically keeping mum, so it's uncertain when more details will emerge.
Here's what we know so far:
What happened before the Super Bowl
Butler played during the AFC Championship and was on the field for 100 percent of New England's defensive snaps against Jacksonville. Over the course of the 18 games leading up to Super Bowl LII, he participated in 1,178 of 1,201 defensive snaps — good for 98 percent. Since becoming a starter in 2015, Butler has played at least 75 percent of the defensive snaps in any given game.
Prior to the Patriots' departure for Minneapolis on Jan. 29, Butler attended all team practices during the bye week at Gillette Stadium. The cornerback, however, did not travel with the team Monday morning because he was battling an illness.
According to the Boston Herald's Jeff Howe, Butler went to the hospital Jan. 28 to "get treated for flu symptoms." He arrived in Minnesota Tuesday and was limited in practice Wednesday, before returning to full participation Thursday.
Following Wednesday's practice, Butler said his momentary absence was "nothing serious," adding he "most definitely" would be ready to go Sunday.
"I'm glad to be back out there with my teammates," he told Howe. "Weird moment, it was a weird situation. I don't think I've ever been through that before. I've always been here for my team, but I had a great day of practice, was limited a little bit, but I'm more than glad to be back out there."
What happened during the Super Bowl
During Leslie Odom Jr.'s performance of "America the Beautiful," Butler was spotted crying with his head down. He did not get the start against the Eagles — though he was active for the game — and was replaced by cornerback Eric Rowe. Early on in the NBC broadcast, sportscaster Al Michaels reported Butler's lack of playing time was a coaching decision.
Speaking to reporters after the Patriots' loss, Rowe said he didn't know he was going to start until right before the game.
"That wasn't the plan," he told reporters. "It wasn't official until kickoff."
Rowe added he was not aware Butler's benching was even a possibility heading into the Super Bowl. Although Butler did not start, Rowe said he still expected his teammate would play in the game.
According to NBC Sports Boston's Mike Giardi, the Patriots captains (David Andrews, Tom Brady, Rob Gronkowski, Dont'a Hightower, Devin McCourty, and Matthew Slater) knew Butler was going to be sidelined. Giardi does not know when they gained knowledge of the situation.
Pats captains were aware that Butler was being sat. But exactly when they were informed I can't tell you. Must say though, Butler is an emotional guy and he was nothing but happy as hell when we talked with him throughout the week.

— Michael Giardi (@MikeGiardi) February 5, 2018
Against the Eagles, the Patriots defense gave up 538 yards of total offense — its worst outing since the season opener against the Kansas City Chiefs. Philadelphia also converted on 10 of 16 third downs, including a pair of controversial touchdowns from Corey Clement and Zach Ertz. Quarterback Nick Foles threw for 373 passing yards, with a 65 percent completion rate.
When asked why he chose Johnson Bademosi as the team's third cornerback in the second half, Belichick said Bademosi had "practiced it the most." Bademosi — who had yet to take a defensive snap in the postseason — missed a tackle and gave up a first down upon entering the game.
Coverage stats:
Gilmore: 1/5 7yds, 2 PBU
Rowe: 4/9 80yds, TD, 3 PBU
Chung: 3/6 56yds
DMC: 3/5 13yds, TD
Richards: 2/2 74yds
Bademosi: 1/1 17yds
Harmon: 0/1 plus an INT
Lee: 1/1 1yd, TD
MFlowers: 2/2 14yds, TD
KVN: 1/2 18yds, PBU

— Jeff Howe (@jeffphowe) February 5, 2018
What happened after the Super Bowl
Members of the Patriots secondary were asked about why Butler didn't play, but nearly all players advised the media to talk to Belichick.
"You have to ask the coach," cornerback Stephon Gilmore said. "I don't know."
Safety Duron Harmon said much of the same, "You have to ask coach. Coach makes all the personnel decisions and I just play football."
But Belichick did not give much of an explanation when pressed about his decision — insisting the move was not disciplinary and strictly football.
"I respect Malcolm's competitiveness," he said in a conference call with reporters Monday. "I'm sure that he felt that he could have helped. I'm sure other players felt the same way. In the end, we have to make the decisions that are best for our football team."
Former Patriots defensive coordinator Matt Patricia — who officially accepted the head coaching position with the Lions Monday — was also asked repeatedly about why the team elected not to utilize one of their stronger defensive weapons. Patricia echoed Belichick's sentiment.
"We were just trying to run some packages we had for the game plan," he said. "Those guys were out there for all the situations that we needed."
Here's Matt Patricia giving the same answer to repeated questions about Malcolm Butler. pic.twitter.com/hdTLFROUQs

— Zack Cox (@ZackCoxNESN) February 5, 2018
"We're just trying to put everybody in the right spot to make plays," he continued.
Butler exited the locker room before speaking to reporters, but a few caught up with the dejected cornerback as he exited U.S. Bank Stadium.
"They gave up on me," he told Reiss. "F—. It is what it is."
"It was a coach's decision," he continued. "I was just doing my job and supporting my teammates. I have nothing but great things to say about the organization. They gave me an opportunity. That's about it."
The Boston Globe's Mark Shanahan reports Butler was also one of the few Patriots to attend their post-game party at the Minneapolis Convention Center. Amendola, Brady, and Gronkowski were not in attendance.
What happens next
NFL Network's Ian Rapoport reports the Patriots are expected to lose Butler when he becomes a free agent this offseason. The 2016 second-team All-Pro selection was asked about that possibility before the Super Bowl. Although he admitted the idea had crossed his mind, Butler said he planned on putting thoughts of his upcoming contract aside in favor of the big game.
"The only thing that matters is doing whatever I can to help the team win this last game of the season," Butler told reporters after a practice in Foxborough. "This is the biggest game of the season. I've got to put all that in the drawer. That's not important right now. Over the years, I learned that it isn't always about you. It's about the team. Whatever is best for the team, I've got to do. That's not even important right now. I just want to win this championship. Just got to win, man."
Where Butler plays next season is just one uncertainty in the curious case of Super Bowl LII, as many await the details surrounding Belichick's decision to bench one of his defensive stars. Rapoport reported Monday evening "several factors" contributed to the odd move.
"[Butler] showed up a day later than teammates because he was sick," Rapoport said on NFL Network. "Remember he was not at Opening Night. That was a factor. I'm also told during practice this week, he really struggled. He had a rough week of practice — perhaps because of illness, maybe because of other things."
"There were some other issues — disciplinary issues," he continued. "There was a small or minor violation of team rules that happened earlier in the week."
Rapoport noted "some attitudes and frustrations" may have played a role as well.
https://twitter.com/RapSheet/status/960664146575527937