Super Bowl
Watch the Jason Kelce speech everyone's talking about from the Eagles' Super Bowl parade
"Bottom line is we wanted it more."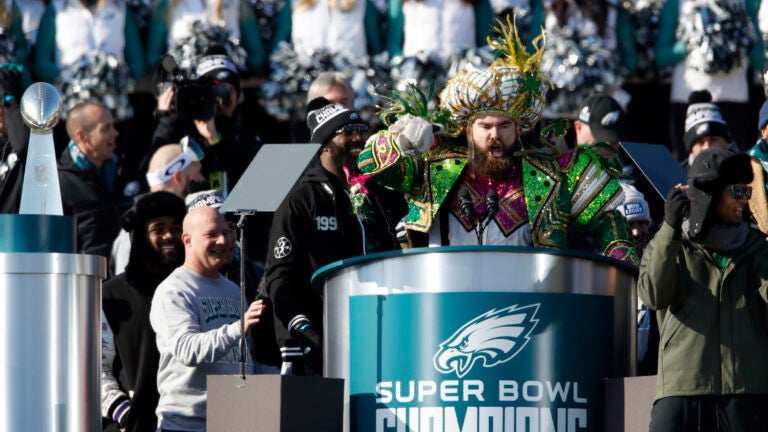 If you were wondering why Jason Kelce was trending on Twitter…
The Eagles center gave an impassioned — and, at times, profane — speech in front of a raucous Philadelphia crowd on Thursday after his team's Super Bowl LII victory parade.
"Hungry dogs run faster, and that's this team," Kelce shouted, referring to a quote hung up in an Eagles team-building.
In the WWE-style address, Kelce, in Mummers garb, recited criticism from the team's doubters throughout the season.
"Bottom line is we wanted it more," the 30-year-old All-Pro told the crowd. "All the players, all the coaches, the front office, (owner) Jeffrey Lurie, everybody wanted it more, and that's why we're up here today, and that's why we're the first team in Eagles history to hold that fricken trophy."
Jason Kelce, man of the people. #FlyEaglesFly pic.twitter.com/4VEIFkAfd2

— Philadelphia Eagles (@Eagles) February 8, 2018
Jason Kelce.
Havin' a beer.
On the street.
Next to a cop.
Giving him his autograph. pic.twitter.com/6gNRBZB3q3

— Sports Illustrated (@SInow) February 8, 2018
https://twitter.com/stefenwiz61/status/961587178253012994