Super Bowl
Super Bowl tickets: Who gets them and how
There's not a simple answer.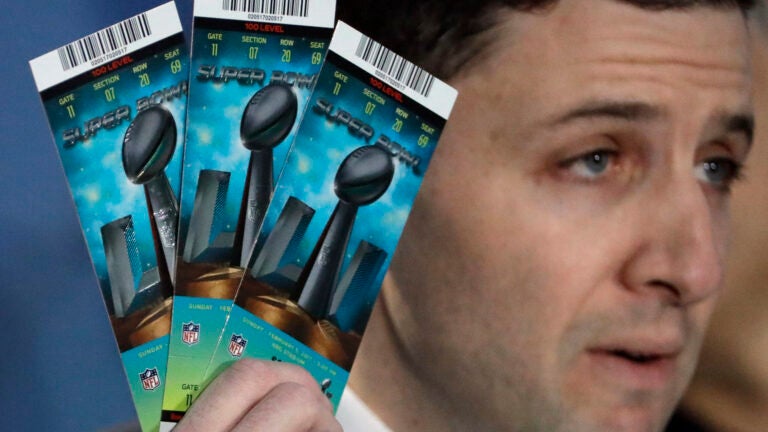 ATLANTA — The next Super Bowl will be played in Atlanta, raising a natural question for many local football fans: Will tickets be available?
There's not a simple answer.
Tickets won't be available in the traditional sense of an open-to-the-general-public sale at face value. The NFL doesn't do that with Super Bowl tickets.
Tickets will be available to a relatively small number of holders of high-end Falcons season tickets. Buyers of $45,000 personal seat licenses for the roughly 1,300 club seats around the 50-yard line are guaranteed the right to buy Super Bowl tickets, although not necessarily in the same seat they have for Falcons games. And Mercedes-Benz Stadium suite holders are assured access to one Super Bowl ticket for every two suite seats they hold.
For most other folks, the best shot at buying tickets for Super Bowl LIII, to be played Feb. 3 in Mercedes-Benz Stadium, likely will be as part of hospitality packages or on the secondary market.
On Location Experiences, the NFL's official hospitality provider, will bundle about 9,500 Super Bowl tickets with various perks — such as night-before-the-game concerts, pregame parties, postgame field access and the like — and sell the premium packages for considerably more than the face value of tickets alone.
The NFL hasn't released the face value of Super Bowl tickets, which last season started at $950, and On Location Experiences hasn't released prices or details of the various hospitality packages. For Super Bowl LI in Houston in February 2017, such packages were priced from $3,514 to $12,749. Each package contained one game ticket and access to other events and amenities.
OLE is expected to begin marketing hospitality packages for Super Bowl LIII soon.
Another eventual way to obtain Super Bowl tickets, albeit typically at prices well above face value, is to buy them on the secondary market from resellers. About 48 hours before Super Bowl LII in Minneapolis, ticket reseller StubHub said the average re-sale price on its site was $5,414 and the lowest was $3,103.
So who gets access to Super Bowl tickets at face value (the price printed on the ticket)?
The NFL controls the tickets and has divvied up the inventory this way in recent seasons, according to previous reports: 17.5 percent to each of the participating teams, 5 percent to the host team, 1.2 percent to each of the other 29 teams and 25.2 percent to the league office. It is not clear if the percentages will be adjusted for next season's game. Teams and the league distribute some seats from their allotments to On Location Experiences for sale in the hospitality packages.
The participating teams also sell some of their allotted tickets directly to season-ticket holders, although teams generally don't divulge how many, while making others available to sponsors, employees, players' families, etc. Much of the Falcons' host-team allotment will go to the top-end PSL buyers and suite holders contractually guaranteed access to tickets. Much of the league's allotment is sold to sponsors and media partners.
The NFL also started a program last year to give away 500 Super Bowl tickets to fans across the country.
But the bottom line is that for the vast majority of people who want to attend the Super Bowl in 71,000-plus-seat Mercedes-Benz Stadium, tickets will be difficult and/or very expensive to obtain.
Earlier this spring, when the Atlanta host committee started the recruitment of 10,000 volunteers who will help welcome Super Bowl visitors to the city, it emphasized the volunteers won't get access to tickets and won't work inside the stadium on game day.
And on their official website, the local organizers answer the question they hear all the time: "The host committee does not sell tickets."