Super Bowl
Why the Patriots have so much respect for Johnny Hekker
"We're going to have to play this game very differently than we've played any game this season."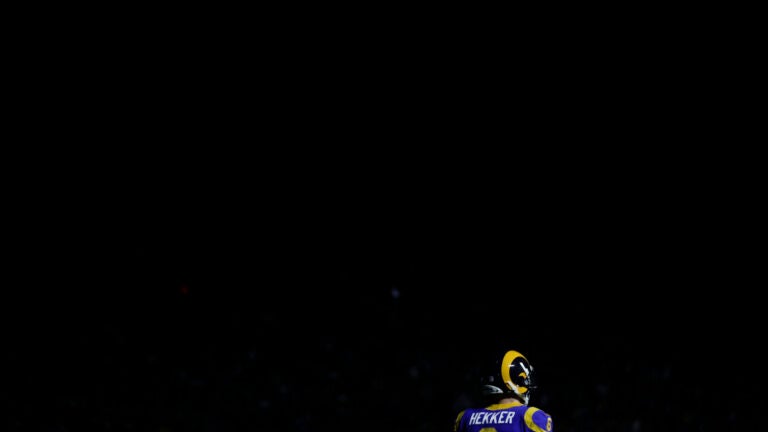 Bill Belichick has devoted a lot of words to Los Angeles Rams punter Johnny Hekker.
The one he uses most often is "weapon."
"Again, he's a weapon on the field," Belichick said during a press conference Thursday, ahead of next Sunday's game against the Rams in Super Bowl LIII.
The New England Patriots coach's appreciation for the punt game has been well documented. But his respect for Hekker goes beyond the punter's formidable right leg. The 6-foot-5 former high school quarterback demonstrated why as recently as last weekend's NFC Championship Game.
MOVE THOSE CHAINS‼️@JHekker to Shields! pic.twitter.com/Id1tFRmKqN

— Los Angeles Rams (@RamsNFL) January 20, 2019
Losing 13-0 against the No. 1 seed New Orleans Saints, the Rams called a fake punt for Hekker on a fourth-and-5 play from their own 40-yard line. The 28-year-old threw a dart to gunner Sam Shields on a curl route, extending a drive that would lead to the Rams' first score of their comeback win.
Those familiar with Hekker's work shouldn't have been surprised.
The Rams have regularly used him for fake punts (and fake field goals). During his seven NFL regular seasons, Hekker has completed 11 of 19 pass attempts for 156 yards, 10 first downs, and one touchdown. His quarterback rating is 102.1.
Johnny Hekker for Super Bowl MVP? ? @JHekker pic.twitter.com/CsGv40ahxn

— The Checkdown (@thecheckdown) January 22, 2019
Hekker was a quarterback, who also punted, in high school and led his team to the Washington state championship game during his senior year in 2007. According to the Los Angeles Times, Hekker was named athlete of the year by a local newspaper and received at least one Division 1 scholarship offer to play quarterback at Utah State. However, he ultimately decided to try to walk on as a quarterback at Oregon State, where coaches identified his potential as a punter.
Still, even in the NFL, Hekker's arm and athleticism mean that teams still have to defend him "like a quarterback," Belichick told reporters in 2016.
"It's really tough," Patriots wide receiver and special teams captain Matthew Slater told reporters Thursday.
"This is a guy who, if I'm not mistaken, was like an All-State quarterback," Slater said. "He can throw the ball as well as some quarterbacks in this league. It makes it very challenging."
The aggressive play-calling style of John Fassel, the Rams' special teams coordinator, accentuates that threat. Slater noted that the team attempted five fakes this past regular season alone, converting two and just —  in one case, controversially — coming up short on two others (Hekker at least showed some impressive arm strength on the third failed attempt).
"We're going to have to play this game very differently than we've played any game this season because of Johnny and because of Coach Fassel and how they want to call the game," said the Patriots veteran.
"I think the main thing when you send your punt return team out there is you want to make sure you get the ball at the end of the play," Belichick said Thursday. "That's not always that difficult — but with these guys it's pretty challenging."
And yet, Belichick himself has perhaps been most effusive about Hekker's abilities as an actual punter.
"This guy looks like as good a player as I've ever seen at that position," he said in 2016.
A four-time All-Pro, Hekker has a career average of 47 yards a punt. In 2016, he set the single-season record for average net yardage per punt and also holds the third and fourth spots on the all-time list, according to The Football Database, which has tracked the stat since 1978.
Since entering the league, Hekker has pinned opposing teams inside the 20-yard line 217 times, while recording only 26 touchbacks. In 2016, that ratio was an incredible 51 to one, which Fassel told The New York Times was "just stupid."
Marveling at his ability to swing field position, Belichick called Hekker a "very unusual player," in a good way, before the Patriots played the Rams in 2016.
"Not only can he hit long, he can kick it high, very good inside the 20," Belichick said in a video breakdown. "He does a good job of moving the ball around, placing it so that it's a hard ball to handle. 
In addition to hitting directional punts, Hekker employs a number of different types of punts — some for distance, some for precision — including the rarely attempted "banana," which spins sideways.
Hekker went on to pin the Patriots inside their own 20 on five of his eight punts, netting an average of 52.9 yards per kick in the 2016 regular season game. Midway through the first quarter, he even feigned a pass before opting to instead boom a nearly-50-yard punt, which was muffed by returner Cyrus Jones.
"Returners have a lot of trouble with it," Belichick said presciently before the game. "This guy is a major weapon in terms of his ability to change field position."
The Patriots did go on to win that 2016 game, 26-10. But they're now set to face a revamped Rams team that has weapons, to use Belichick's term, at more than just the punter position.
Fortunately for the Patriots, they'll at least have an extra week before the Super Bowl to prepare. For someone as concerned about special teams, field position, and turnovers as Belichick, the redheaded punter on the opposing sidelines alone seems like a lot to think about.
Boston.com staff writer Nicole Yang also contributed to this story.