Super Bowl
The Super Bowl is bringing the 'cola wars' to Coke's home turf
The Patriots and Rams aren't the only ones going to battle in Atlanta.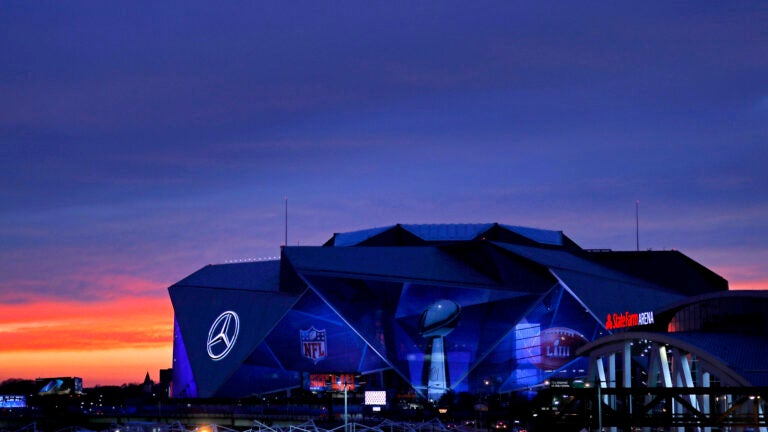 The Coca Cola Company has called Atlanta home since its inception more than 130 years ago. Its iconic soft drink is so prolific the word Coke is literally synonymous with soda in the area.
However, as Atlanta hosts Super Bowl LIII, the soda giant is facing a major incursion from its top rival.
As a long-running official NFL sponsor, PepsiCo is doing its best to wrap the city in blue — and taking some not-so-subtle jabs at Coke in the process.
"Pepsi in Atlanta. How refreshing," reads one of the prominent ads Pepsi has placed on subway stations and billboards around the city.
This is the only week ever that you can drink Pepsi in Atlanta pic.twitter.com/Y6uccGY02x

— Ben Volin (@BenVolin) January 28, 2019
Quick take on Super Bowl sponsorships around Atlanta- Pepsi is working hard in this Coke town. Marta stations, hwy billboards, etc. (1/3) @atlsuperbowl53 #SportsBiz #sponsorship pic.twitter.com/55tNlv23wq

— Beth Cianfrone (@BACianfrone) January 26, 2019
Cola Wars: Pepsi invades Coke City ahead of Super Bowl https://t.co/DT42ACeFSm pic.twitter.com/2OvTq8kOXB

— WSB-TV (@wsbtv) January 24, 2019
@CocaCola y'all just going to sit around and let @pepsi come to Atlanta and disrespect y'all pic.twitter.com/LwfITqsvQt

— C. Henry Jr (@CharlieBoiiiFoo) January 23, 2019
In addition to the giant ads, Pepsi is planning to cover the logos on the Coke coolers and fountain machines inside Mercedes-Benz Stadium, according to the Atlanta Journal Constitution. Bottled Cokes will reportedly also be banned inside the stadium during the game Sunday. And while fans will be able to drink Coke from the fountain machines, they'll only be able to have it in official Super Bowl-labeled cups. Coke's global headquarters are even inside the NFL's "clean zone," which restricts advertising by non-league sponsors, according to the AJC.
All in all, Pepsi says their effort includes 350 pieces of outdoor advertising across Atlanta, flaunting their arrival. The soda brand is also leaning into their position as the second-highest selling soft drink in the country (behind Coke) with an ad campaign around the question "Is Pepsi OK?"
"We felt that it was time to address this question head-on, by celebrating our fans, our valued restaurant partners, and our core consumers by unapologetically letting everyone know that Pepsi is way more than OK," Todd Kaplan, the brand's vice president of marketing, said in a statement, teasing additional "surprises" as part of Pepsi's attempt to paint Atlanta "blue."
Pepsi's campaign is the latest salvo in the so-called "cola wars," the decades-old rivalry between the top two soda retailers, which has often consisted of Pepsi taking shots at its more dominant counterpart. With Atlanta hosting its first Super Bowl since Pepsi swiped the NFL marketing rights from Coke in 2002 (and soda sales plunging for more than a decade in the United States), the company apparently decided it was a good opportunity to once again go on the offensive.
Kaplan told AdWeek that "Pepsi will be in full force in Atlanta."
As their presence began getting more and more attention last week, Coca Cola responded, in a way, by announcing that it was making a $1 million donation to the National Center for Civil and Human Rights so that visitors could get free admission to the Atlanta museum Monday through the end of February, as well as three $100,000 grants to local civil rights groups.
"We're thrilled to help our city welcome everyone to town for the Big Game, including our friends at Pepsi," a Coca Cola spokesperson told Boston.com.