Super Bowl
What NFL experts are predicting for the 2021 Super Bowl
How oddsmakers and pundits are calling Sunday's game between the Kansas City Chiefs and Tampa Bay Buccaneers.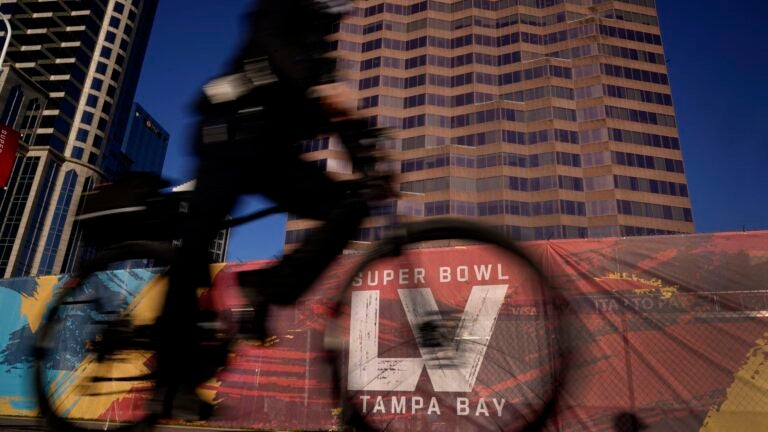 COMMENTARY
The NFL is promising that Super Bowl LV won't turn into a COVID super-spreader.
Which, if we base on the majority of the league's empty promises over the years, means we should expect a major breakout in Tampa.
There will be only 25,000 in attendance Sunday when the Kansas City Chiefs visit the Buccaneers at their home stadium. Each person in attendance will receive a kit that includes hand sanitizers and KN95 masks.
It's somewhat amazing that we've actually made it this far amidst the pandemic. Despite some frequent COVID snags (including the Chiefs' desperate need to have their haircut appointments not disturbed) the NFL season went off, pretty much on schedule, for the entirety of the year. No other professional sport in America has been able to stick to its normal slate since the start of the pandemic last March.
The fact that the Super Bowl will be played on its originally-intended date is somewhat remarkable.
Still, it's got to be somewhat of a kick to the soul for Tampa Bay, where you have the fortune of being the first team to play a Super Bowl in its home arena, but the Super Bowl "vibe" is non-existent.
Events are minimal. Visitors are coming into town by the hundreds, not thousands. The normal list of parties that fill up a Super Bowl week calendar have transferred to Zoom. All the fun has been sucked out from the anticipation.
Instead, it seems just like any other week in Florida.
It looks like the Super Bowl. But it doesn't feel like the Super Bowl.
Super Bowl predictions
Pete Prisco, CBS Sports: Chiefs 35, Buccaneers 30. "This one will be high-scoring, but in the end I think Mahomes and his skill players, especially Hill and tight end Travis Kelce, will get the best of Tampa Bay's defense."
CBS Sports staff: Six out of eight pick Kansas City (-3). Seven of the eight pick the Chiefs straight-up.
MMQB staff: All eight writers pick the Chiefs. Albert Breer predicts a score of Chiefs 30, Buccaneers 28.  "I think Tom Brady's going to play well, and the Bucs are going to play well. I think they even may outplay the Chiefs for the majority of this game. But what last year taught me—and not just the Super Bowl, but the playoffs in general—was that Mahomes has the ability to erase things the way Brady did when he was at his peak. He can erase holes created by injury or attrition (see: an AFC title game mostly without both his tackles and Sammy Watkins), he can erase the strengths of other teams and he can erase bad stretches of football. Remember, last year the Niners outplayed the Chiefs for three and a half quarters. And in about eight minutes of game time, Mahomes made that not matter. This is why I wouldn't bet against Brady over the years. It's why I won't bet against Mahomes now."
Mike Florio, Pro Football Talk: Buccaneers 30, Chiefs 27. "Although I can see the Chiefs winning, and winning easily, I can't abandon the Bucs now. Brady, I believe, will keep it close. Brady, I believe, will make a big throw in a big spot. The defense, I believe, will make a big play in a big moment. The Buccaneers, I believe, will manage to look up at the scoreboard when the game is over and see, through the confetti, that they scored more points."
Michael David Smith, Pro Football Talk: Chiefs 31, Buccaneers 21. "Can Brady match that with another Super Bowl MVP performance of his own? I see him falling short. The Chiefs will bring pressure with Chris Jones and Frank Clark, and I see Tyrann Mathieu making some impact plays in the secondary. In the fourth quarter, the Chiefs' offense will pull away while the Chiefs' defense shuts down Brady's final comeback attempt."
Vinnie Iyer, Sporting News: Chiefs 31, Buccaneers 27. "The Chiefs and Buccaneers should each put up more points than they did in Week 12; Mahomes and Brady are locked into high level of execution. Brady has been terrific in getting the Bucs to this point in his first season with them, but the Chiefs are different beasts from what they conquered in the NFC. Brady doesn't get as much as help as Mahomes does overall. Going against Brady in a tight game deep in the fourth quarter isn't smart, unless Mahomes is on the other side."
Sporting News staff: All six pick the Chiefs. Writer Bill Bender predicts a score of Chiefs 35, Buccaneers 32. "Patrick Mahomes passed for 462 yards in the regular-season meeting, and at one point it looked like Tyreek Hill would set the single-game receiving record. Tackle Eric Fisher's injury is a major storyline given how Shaquil Barrett and Jason Pierre-Paul were able to combine for five sacks in the NFC championship game, but Mahomes presents more of a challenge because of his mobility. Look for a similar game to emerge the second-time around. Kansas City will build a first-half lead behind TD passes to Hill and Travis Kelce, but Tom Brady — as he so often does — will lead a comeback in the second half. Mike Evans, Chris Godwin and Rob Gronkowski will make their share of plays in the passing games, and Leonard Fournette will be more involved this time around. In the end, however, the Chiefs don't give Brady a chance to lead the game-winning drive. Mahomes wins Super Bowl MVP honors again, and Andy Reid starts thinking about a three-peat."
Frank Schwab, Yahoo! Sports: Chiefs. "The Tampa Bay Buccaneers have been very impressive, winning three straight road games to make Super Bowl LV. They're good on both sides of the ball and deserving of an NFC championship. But it's hard to bet against Mahomes and the Chiefs after being reminded of their top gear the past couple games."
SB Nation staff: Eight out of 10 pick the Chiefs.
EA Sports' Madden: Chiefs 37, Buccaneers 27.
Tecmo Bowl: Chiefs 28, Buccaneers 27.
Dallas Zoo Lion Cubs: Chiefs.
Nicholas the dolphin: Kansas City.
Sid the wolverine: Bucs.
Tampa Bay marine animals: Split.
ESPN staff: Ten out of 12 pick the Chiefs. Fantasy writer Mike Clay is one of the two who picks the Bucs. "It feels gross picking against Mahomes, but the Buccaneers have been red-hot over the past two months and — records aside — arguably have the overall better body of work this season."
ESPN experts: Five of nine pick the Chiefs.
Everybody else at ESPN: Sixty-nine out of 93 like the Chiefs.
NFL.com staff and NFL Network analysts: Twenty-one of 32 pick the Chiefs. Gregg Rosenthal picks a score of Chiefs 31, Buccaneers 30. "Last QB with the ball wins, just like the last time these two passers faced off in the playoffs. This time, it's Patrick Mahomes in control with the clock winding down."
Five Thirty Eight: Chiefs, 53 percent (-1).
NFL PickWatch: Seventy-four percent, Chiefs.
It says here: Chiefs 35, Buccaneers 31. Will we see Eagles or Giants (x2) Super Bowl Tom Brady? Or will the magic make another appearance like it did against Atlanta, St. Louis, or Carolina? Either way, the Chiefs are better.
Get Boston.com's browser alerts:
Enable breaking news notifications straight to your internet browser.