Tom Brady
Rob Gronkowski calls Super Bowl LV victory with Tom Brady 'one of the greatest accomplishments in sports history'
"I've been waiting for you! I've been waiting for you to make a move."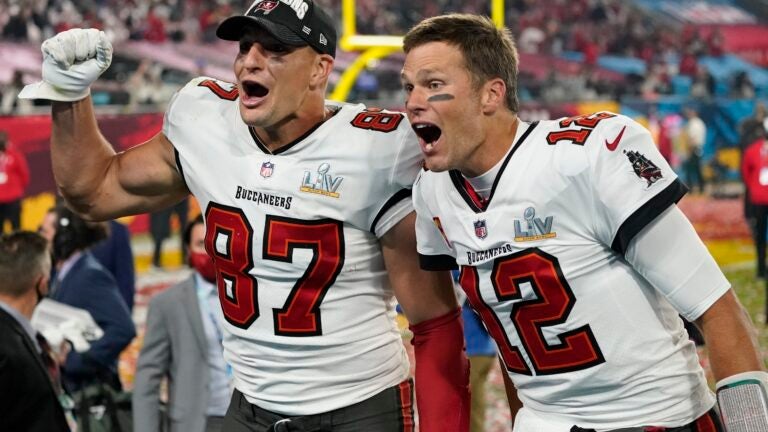 In 2019, then-New England Patriots tight end Rob Gronkowski announced his retirement from football — a surprise given Gronkowski's youth and success in New England.
Five months later at a press conference for the launch of his new CBD company, an emotional Gronkowski told reporters about a quad injury that prevented him from sleeping at night.
"I want to be clear to my fans," Gronkowski said. "I needed to recover. I was not in a good place. Football was bringing me down, and I didn't like it. I was losing that joy in life."
Other rumors floated regarding a rift between Gronkowski and Belichick, but one thing seemed clear: Gronkowski's relationship with Patriots quarterback Tom Brady never faltered. When Brady shook the NFL world by leaving the Patriots in free agency for the Buccaneers, many wondered whether Gronkowski would join him.
He did. In April, Gronkowski told the Patriots he wanted to come out of retirement and rejoin Brady. Shortly afterward, the Patriots finalized a deal with Tampa Bay.
Gronkowski had been monitoring Brady's situation.
"It was kind of a series of conversations," Gronkowski said on Sunday. "It wasn't anything like, 'Hey Rob, I want you to come back, come to Tampa with me, it was over a little bit of time, a couple of conversations.
"Then free agency hit, and he told me he's gonna go down to Tampa or to another team… He hit me up and he was like, 'Yo would you come down?' And I was like, 'I've been waiting for you! I've been waiting for you to make a move.' It's been just over a series of talks, and it's just been an unbelievable story, and there's a lot more conversations that went down, but we're just going to keep them between us."
The duo celebrated their new partnership with another Super Bowl victory on Sunday. Brady finally threw for a touchdown in the first quarter of a Super Bowl game, connecting with Gronkowski on a short pass that Gronkowski chugged into the end zone.
Brady & Gronk connect for their 13th postseason touchdown, the most ever by a QB-receiver duo 🙌 #GoBucs #SuperBowl

📺: #SBLV on CBS
📱: NFL app // Yahoo Sports app pic.twitter.com/uemhrCvAkX

— NFL (@NFL) February 8, 2021
Gronkowski scored again midway through the second quarter. Brady dropped back to pass near the 20-yard line and fired a dart over the middle to Gronkowski, who snagged his career 14th touchdown pass in the postseason from Brady — an NFL record for a tandem, according to the CBS Broadcast.
THEY DID IT AGAIN. BRADY TO GRONK. LEGENDARY. #GoBucs

📺: #SBLV on CBS
📱: NFL app // Yahoo Sports app: https://t.co/HJtQf5igun pic.twitter.com/eOSHmkH857

— NFL (@NFL) February 8, 2021
Gronkowski celebrated the victory with Brady after the game on the field. Midway through his press conference, Brady — who wanted to cut the session as quickly as possible — shouted and pointed to Gronkowski off the screen.
"Robby G!" Brady exclaimed, beaming. "I'll see you later."
Gronkowski caught six passes for 67 yards on Sunday, a team-high in both categories. His longest catch was 25 yards.
"That was huge, man. That was huge," Bruce Arians said after the game. "Especially that second one. Gronk made a great adjustment. Man, the protection was unbelievable for Tom to hold the ball that long, and then Tom made a great throw and catch."
"Gronk's an unbelievable player, teammate, talent, work ethic, commitment," Brady added. 
Gronkowski hinted his desire to win again fueled his return.
"The Buccaneers organization, they were an organization ready to win," Gronkowski said. "The players here were ready to win, and just to come in and be a small part — a small big part of it — and play my role was just amazing. Just to come here and have a situation like this with so many great players and be Super Bowl LV champs, it's surreal."
After the game, Brady told the CBS broadcast he plans to return. Gronkowski, who is significantly younger than Brady, might return as well.
But for now, the Buccaneers plan to celebrate their win. How would Gronkowski rate this moment for himself and Brady?
"It's hands down one of the greatest accomplishments in sports history," Gronkowski said. "I'm not going to say it's the greatest, but I would say it's up there for sure. … Definitely ranks up there as one of my greatest accomplishments ever."
Get Boston.com's browser alerts:
Enable breaking news notifications straight to your internet browser.