Super Bowl
Patrick Mahomes secured his place in history with a Super Bowl masterpiece
Mahomes has two Super Bowl wins and three appearances in his first five years as a starter.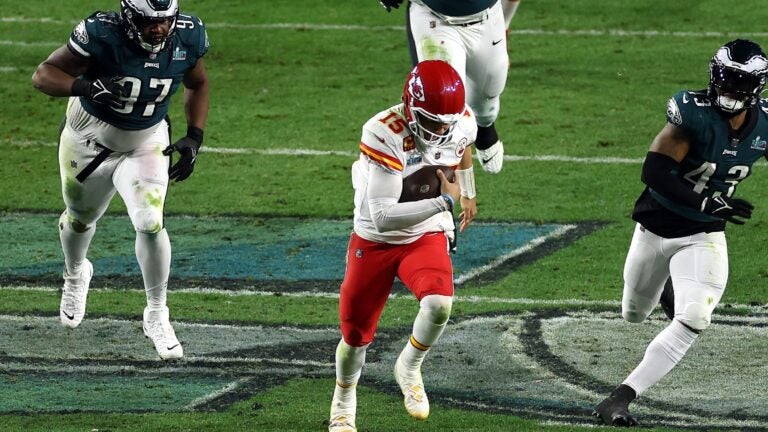 Welcome to the Unconventional Review, an instant reaction to standouts, stats, and story lines from Super Bowl LVII …in Super Bowl X
It was a tour de force, his piece de resistance, and any other words you want to use, French or otherwise, to describe Patrick Mahomes's masterpiece Sunday night.
In his five seasons as a starter, Mahomes has won a pair of Most Valuable Player awards and two Super Bowls, and it's not too soon to get his measurements for the gold jacket he'll receive when he's inducted into the Pro Football Hall of Fame.
He's an all-timer already, and he made the defining play of his extraordinary, highlight-filled career already. Mahomes's 26-yard run — his longest of the season — on a reinjured left ankle was the greatest confirmation yet that he is as tough as he is talented.
The run came with 2:55 remaining and the score tied at 35, and replay showed him wincing in pain with every step. The drive ended with Harrison Butker's winning 27-yard field goal with 8 seconds left.
It was easy to forget in that moment that the Chiefs trailed by 10 at halftime, and there were questions about whether Mahomes would be able to function properly in the second half — let alone outduel the Eagles' Jalen Hurts, who was extraordinary in defeat — after injuring his ankle again.
Instead, the Chiefs scored on all of their second-half possessions, and at just 27 years old, Mahomes built on a legend that is already secure. What a player, what a champion.
Some further thoughts, upon immediate review …
THREE PLAYERS WHO WERE WORTH WATCHING
Players suggested in the Unconventional Preview: Haason Reddick, Jerrick McKinnon, A.J. Brown
Kadarius Toney: One of the major questions for the Chiefs was this: Which offensive skill players could Mahomes rely on besides Travis Kelce? As it turned out, pretty much no one in the first half, and just about everyone in the second half.
Kelce was as excellent as he is obnoxious, scoring the Chiefs' first touchdown on an 18-yard reception to cap their initial drive. He finished with six catches for 81 yards and the score.
But in the first half, the Chiefs possessed the ball for just a little over 8 minutes, and their second-leading receiver at the break was Jerrick McKinnon, with 2 catches for 12 yards. Mahomes and Kelce didn't get much help.
That changed after the break, when JuJu Smith-Schuster, Isiah Pacheco (who finished with 76 rushing yards and ran for a 1-yard touchdown to cut the Eagles' lead to 24-21 on the first series of the second half), and Skyy Moore all made big contributions.
But the winner of the Timmy Smith Award for most unlikely Super Bowl hero goes to Toney, a Giants discard acquired by the Chiefs in October. He capped the Chiefs' first drive of the fourth quarter with a 5-yard touchdown reception to give KC its first lead at 28-27, then after an Eagles three-and-out, he returned a punt 65 yards to the 5, setting up Moore's touchdown. It was an extraordinary, game-swinging sequence from a player who went from afterthought to unforgettable.
A.J. Brown: Both Brown and fellow receiver DeVonta Smith were superb, combining for 13 receptions for 196 yards and a touchdown. Mac Jones must watch them — Smith was a former teammate at Alabama — and have a severe case of receiver envy.
Brown, whom the Eagles acquired from the Titans before the season for the No. 18 and 101 picks, accounted for six catches and 96 yards, including a spectacular 45-yard touchdown on the first play of the second quarter in which he tracked Hurts's heave like a young Jackie Bradley Jr. running down a fly ball in the gap.
Brown also made another big play just before halftime, catching a 22-yard pass on third and 5 from the Chiefs 41, which helped set up Jake Elliott's 35-yard field goal to give the Eagles a 24-14 lead heading into the break.
Nick Bolton: The Chiefs linebacker was everywhere, including at the right place at the right time in one of the most pivotal moments of the game. Bolton finished with a game-high nine tackles (eight solo), but the play he will be remembered for was his 36-yard return of an unforced Hurts fumble to tie the score at 14 in the second quarter.
The Eagles were on the verge of taking control of the game, having just passed midfield, when Hurts simply dropped the ball on a third-and-1 run. Bolton said after the game that he had dreamed of having a scoop-and-score in the Super Bowl just a couple of nights earlier. It wasn't the only dream that came true for the Chiefs Sunday night.
GRIEVANCE OF THE GAME
With 1:54 remaining, the score tied at 35, and the Chiefs facing third and 8 at the Philadelphia 15, cornerback James Bradberry got called for holding Smith-Schuster. The transgression put the Chiefs on the doorstep of victory and will go down as one of the most costly penalties in NFL history.
The penalty led to immediate laments that it should not have been called, given the stakes in the moment and that the hold — more of a tug of the jersey — was not egregious. I disagree with that; it was a penalty, and Bradberry himself admitted as much after the game. "It was a holding," he said. "I tugged his jersey. I was hoping they would let it slide."
My issue is not with the specific call, but the inconsistency of the officials. Bradberry was justified in thinking he would get away with it, because he did on a similarly aggressive play earlier in the game. On a third-and-8 play in the second quarter, he probably should have been flagged for interfering on an incomplete pass to Smith-Schuster. He was not, and in his mind, the parameters of what he could and couldn't do were set.
Had the call in the final two minutes not been made, there would have been some howling from fans that it should have been. Sometimes the officials can't win. But this was a case where their officiating later in the game deviated from how they called — or didn't call — certain things earlier. Bradberry's mistake wasn't the penalty as much as it was trusting the officials to be consistent.
And Roger Goodell's statement earlier in the week that officiating is better than it has ever been is even more ridiculous now than when he said it. Goodell could make it a requirement that all newly hired officials must have cataracts, and they still wouldn't be much worse than what's on the field right now.
THREE NOTES SCRIBBLED IN THE MARGINS
I was surprised to hear Greg Olsen note on the broadcast that the Chiefs' Frank Clark is "on the verge" of being first all-time in playoff sacks. Turns out he has 13.5 — about a half-dozen more than I would have guessed — which puts him 2.5 behind Patriots great Willie McGinest for the lead. Hall of Famer Bruce Smith had 14.5 with the Bills … Fox announced during its pregame show that it is adding Derek Jeter to its Major League Baseball studio team, welcoming him to "the Fox Sports family." For those of us still annoyed at how the network insisted on showing Jeter's camera-ready reaction to every … single … thing that went the Yankees' way, it sure has seemed like he's been part of the "Fox Sports family" since, oh, 1996 … Hurts, with three rushing touchdowns and a 2-point conversion, tied the record for most points scored (20) by one player in a Super Bowl. If you didn't blurt "he tied James White" at some point while reading that previous sentence, you need to rewatch Super Bowl LI, pronto.
Sign up for Patriots updates🏈
Get breaking news and analysis delivered to your inbox during football season.