The Boston Globe
Senate bill could enable Revolution stadium in Everett at last
A measure that would enable a soccer stadium to go on the site of a shuttered power plant took a big step forward on Monday.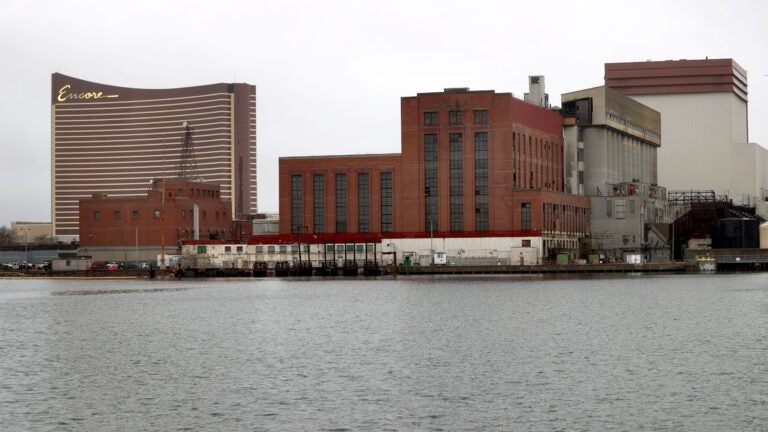 The state Legislature will take up a measure this week that could finally enable the Kraft Group to build a roughly 25,000-seat soccer stadium for the New England Revolution along the Mystic River in Everett.
The provision is included in a supplemental budget measure that Senate leaders filed on Monday. The House has already passed its version of the spending bill without the stadium language, but it approved similar stadium legislation last year. Lawmakers hope to resolve any differences in the dueling supplemental budget bills this week, as they wrap up formal sessions for the year.
This legislation is considered crucial for the soccer stadium development to proceed: It removes 43 acres — currently home to the shuttered portion of a sprawling power plant overlooking the Mystic River — from a Designated Port Area, a state designation that limits certain waterfront parcels to industrial uses. The property is on Boston's doorstep, just across the Mystic from Charlestown, and across Route 99 from the Encore Boston Harbor casino.
Everett officials on Monday also released an agreement with the Kraft Group that spelled out a raft of community benefits from the project, perhaps the strongest public signal yet that the Revs owners are fully engaged in pursuing the site. Provisions range from setting aside four acres of open space for a public park to $5 million for a community center and $10 million for a housing stabilization fund, to limiting on-site parking to 75 spaces and allowing the city's soccer teams and band program to use the facility. Many of these items stemmed from behind-the-scenes negotiations with community and environmental groups and city officials that were shepherded by state Senator Sal DiDomenico of Everett.
Mayor Carlo DeMaria's administration has been pushing to get the site removed from the DPA to help fulfill the mayor's vision of converting this long-industrial stretch, known as Lower Broadway, into a vibrant dining and entertainment district anchored by the casino. Encore operator Wynn Resorts acquired the power plant site from Constellation Energy in March for $25 million.
"I have been transparent about the importance for Everett to have the chance to transform its waterfront with environmentally sound, publicly accessible uses that will also generate revenue to support critical needs in Everett," DeMaria said in a prepared statement. "My support for this language reflects my commitment to creating such potential opportunities."
The Revs currently share Gillette Stadium in Foxborough with the New England Patriots, but the Kraft Group has long sought a site in Greater Boston that would put the Revs in a purpose-built soccer stadium closer to region's urban core. A spokesperson for the Kraft Group declined to comment on Monday.
The new legislation has been revised from the previous version filed at the State House last summer, in part to reflect concerns raised by environmental groups. For example, it now includes a provision that would put the land back in the DPA if a soccer stadium and waterfront park aren't permitted and built. The bill also requires state environmental officials to perform a complete review and update of all existing DPAs — with an eye toward coastal resilience, protecting marine industrial uses, fostering clean-energy activities, and assessing areas that could be added to DPAs to make up for any lost acreage. Also unlike last year's bill, this language would not allow the Kraft Group to bypass the state's Chapter 91 tidelands rules, which are designed to maintain or expand public waterfront access.
"Senator DiDomenico has worked long and hard on working with all the parties — the individuals in Everett, the proposed redevelopers, the environmental community — and the language that we put forth, from my understanding, is one that has been vetted and signed off by a majority of those affected," said Senator Michael Rodrigues, chairperson of the Senate Ways and Means committee. "I know representing my district — home to a very large retired and shuttered coal-fired electric generating facility — how difficult it is to find the right folks to demolish it, clean it up, and to mitigate all the environmental hazards on the site and to put it to productive reuse."
But not every environmental group is on board. The Conservation Law Foundation and Boston Harbor Now on Monday both criticized removing the land from the DPA, particularly through an unrelated budget bill.
CLF president Brad Campbell said at the very least, given the project's potential impact, the proponents should have filed a standalone bill that would have allowed a thorough public vetting.
"It's a massive project in an area that's already gridlocked," Campbell said. "This is … a large change to the DPA which may foreclose other options such as using it as a clean-energy hub."
Alice Brown, chief of planning and policy at Boston Harbor Now, noted that the stadium proponents didn't try to get the parcel removed through the standard regulatory review by the Office of Coastal Zone Management, a protracted and uncertain process. She said it's important to protect industrial ports because of the essential role they play in the local economy.
"Boston Harbor Now believes there's a world where public access and port uses do not have to be strictly separated, in all conditions," Brown said. "The idea that we're going to shut all these spaces down and say we're going to make it all open to the public ignores the very specific needs of Boston's working ports and Massachusetts' working ports."
Matt Stout of the Globe staff contributed to this report.