Tom Brady
What Boston sports radio is saying about Tom Brady's free agency decision
Brady going to San Francisco is "tremendously sexy."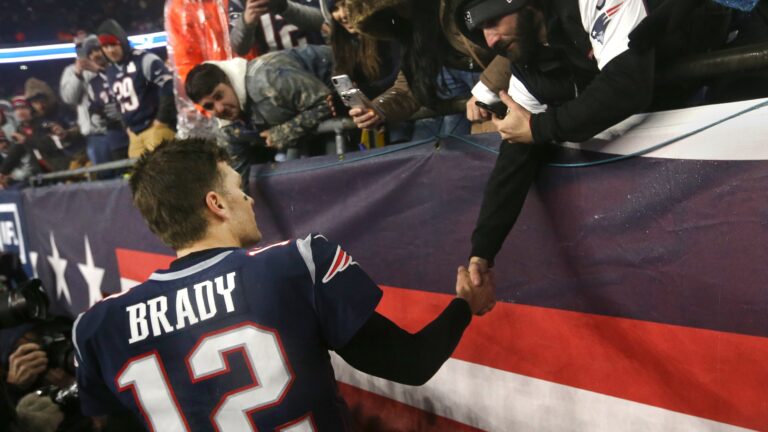 Speculation and rumors surrounding Tom Brady's free agency plans have circulated the Boston sports radio airwaves for months, but the time has almost finally arrived for all those rumors to be settled. Brady can legally begin discussions with teams Monday at 4 p.m., and on Wednesday, he can officially become a free agent for the first time in his NFL career.
As we head into a potentially monumental week involving Brady and the future of the Patriots organization, let's take a look at what Boston sports radio shows are saying about where Brady could land and what his current situation with the Patriots looks like.
Dale and Keefe
Reports circulated last week that Brady and Bill Belichick had a phone call, and while one report said the call, "did not go well," ESPN's Adam Schefter said the call was "business as usual."
WEEI host Dale Arnold offered more clarity into that phone call on Thursday's show, saying he heard from a source that both of those conflicting reports were actually right.
"This is what I was told happened: There was a phone call between Bill Belichick and Tom Brady. There was not a negotiation. There wasn't a, 'We will offer you a two-year deal at X number of dollars.' What I was told happened was the Patriots told Tom Brady that all they can do is a one-year deal at less money than he made last year because of the $13.5 million that gets tacked onto the salary cap, and basically, 'What we're going to be able to do here Tom, is a one-year deal, but it's not going to be for as much money as you got last year."
Sports Illustrated's Peter King also joined the Dale & Keefe show on Thursday and discussed the rumors about Brady potentially joining the Tampa Buccaneers, a team that King has called a "sleeping giant" for Brady's services this offseason. But King said the Bucs are "probably more likely to sign Teddy Bridgewater."
"It's nothing against Tom Brady," King said. "In my opinion they want an efficient quarterback … I think they come to a conclusion that a guy like Bridgewater has got plenty enough arm to play for them. I can't tell you right now whether that would eliminate Tom Brady. But I just have gotten a feeling through this process that if I had to pick a quarterback to put in Tampa that I would put Bridgewater."
Felger & Mazz
Boston's top sports radio show this week focused on Mike Lombardi's report that said the San Francisco 49ers are in play for Brady. Lombardi said, "I have a strong hunch, call it an instinct, call it something through the grapevine, that San Francisco is in play … I say it is 20-80 that it happens, 20 percent it happens, 80 percent [that] it doesn't. But, San Francisco is in play."
Host Mike Felger called Brady going to San Francisco "tremendously sexy."
"Lombardi has telegraphed many Patriots moves in the past," Felger said. "He's kind of a Belichick harbinger. When Lombardi wrote Brady to the 49ers makes sense, that caught my eye."
But Felger pivoted and discussed another scenario involving Kirk Cousins going to the 49ers, which would then create a quarterback carousel between Brady and Jimmy Garoppolo.
"Based on other things that have reported, Kyle Shanahan is obsessed with Kirk Cousins. So when Mike Lombardi said that this will lead to the most fascinating quarterback landscape to start free agency that you can believe, I read that as, and I wonder if, and I think there is a chance that you're looking at a quarterback carousel between Kirk Cousins, Tom Brady, and Jimmy Garoppolo."
Felger and co-host Tony Massarotti went on to discuss a potential three-team move that involves Cousins going to San Francisco, Brady signing with the Minnesota Vikings, and Garoppolo coming back to New England.
Ordway, Merloni and Fauria
Boston Globe Patriots reporter Ben Volin has predicted that Brady will come back to New England, but on Friday's "Ordway, Merloni and Fauria," he admitted it's "a little hard to stick that prediction right now."
"It certainly does not seem to be trending that way," Volin said. "We're only five days away and it doesn't appear they're any closer on a deal … It just seems that there is a lot of snipping at each other in the media. It's hard to get a grasp on whether it's the Patriots don't want Brady back or Brady doesn't want to come back here. It's getting harder to stick to my prediction, because it just doesn't seem like the two sides are coming together to try to make it work."
Lou Merloni agreed with Volin and said he doesn't think Brady is coming back. Volin called the one-year, $13.5 million deal the Patriots are reportedly willing to offer Brady a "slap in the face."
Volin was then asked by Merloni about a potential replacement for Brady if he does leave the Patriots, and Volin said he was in on Andy Dalton.
"Jarret Stidham might be great but he's thrown four passes in the NFL," Volin said. "If you're trying to still win in 2020 and buy some time, I'd go get Andy Dalton. He's started a lot of games, been to the playoffs, has a lot of experience and it'd be really fascinating to see what happens taking a guy from a bad program like the Bengals and stick him in a great program."