Tom Brady
'Can you believe it?': How Tampa Bay media is covering the anticipated arrival of Tom Brady
"I just woke up from the weirdest dream."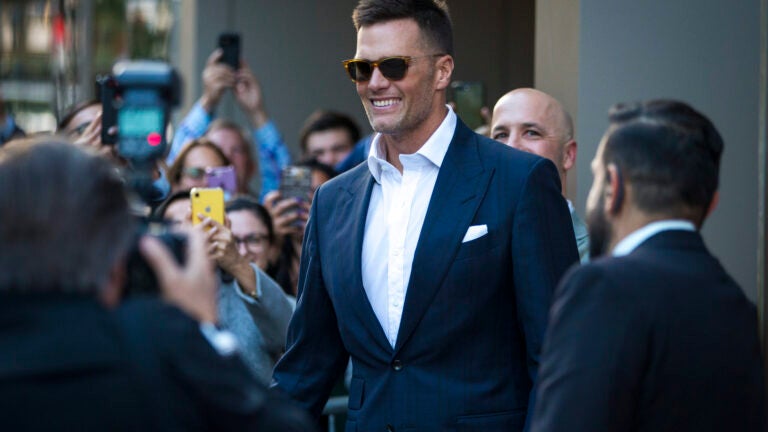 Media down in Tampa Bay can't believe that Tom Brady is now theirs to cover.
Though Brady's deal isn't yet official, Tampa's newspaper, television, and radio personalities are beginning to introduce their latest subject to the public. First, though, they have to come to grips with it themselves.
Even Ron DeSantis, the state's governor, couldn't help but slip in a Brady reference when discussing "how much the whole world has changed" in a coronavirus update.
FL @GovRonDeSantis: "Think of how much the whole world has changed…Tom Brady is coming to Tampa! That's like the biggest news…but that seems like such a distant thing to grab onto right now because we're in this day-to-day fight." #coronavirus https://t.co/KBuRz7Re0w pic.twitter.com/F8n8v8W1ND

— WFLA NEWS (@WFLA) March 18, 2020
Tampa Bay Times writer John Romano said signing Brady over keeping Jameis Winston, who threw 30 interceptions in 2019, "would have desperation written all over it, with cockiness scribbled on top."
"In essence, the Bucs would be betting they are a Super Bowl contender in 2020 with Brady as their quarterback," Romano wrote. "And they'd be willing to ante up the next 10 years of Winston's career to prove it."
Fox 13 Tampa Bay tweeted the news Tuesday, adding football and goat emojis next to Brady's name.
Tom Brady 🏈🐐 to sign with Tampa Bay Buccaneers, @ColinCowherd reports: https://t.co/85RwNe1tmh pic.twitter.com/OOoGMWWBOw

— FOX 13 Tampa Bay (@FOX13News) March 17, 2020
Radio host Pat Donovan said the news was a dream, a day after it had been announced.
Man, I just woke up from the weirdest dream. Get this, dreamt that the Tampa Bay @Buccaneers we're signing @TomBrady! I mean, who could imagine that? #Bucs #GoBucs #BradyWatch #BradytoBucs

— Pat Donovan🎙 (@PatDonovanRadio) March 18, 2020
Donovan said he appeared on radio shows in Boston, Seattle, Houston, South Dakota, Toronto, Baltimore, and San Diego to discuss "the impact of and interest in" Brady coming to the Buccaneers.
The Tampa Bay Times put together a simple timeline to orient their readers with the lengthy accomplishments of Brady, beginning on April 16, 2000, when he was drafted in the sixth round out of Michigan, and tracking him through six Super Bowl wins in New England.
On social media, television and radio stations got fans involved in the news.
Tampa's 95.3 WDAE posted a video on Twitter in reaction to the news, unfollowing Winston and following Brady on Instagram.
Ch-Ch-Changes….. @TomBrady pic.twitter.com/NQ9ROO7CX3

— 95.3 WDAE (@953WDAE) March 18, 2020
WFLA 8, the city's NBC affiliate, polled fans through a series of Twitter polls, asking if they believed the Bucs could sign Brady (68.4 percent of voters said yes) and if a Brady signing would impact their attendance at games (39.5 percent said there would be no change.)
POLL: IF the Buccaneers sign Tom Brady, would you go to more Bucs games at Raymond James? https://t.co/LCOpSXcdKu

— WFLA NEWS (@WFLA) March 17, 2020
For John Stroud of The Tampa Bay Times, Brady and the Bucs a perfect – albeit strange – story. "Brady is the culture change" the Buccaneers, who haven't won a playoff game since 2003, desperately need. Stroud doesn't want to talk about Joe Namath and Johnny Unitas struggling in their second phases of their career. That won't happen here.
"This could be more like what [Peyton] Manning experienced when he left the Colts," Stroud wrote. "Even with diminished skills, he went to the Broncos, loved living in Denver, met new teammates, went to two Super Bowls and won another ring."
To the Tampa media, Brady is in the right place to secure his seventh.