Tom Brady
Remember, Tom Brady is a human being
From here, it looks like Tampa's immortal new quarterback is being tugged between the past and the future.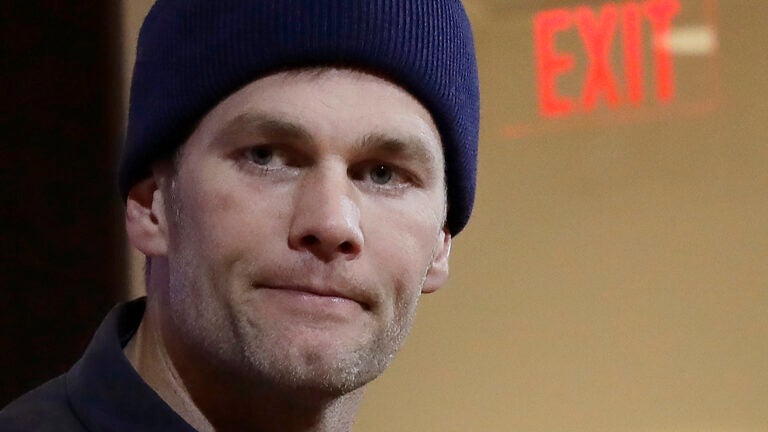 COMMENTARY
So much of what Tom Brady accomplished before trading Foxborough for Florida was unprecedented and unparalleled — especially the level of sustained excellence and six Super Bowl titles — that by the end it became easy to see him as something otherworldly. And naturally so. Rebuffing the liabilities and flaws that have caught up to every other player in history, he made predecessors and contemporaries alike look like mere football men while elevating himself into one of the game's immortals. That was particularly true in this region that basked in his brilliance for almost two decades and came to widely categorize him as his own brand of beast.
But, the truth is, the GOAT is actually a human being.
And we should remember that — rather than trying to figure out who's to blame for the fact he's a Buccaneer, or parsing years-old stories of strife to piece together how we got to this result.
The lives and lifestyles are so disparate, comparisons between pro athletes and we plebeians are typically foolish. Trying to compare commonfolk to a star in Brady's stratosphere is even more illogical. Yet the known details of Brady's departure and decision actually tell a tale that's rather familiar — and relatable.
He arrived in New England like a lot of young professionals, looking to prove he belonged in the real world. He poured everything he had into the employer that was willing to give him that opportunity, and looking for advancement. Over time he gained greater responsibility and got more credit. He earned his raises; maybe there was more money elsewhere, although he was building a career, and he recognized the best chance of success was continuing construction where it started.
That seemed to be the way it was for the bulk of his 20 years as a Patriot. But eventually, like it does for everyone, life changes. As it does, so do the challenges and priorities.
Nothing changes a person's perspective quite like the evolution of a family, and it's impossible to discount that as a factor in Brady's story. A single guy in his 20s doesn't see the world the same way as a father of three in his 40s, so we shouldn't expect the two to act the same way or preach the same principles. And it's similarly silly to think the way a father's role, responsibility, and desire to be present wouldn't continually evolve as his kids grew from babies to grade school to the cusp of their teenage years.
Remember when Brady was sobbing from underneath his flowing mane during an NFL Network documentary about a decade ago? It wasn't recalling the 198 players drafted before him in 2000 that made him cry. His tears choked him up when sharing the memory of how supportive his mom and dad had been in that moment. He cried on camera again a couple years ago, at Super Bowl opening night, when talking about how his father was his hero. He has talked openly about how much he loves his mother, and even before his wife was in the picture he's forever talked with great reverence about his three sisters, too.
Family has always been a big focus for Brady — so it shouldn't be surprising when he cites it as an excuse to miss offseason team activities, and thereby signals indirectly that his priorities have changed. It happens to all of us as parents. We're being yanked in new directions at home, making it harder for us to put professional quests in front of personal interests.
And that dynamic becomes even more pronounced when we stay in the same job for a while, and master our slice of the universe to the point that we're declaring that we've got the answers to the test. Complacency and boredom are natural, human reactions to that feeling, and those don't sit well with someone as competitive and driven as Brady — or anyone looking to climbs the rungs of the company ladder.
So we start looking for more, like Brady did. More security, more assurances. Maybe some more say-so. When we don't get everything we want, and what we might feel like we deserve, that grass on the other lawn starts to look greener and greener. We start peaking over at the neighbor's yard a little more often. We start privately talking with our people about what it might be like someplace else.
Somewhere we might be more appreciated.
Maybe our people urge us to turn those private conversations into a push for action. Or maybe they fuel the discontent that's been festering inside of us but we'd been suppressing through the comfort created by familiarity. Spouses, parents, siblings, and the rest of our closest confidantes have a way of influencing us with their perspective. Especially if it's passionate.
In Brady's scenario, this might explain the events of last summer. According to reports, he couldn't get a guaranteed, multi-year commitment from the Patriots in contract negotiations, but he did make sure that his new agreement would allow him to become a free agent after the 2019 season. That was his power play. That was his means to gain the leverage that could potentially lead to his desired changes.
But that was also the point of no return. The stipulations of his new contract amounted to a threat. They told Bill Belichick, Robert Kraft, and the Pats that Brady was serious about leaving if the team's approach to him didn't change. And, when it didn't, it was inevitable that pride would take over.
It's not unusual in the workforce for an employee to find out that their employer doesn't view them to be as valuable or irreplaceable as the employee may have believed they were. That's effectively what the Patriots told Brady when, per reports, they didn't make a formal offer to keep him before he reached free agency — and they shouldn't be blamed for that, either. They're an organization with a bottom line to maintain, and a future to protect. Sometimes that requires stone-cold decisions. Just as there's a human side, there's a business side of reality, too.
But maybe that reality just made things clearer, because when his remaining love wasn't reciprocated, despite 20 years of service that helped build the value of the franchise exponentially, Brady reacted like so many of us laypeople would have: Screw you. I'm out.
He booked his ticket to Tampa without giving the Patriots a chance to counter his move — and so now he's in another position that's totally relatable for so many. He's waiting to see how it all works out. Surely he's excited for his new start, and the promise of what awaits with the Bucs. But it would be unnatural if there wasn't some trepidation, too, about what football life beyond Gillette Stadium will be like. The latter seemed audible in Tuesday's introductory conference call, when Brady struck a pensive tone, and categorized his exit from New England as "emotional."
From here, it looks like Tampa's immortal new quarterback is being tugged between the past and the future. Between the known and unknown. Between his instincts and the input of others. Between professional and personal interests.
Just like so many of his fellow human beings.