Tom Brady
Watch: Tom Brady yells at teammates after they were called for five penalties on one drive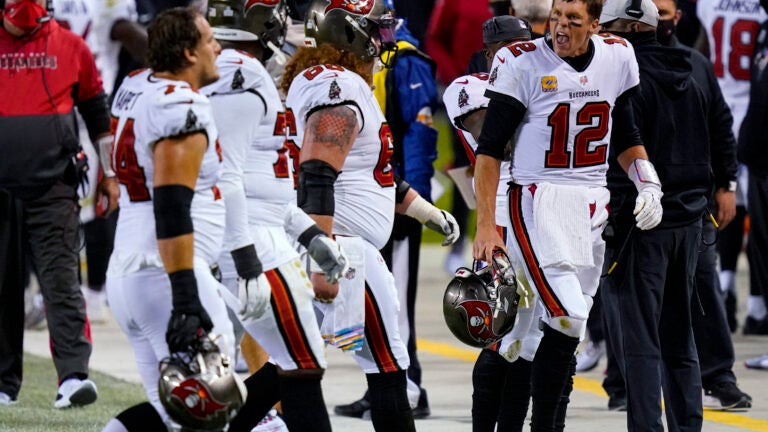 Tom Brady is not a fan of his team getting penalties.
In the waning minutes of the third quarter of Thursday night's game against the Chicago Bears, the Buccaneers started a drive at midfield and looked to expand their 16-14 lead.
However, the Buccaneers proceeded to be called for five penalties on the 10-play drive. Only three of the penalties were accepted or enforced but that was enough to drive Tampa Bay out of field goal range.
After Brady failed to complete a deep pass to Mike Evans on 3rd and 27 from their own 48-yard line, the Buccaneers had no choice but to punt.
When Brady got back to the sideline, he voiced his frustration to his teammates over the penalties, which actually caused the Buccaneers to lose two yards on the drive.
Brady was not happy with all of the penalties from the Bucs on that drive and he let his offense know.

WATCH NOW: https://t.co/Fzl7QnJIZB pic.twitter.com/UoykEmH6ek

— FOX Sports: NFL (@NFLonFOX) October 9, 2020
The Buccaneers ended up losing 20-19. On the team's final offensive play of the game, Brady threw an incomplete pass to give the Bears the ball back on a turnover on downs. Brady appeared to signal that they still had another down. They did not and the Bears ran the clock out to end the game.
Brady has had a couple of notable blow-ups on the sidelines before. In a 2010 matchup against the Steelers, Brady expressed his frustration toward his teammates with the Patriots up 10-3 in the closing minutes of the first half. New England was also coming off a 20-point loss to the Cleveland Browns a week prior.
Whatever Brady said that day must have worked because the Patriots won that game 39-26 and didn't lose a game for the rest of the regular season.
"There's only one way to play the game, and it's an emotional game," Brady told reporters after that game. "I think part of being a quarterback is making sure that everyone's into it and there's a level of concentration that you need on the road. … We haven't been this happy in a long time."
Brady's other notable blow-up on the sidelines came in 2011 when he argued with then-Patriots offensive coordinator Bill O'Brien during a game against the Redskins.
Brady took the blame for the bad look on that occasion.
"I threw a pretty bad interception and he wasn't happy about it," Brady said after the 2011 game. "There are probably a long line of coaches and players that were pretty pissed at me after that, but Billy got to me first. He let me have it and I deserved it."
Get Boston.com's browser alerts:
Enable breaking news notifications straight to your internet browser.