Tom Brady
Tom Brady was unprepared for first Florida tropical storm
Brady lost his dock and two jet skis during Tropical Storm Eta.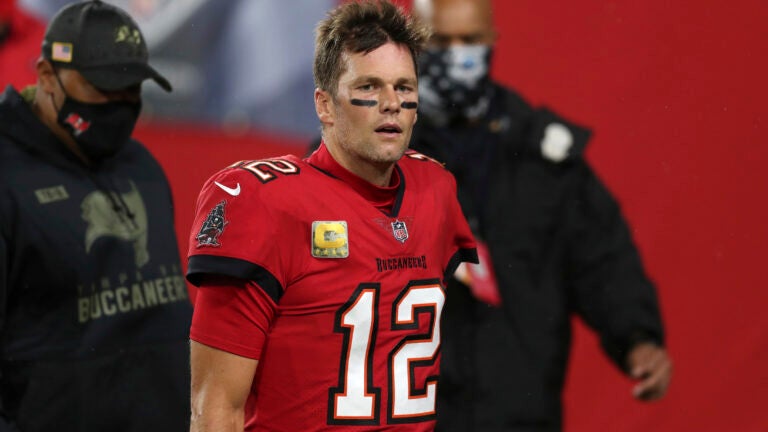 It hasn't been a good week for Tom Brady.
The bad week kicked off Sunday night when Brady's Buccaneers were routed by the Saints, 38-3, handing Brady the worst loss of his 21-year career.
It got even worse as Tropical Storm Eta made its way to Tampa Bay. The storm flooded the streets of Tampa and left 36,000 homes without power late Wednesday.
While some Tampans had to deal with difficulty getting home or a loss of power, Brady lost a couple of items during the storm.
"The hurricane, that was a trip last night for me," Brady told reporters Thursday. "I had a dock and it broke, floated away. I had these jet skis on, I saw those things sitting in the middle of the bay and I was going, 'Wow, that's pretty surreal' and I was kinda laughing. 'Well, you'll get the jet skis back.'"
Brady did put things in perspective, saying "people are dealing with a lot worst than that."
"But just waking up and seeing kinda what happened to the yard, it got pretty messed up," Brady said. "Be really nervous if a big one hit!"
Luckily for Brady, he was able to retrieve his jet skis as they were located at one of his neighbors' docks.
"They got fixed. We dragged 'em back," Brady said. "They were about 300 yards away at someone else's house and I got a bunch of messages from people that were like, 'Hey man, are your jet skis…?' Ya know, they floated down and found their way into someone else's dock. They got lodged, so I was very lucky."
The new Florida resident admitted that he wasn't prepared at all for Wednesday's storm, which makes sense as he grew up in California and spent the last 20 years in New England.
"It happened pretty quick, I thought you had time to prepare for these things but apparently you don't," Brady said. "They're just kinda on you and then you just gotta deal with it so we pushed the schedule back today."
Get Boston.com's browser alerts:
Enable breaking news notifications straight to your internet browser.