Tom Brady
Morning sports update: ESPN analyst Greg McElroy discussed 'brutal' Tom Brady performance in loss to Rams
"He used to still be able to execute those throws maybe half the time."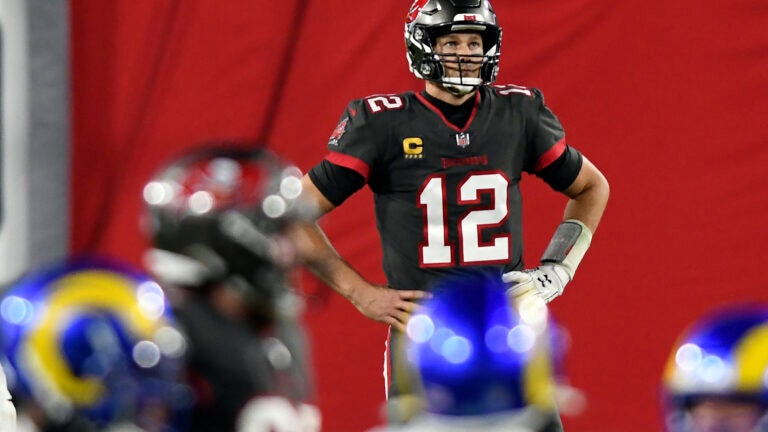 Tonight, the Revolution face the Union in Philadelphia in round one of the MLS Cup Playoffs at 8 p.m. on ESPN. New England, who defeated the Montreal Impact 2-1 in Friday's play-in round, are the underdog against top-seeded Philadelphia.
The Patriots, now 4-6, face the Cardinals on Sunday at 1 p.m.
And Boston College men's basketball opens the season against No. 3 ranked Villanova on Wednesday night (9:30 p.m.) at Mohegan Sun Arena in Connecticut.
The Buccaneers struggle on Monday night: After Tom Brady and the Buccaneers lost to the Rams on Monday Night Football, 27-24, the 43-year-old was the target of criticism from former Jets quarterback (and current ESPN analyst) Greg McElroy.
Speaking on ESPN morning show "Get Up!" on Tuesday, McElroy placed blame on the Tampa Bay offensive line for not protecting Brady. He also noted that Brady's ability to make plays under pressure has deteriorated since his time in New England.
"Look, the storybook on Brady has always been move him off his spot, see if you can hit him, he's going to be a different guy if you can do both those things," said McElroy. "Well, he used to still be able to execute those throws maybe half the time. Now, he misses a throw, he has to adjust his arm angle and it's brutal.
"First 20 plays of the game, really nice," added McElroy. "The third quarter, I thought I was watching the Chicago Bears. It was absolutely atrocious offensively. The plan was bad. They weren't smart with protections, Brady had no opportunities, and as soon as they took Jalen Ramsey and put him on Mike Evans, [the Rams] ramped up the physicality that you saw from the Rams' secondary, and [the Buccaneers] had absolutely no answer."
Trivia: The Revolution have not won in Philadelphia since 2015, when the team actually did it twice in the same season. Who scored the game's only goal in New England's most recent away win against the Union on Aug. 29, 2015?
(Answer at the bottom).
Hint: He was New England's first ever Homegrown Player, signed as a 15-year-old in 2010.
More from Boston.com:
Reaction to Jayson Tatum's extension:
Tom Brady went for the double-pass on Monday night:
On this day: In 2013, the Broncos — led by Peyton Manning in a record-setting season of offensive production — jumped out to a 24-0 first half lead against the Patriots at Gillette Stadium. But led by Tom Brady, New England rallied.
Thanks also to a Patriots defense forcing turnovers, the comeback was completed. In overtime, a mistake on a punt recovery by the Broncos allowed Patriots special teamer Nate Ebner to pounce on the ball, and a Stephon Gostkowski field goal won the game, 34-31.
When TB12 and the @Patriots overcame a 24-point deficit against Peyton's Broncos. (Nov. 24, 2013)

📺: #DENvsNE— Sunday 1pm ET on CBS
📱: NFL app // Yahoo Sports app pic.twitter.com/1bTQ0LNmHl

— NFL Throwback (@nflthrowback) October 14, 2020
Daily highlight: In a pickup game of cricket, Tottenham midfielder Dele Alli use his soccer skills to great effect.
🏏⚽️😜 pic.twitter.com/Ngy3LXQLak

— Dele (@dele_official) November 23, 2020
Trivia answer: Diego Fagundez