Tom Brady
A case against rooting for Tom Brady and the Bucs
Some of us aren't ready to celebrate seeing Brady live out his best life.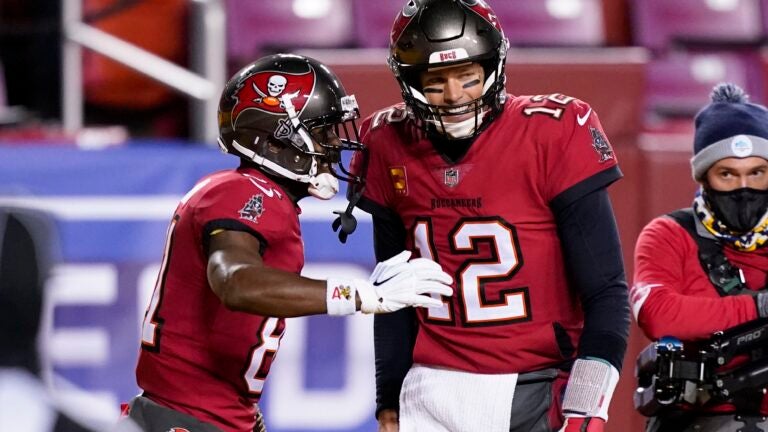 COMMENTARY
For the better part of a couple decades, we defended him against whatever flimsy straws the straggling doubters were clinging to in their desperation to diminish his legacy.
We fought the notion that he was a product of his system. That he was boosted by playing in a bad division. That, come playoff time, he hadn't won much on the road. That he'd never been to the Super Bowl without needing a bye. That he only stood above the rest of the quarterbacking royalty because he was boosted up on the shoulders of history's greatest coach.
In the past three weeks, Tom Brady has answered all of those critiques. He's crushed every last, lingering criticism — likely forever — and filled every little pockmark that the haters had perceived to be on his resume. Finally, the defense rests.
And yet I can't find it in me to root for his Buccaneers.
It's a bitter perspective, for sure, based on the same sentiments people feel when they're not quite ready to accept a breakup, but a scroll through Instagram makes it obvious that those feelings aren't mutual. Admittedly, I've watched football this January through the lens of a jilted lover, subjugated to the sidelines by a 7-9 season that was more unwatchable than that record would indicate.
Meanwhile, Brady keeps beaming — and almost always doing it maskless, as though he wants to make sure everyone knows how broadly he's smiling. I don't begrudge him for being happy, either. It was his right to leave, and it was his right to go where he wanted to go. In a league where contracts aren't guaranteed, it's the team that holds the hammer. When a player gets the chance to take their swing, they should use their clout to take a hack at striking happiness. Clearly Brady sought a change of scenery after 20 years with the same employer, and at the end of the day the GOAT is human. We can all relate.
But we don't necessarily have to like it, or sit here enjoying his transplanted success. Especially given the disarrayed state of the Patriots today — and the role Brady played in the disintegration of the Foxborough dynasty he co-constructed.
That role began to take shape about three years ago, after the Pats lost to the Eagles in the Super Bowl, and after Brady's 505 passing yards weren't enough to earn another ring. In his behind-the-scenes book, "The Dynasty," Jeff Benedict reported that in the spring following that defeat, Brady was so troubled by his treatment from Bill Belichick that he went to Robert Kraft to express interest in exploring the possibility that ownership would let him out of his contract. The relationship had become so strained that Brady wanted it known he was considering a change of scenery.
Only a few months earlier, Brady's elite play during what became his third MVP-winning season had prompted Belichick to commit to moving forward with Brady by trading his heir apparent, Jimmy Garoppolo, so the other two among Gillette Stadium's triumvirate would've rightly taken this suggestion as a serious threat. The contingency plan was playing in San Francisco. The leverage belonged to Brady. If there were going to be concessions, it was on Belichick or Kraft to make them.
And they did — if not by fully conceding, by altering some of the practices that had forged the foundation of their operation. By kowtowing to appease the quarterback and alleviate some of the strains that might've had Brady seeing greener pastures in other situations.
It started with Brady — long a proponent of putting in the work, and the value of offseason programs — skipping the team's organized team activities. Not a big deal, except that with his top regular-season receiver (Brandin Cooks) traded and his top playoff target (Danny Amendola) having left for Miami, it might've been helpful to get familiar with a new set of wideouts, especially with Julian Edelman's knee still recovering from an ACL replacement.
Part of that offensive reset was also reflected in the draft that had just taken place. With two first-round picks, the Patriots pegged a running back (Sony Michel) and an offensive lineman (Isaiah Wynn). Remember, the defense had just been obliterated in the Super Bowl, and in that game the Pats' starters included an ancient James Harrison and the overmatched Eric Rowe, who joined would-be starter Malcolm Butler on the train out of town that spring. The defense had holes.
Yet the Pats used their assets to improve the offensive pieces around the quarterback with those two first-round choices. The next year they did it again — again eschewing the sensibilities of their successful track record — by taking a receiver in the first round for the first time in Belichick's Patriots career. It's hard to look at that and not see an effort to upgrade the weaponry with an aging quarterback in mind. That same offseason, they also signed Dontrelle Inman (who Pro Football Focus ranked as a top 50 receiver in 2018) and veteran Demaryius Thomas (who'd racked up at least 83 catches in six of the prior seven seasons).
Those didn't work, but on the eve of that regular season, they acted quickly — and spent substantially — to bring Antonio Brown aboard after the uber-talented-but-screws-loosened receiver was released by the Raiders. Then a few months later, still in need of help, they were aggressive again in shipping a second-round pick to Atlanta for Mohamed Sanu. Reports at the time suggested Sanu was Brady's choice of trade target, with the team overpaying for him over someone like Emmanuel Sanders, who wound up in the Super Bowl with San Francisco.
That was a bad decision. So, it seems, was drafting Michel where they drafted him, and Harry where they drafted him. They've yet to get a full season out of Wynn, and from Inman, Thomas, and Brown they got a grand total of one game. Those decisions didn't work.
But it's disingenuous to say the Patriots didn't try to put pieces around Brady over his final seasons. Just with the players mentioned above, there's an investment of four first-round picks, a second rounder, and a $9 million signing bonus — all after dealing away another first to initially acquire Cooks in 2017. It's also a bit disingenuous to say that the Pats refused to pay Brady. Yes, they got a discounted rate for the bulk of their 20-year lease on his talents, but the Globe reported in March that the previous summer the Pats had offered Brady a two-year extension worth $50 million. Those are exactly the terms he later agreed to in Tampa Bay, which makes it a market-value offer.
Belichick can't be absolved from his role in the relationship fraying that ultimately motivated Brady to decide he'd test free agency. But the blame placed on the coach for driving the quarterback out of town isn't totally fair.
Belichick told WEEI in October, "That's what we did the last five years: We sold out and won three Super Bowls, played in a fourth and played in an AFC Championship Game. This year we had less to work with." And while much of the reaction to that comment cast it as an excuse, or related it to the salary cap or money spent, "selling out" must consider things like draft capital, bonus money, and roster balance, too.
So some of the decisions designed to better placate the quarterback might account for a significant part of the predicament the Patriots are in now.
Rob Gronkowski is another relevant example. In the spring of 2018, he was upset the team had struck a deal to trade him to Detroit. He said he wasn't going, and he'd retire instead of play with any quarterback other than Brady. The Pats don't win the Super Bowl in the subsequent season without Gronkowski, but a year later the tight end "retired" anyway — and the Pats were left with neither an asset for the future, nor enough time to legitimately replace him in free agency.
A year later he came back — but only to play for the Bucs. He's another who'll always be beloved in these parts, but who seemingly quit on the Pats on his way out the door, and would be painful to watch lifting the Lombardi Trophy on behalf of Tampa Bay.
Then there's Brown, who might've held the key to convincing Brady the situation was tenable in New England — but who couldn't hold his tongue, or hold things together long enough to last. After a promising debut, and on the cusp of a significant payday, he trashed Kraft on Twitter and was unceremoniously shown the door. Maybe if Brown had stuck, and handled his business more like he has this season in Tampa, Brady wouldn't have moped into a Week 9 chat with Al Michaels as the "most unhappy 8-0 quarterback in football" during November of 2019.
Brown, in a way, embodies what it appears Brady has come to value at this stage of his football life. Despite his off-field issues, Brown is someone Brady has seemingly embraced and wants around. In New England, Belichick brought him in. It failed. In Tampa Bay, Bruce Arians said initially that Brown wouldn't play for him — but by midseason, upon reinstatement from the NFL, he became the Bucs' newest receiver.
That's the type of influence Brady wants. He wants a say, he wants control, he wants power. Arians has recently been open about giving him all that, too, saying that he sometimes stands back and lets Brady take over the coaching. "I allow him to be himself," Arians told Peter King last week. "Like, New England didn't allow him to coach. I allow him to coach."
New England already had a coach, thank you. They also had a personnel structure that bred unprecedented, unparalleled success for almost 20 years. They didn't need him to coach, and if teaching was a thirst he wanted to quench, Belichick and Josh McDaniels probably wouldn't have minded if he'd spent a little more time around the team in the offseason, or maybe working with the young receivers — which was a task he openly declared, isn't "really my job."
His job was to be the quarterback — which he did better than anyone, ever. Belichick's job was to coach and build a program — which he did better than anyone, ever. That's how it worked. And that's how it should have worked.
There's a decent chance it wasn't going to work anymore if Brady had come back, and it's important to acknowledge that the decision to part ways was not exclusively his, with plenty of evidence to suggest it was time for the Patriots to begin the transition to the franchise's next phase.
But that doesn't mean we're ready to celebrate seeing Brady live out his best life and exult from high atop the conqueror's platform as a Buccaneer as Patriots Nation puzzlingly stares down the barrel of football purgatory. It doesn't mean we're ready to be left feeling like New England was just a place he happened to play rather than truly a part of his epic journey.
It doesn't mean we're ready to root for him.
So, go Chiefs.
After all, given the practice we've had, defending Brady's legacy against those claiming Patrick Mahomes is coming for his throne would be far easier than watching him celebrate alongside Gronk, Brown, and Arians.
Get Boston.com's browser alerts:
Enable breaking news notifications straight to your internet browser.