Tom Brady
Patriot fans don't owe Tom Brady anything
Brady left your team in shambles.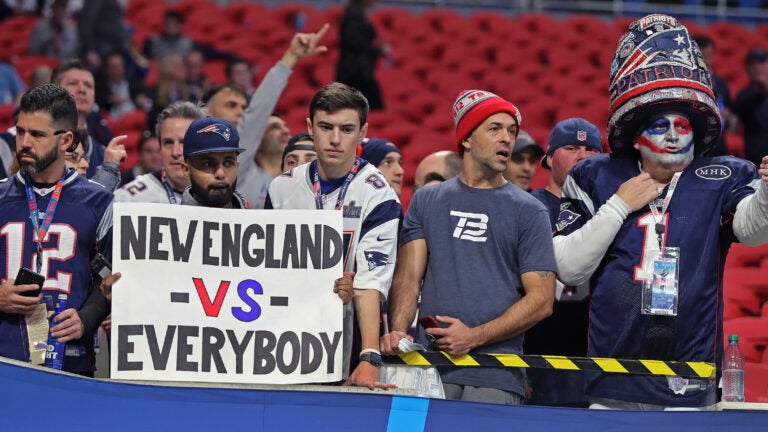 COMMENTARY
You don't owe Tom Brady anything.
He doesn't merit your undeterred devotion. His embrace of his new address doesn't require that you follow suit.
It's an emotional stretch for Patriot fans, getting ready to watch Brady in another Super Bowl this Sunday, for the first time not wearing the New England uniform in which he delivered six rings to Foxborough. Some, like a former teammate, have labeled it "selfish" if Patriot fans are not rooting for Brady this postseason. That's not to mention the entire segment of sad lackeys whose knee-jerk reaction upon Brady's departure to Tampa Bay were the purchases of creamsicle throwbacks and season tickets for games at the pirate ship in Florida.
A New Englander rooting against Tom Brady tonight is a crystal-clear sign of a selfish person who doesn't deserve the twenty years of sports happiness they were gifted. Carry on… pic.twitter.com/jxparNlCml

— Matt Chatham (@chatham58) January 24, 2021
Then, there are the rest of us.
It's OK if you can't summon the will to pull for your former champion, a man who, in reality, quit on you long before you quit on him. You are not required to follow the blueprint of the past.
You never rooted for Roger Clemens or Johnny Damon as Yankee players. Your love for Rajon Rondo took a turn as soon as he was dealt to Dallas.
There were some departures where your fandom also followed. Bobby Orr became a Blackhawk. Ray Bourque was an Avalanche player. Carlton Fisk switched the color of his Sox.
Brady doesn't have to be jammed into that category.
Nobody is denying the quarterback his greatness, the best of all time at his position. The fact that Brady was able to switch teams in the offseason, moving to a separate conference — away from the AFC East that he feasted on for years — and make it to another Super Bowl, is an additional testimonial for a guy who already possesses every career commendation he could manage anyway. No NFL quarterback has ever done what Brady continues to do. No player has ever done what Brady continues to do at the age of 43.
But it's OK to be "selfish" when it comes to deciding whom to root for in the Super Bowl. A title for Brady sort of justifies the fact that he soured on his situation with the Patriots.
Brady was fabulous in the NFC Championship game against the Green Bay Packers. But, frankly, his team was lucky to get past the Washington Football Team in its wild card matchup. The Buccaneers were fortunate that the ghost of Drew Brees essentially gave them the divisional round.
Now, here he is, in a familiar place for the 10th time, becoming the first quarterback to lead his team to a Super Bowl that will played at its home building.
It's all a very storybook ending for a guy who already defines the term underdog.
But you don't have to play along with any feigned commitment.
After all, Brady was out of New England long before his St. Patrick's Day announcement that he was leaving. He told Howard Stern that he knew he would be playing in another uniform prior to the 2019 season, which means Brady was performing under that pretense the entire time he was grumbling and whining throughout the entire, uneven campaign. That was coming off another Super Bowl run where Brady didn't happen to be the star focus. Bill Belichick and the coaching staff ran the team's running attack to success in earning the franchise's sixth Lombardi Trophy.
Did the relationship between Brady and Belichick really deteriorate that immediately after two decades together? Or, was there something else biting at Brady's ego in a place where ownership only catered to every single desire and whim he brought to the table?
Brady was always a detached superstar during his time here, but he's been doing his best to further sever those ties. He's made recent remarks about not being caught dead living in the Northeast again, this despite still owning a spot in Manhattan. Then again, if Brady can land in Providence and not understand the geography of New England after four years of college, then who's to say if he really even knows where the Northeast is located anyway.
There's always been a politician-like shiftiness about Brady, who evades answering questions even better than he does opposing linebackers. Which means, unless pal Jim Gray is doing the questioning, it's impossible to ever get a true feel for who Brady is. There's a weird aura around the guy, a cockiness that has not only led to otherworldly success, but also stiffness with a lack of personality. How can the NFL's best player of all time be so damned phony?
Somewhere along the line, Brady's career became more about his creepy trainer than it did his disciplinarian coach. And Brady's decision to turn on the team and fans that gave him everything still fails to leave a bad taste in peoples' mouths.
Astounding.
It doesn't help that the Patriots were left in limbo without Brady, but that's what will happen when you deal his replacement across the country in order to cater to his demands, only to have him quit on you two seasons later. Brady left your team in shambles when there was a plan in place to have a smooth transition.
But sure. You're "selfish" if you don't root for him.
Ninety percent of Patriot fans say they're still pulling for Tom Brady. No matter what. Good for them.
As for the other 10 percent, it's fine. You don't want to see Brady raising that trophy in anything other than a Patriots uniform. There's nothing greedy about that.
Brady left you with nothing. You don't owe him your undying passion.
Go, Chiefs.
Get Boston.com's browser alerts:
Enable breaking news notifications straight to your internet browser.