Tom Brady
Tom Brady says he would 'definitely consider' playing past 45
Brady, 43, is still playing at a top level.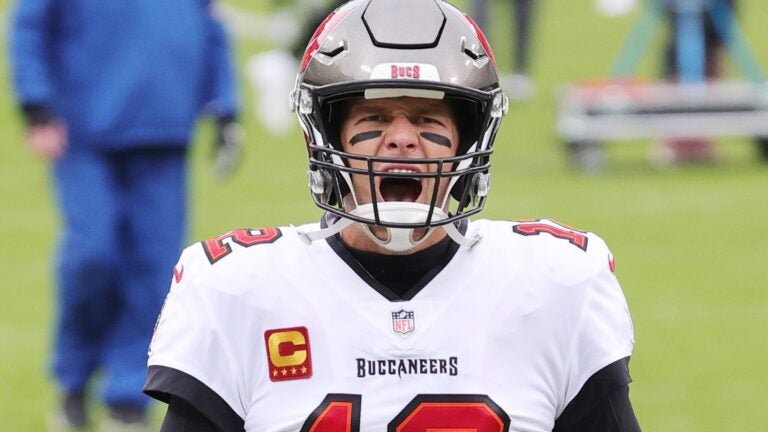 Tom Brady has said for years that he wants to play football until he's 45.
Now that he's inching closer to that age, Brady (who's 43) is adjusting the clock. Speaking to reporters at Super Bowl "Opening Night" on Monday, Brady said he might play past that age.
"Yeah, definitely. I would definitely consider that," Brady said when asked if he would play past the age of 45. "Again, it's a physical sport and just the perspective I have on that is you never know when that moment is. Just because it's a contact sport and there's a lot of training that goes into it. Again, it has to be 100 percent commitment from myself to keep doing it."
Brady, who's in his 21st season in the NFL, is still playing well. He threw for 40 touchdowns and 4,633 yards in his first season with the Buccaneers. Oh, and he's also back in the Super Bowl for the 10th time in his career.
Brady has one year left on his current contract with the Buccaneers, but it doesn't look like contract reasons will be the reason why he'll call it quits some day.
"I think I'll know when it's time. I don't know when that time will come, but I think I'll know," Brady said. "I'll understand that I gave everything I could to get to this game. You put a lot into it. I don't think I can ever go at this game half-assed. I've gotta put everything into it. So when I put it all out there and I feel like I can't do that anymore, I don't feel like I can commit to the team in the way that the team needs me, then I think that's probably time to walk away."
Get Boston.com's browser alerts:
Enable breaking news notifications straight to your internet browser.