Tom Brady
5 things we learned from Seth Wickersham's latest story on Tom Brady
Brady doesn't like to be called "the GOAT."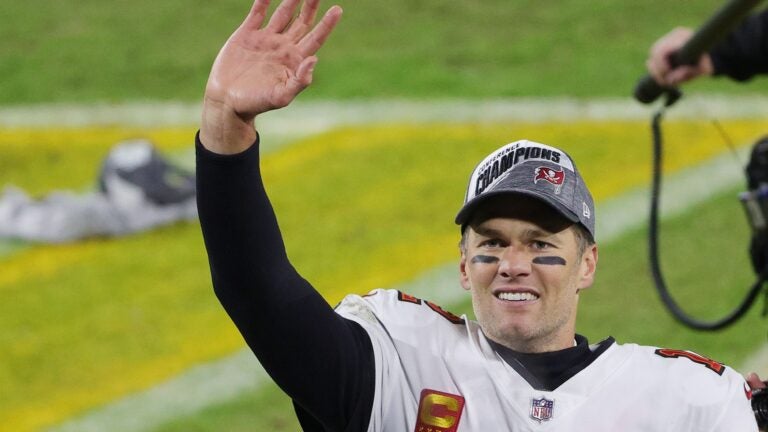 Tom Brady's latest Super Bowl run is captivating the sports world. The star quarterback is set to play in his 10th Super Bowl, reaching the game's biggest stage in just his first season with the Buccaneers.
ESPN.com's Seth Wickersham, who has interviewed Brady several times over his career and first reported a Brady-Bill Belichick rift in 2018, detailed Brady's first season in Tampa Bay in an article published Wednesday titled, "Why 10 Super Bowl appearances isn't enough for Tom Brady."
Here are five things we learned from Wickersham's piece.
Winning a Super Bowl wasn't a top priority for Brady when making his free-agent decision.
From a business standpoint, Tom Brady's decision to join the Tampa Bay Buccaneers has already paid off as Brady's about to play in his 10th Super Bowl.
Even though Brady's already reached great heights in Tampa Bay, playing in another Super Bowl reportedly wasn't a top factor in his decision to join the Buccaneers last offseason. Brady's desire to stay close to his family (specifically his son Jack, who lives in New York) and to play in warm weather were the two biggest factors in his decision to play with the Bucs, according to ESPN's Wickersham.
"He wanted to enjoy his final few years, in warm weather, not too far from his oldest son, Jack, who lives in New York with his mother," Wickersham wrote in an article describing Brady's latest triumph. "His friends insisted, however hard it seemed to believe, that he was secure in his New England legacy — that another championship wasn't the only thing he was chasing."
When Brady made the decision to join the Buccaneers last March, the only other team that was reportedly vying for his services was the Los Angeles Chargers. While the Chargers did have the weather factor in their favor, living in LA is nearly as far as it gets from New York City for an NFL player.
Brady's been restless in the past about making mistakes in any game.
Wickersham noted that Brady not putting winning at the top of his factors for his biggest career decision was a bit of a surprise considering his reaction to losses.
"For a while, Brady never slept after a Super Bowl loss," Wickersham wrote. "Then he stopped sleeping after any loss. Now a mistake — any mistake, in an inherently random game — keeps him awake."
Wickersham wrote that winning was still a factor for Brady, though it "was not at the top." From an offensive standpoint, the Buccaneers offered a pair of top-tier receivers for Brady to play with in Mike Evans and Chris Godwin. Both flourished in their first season with Brady. Evans caught a career-high 13 touchdowns this season and Godwin caught 65 passes for 840 yards and seven touchdowns.
Brady doesn't like the "GOAT" nickname.
Brady's latest accomplishment certainly adds to his legacy. The Buccaneers were 7-9 a year ago and have the worst winning percentage of any organization in NFL history, making Brady's Super Bowl run in year one even more astounding.
Though Brady can potentially win his seventh Super Bowl (more than any single franchise has won) in just days' time, he doesn't like the praise that comes with succeeding, according to Wickersham.
Wickersham recalled a conversation that Brady had with Lamar Jackson following the Ravens' blowout win over the Patriots in 2019, in which Jackson called Brady "the GOAT!"
"Brady's eyes seemed to narrow, his lips pursed," Wickersham wrote of the moment. "It was the last thing he wanted to hear, after a loss and in general. He hates it when people call him the greatest ever — maybe because it speaks to a kind of finality he's not ready for yet, maybe because he simply doesn't feel it. He has accomplished more than anyone else in his sport, yet he still feels like it isn't enough."
Brady knowing his limitations helped make him the player he is.
The theme of Wickersham's article on Brady is that he knows his limitations as a football player and as a person.
The article opens with a story Brady told Wickersham years ago, in which Brady recalled a film session he had with Bill Belichick in 2010. Then Jets quarterback Mark Sanchez was at the center of the film session, with Belichick stopping the film to criticize Sanchez for not throwing to an open receiver who was 65 yards down the field and another 10 yards diagonal from him.
Brady told Wickersham that he was laughing while Belichick was repeatedly telling Sanchez to throw the ball, because he knew that even he couldn't make that throw.
"When I see a play, I see it within my own limitations," Brady told Wickersham. The story and quote stuck with Wickersham, as he tied it to the story of Brady's first season in Tampa.
Brady's touchdown pass to Scotty Miller in the NFC title game was practiced on all year.
While it's all sunshine and roses for Brady and the Buccaneers at the moment, that definitely wasn't the case in November. The Buccaneers lost three of four games in that month, with Brady throwing seven interceptions over that stretch.
The big storyline from that stretch was why Bruce Arians was continuing to have Brady throw the ball deep when it led to more bad passes more than good ones. The issue that Wickersham discovered is that it wasn't Brady's arm strength. Rather, it was his accuracy on deep passes.
Following their last loss in November, Brady and the Bucs won six straight games to reach the NFC Championship Game against the Packers. Up 14-10 in the waning moments of the first half, the Buccaneers had a decision to make: Do they play it safe and attempt a field goal or do they try to score six?
The Buccaneers opted for the latter, and it worked. Brady threw a 39-yard deep ball to Scotty Miller, putting the Buccaneers up 21-10 going into the locker room. The play was practiced all season long.
"He's hit it in practice all year," Bucs assistant head coach and run game coordinator Harold Goodwin told Wickersham.
As noted by Wickersham, Brady did throw two interceptions in the second half that came off of deep routes. However, Brady's touchdown pass to Miller was enough to show that he knows he can still throw the deep ball.
"Both passes stalled in the air before fluttering down and giving the defensive back an uncontested catch," Wickersham wrote. "It's a thin line on all of those throws, just as it's been his entire career."
Get Boston.com's browser alerts:
Enable breaking news notifications straight to your internet browser.