Tom Brady
'We're not done yet': Tom Brady told a Buccaneers player to stop crying following NFC title win
"What the f--- are you crying for?"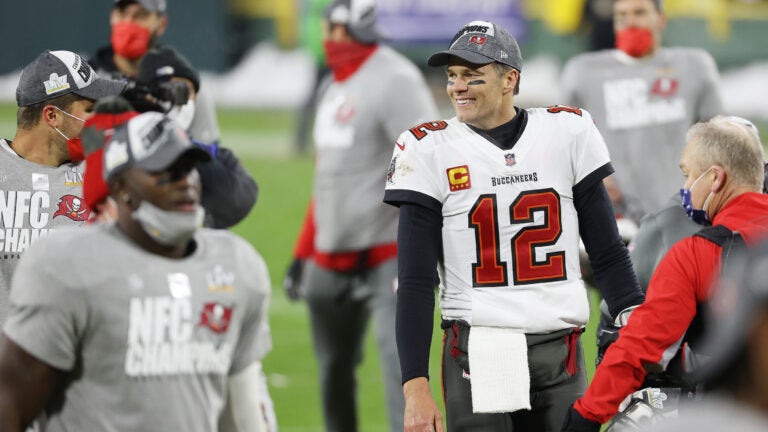 When the Buccaneers defeated the Packers in the NFC Championship Game last week, emotions among Buccaneers players were high.
Buccaneers linebacker Lavonte David shared that at least one Buccaneers player was crying in the locker room, and that quarterback Tom Brady was having none of it.
"When I realized all the other stuff really don't matter unless it's the Super Bowl was after the NFC Championship," David said on the "All Things Covered" podcast. "Me, I'm all happy and sh–. It's my first Super Bowl. I'm geeked up.
"Then like, I guess someone was crying. I heard [Brady] say 'What the f— are you crying for? We're not done yet.'"
David didn't say for sure which player was crying, though he thought it might have been either receiver Chris Godwin or receiver Jaydon Mickens. David did admit he was a bit emotional himself.
"I was like, 'He right, he right,'" David said. "I had a little two tears, too. So, I wiped my sh– quick."
"You were a little teary-eyed also?" Bryant McFadden, one of the show's hosts asked.
"Yeah. So I heard him say that and I was like, 'Man, I'm tripping. We've still got work to do.'" David replied.
Lavonte David says Tom Brady saw one of his teammates crying after they won the NFC Championship Game. Brady went right up to him and said: "What the f*** are you crying for? We're not done yet." 🐐

(via @ATCoveredPod with @BMac_SportsTalk & @P2) pic.twitter.com/FHx8ZqHG0x

— NFL Update (@MySportsUpdate) February 3, 2021
David is one of several Buccaneers players that will play in their first Super Bowl on Sunday. Of course, this is Brady's 10th trip to the game.
Get Boston.com's browser alerts:
Enable breaking news notifications straight to your internet browser.