Tom Brady
Here are the most-Googled questions about Tom Brady
Fans have searched a great deal to find out more about him both on and off the field.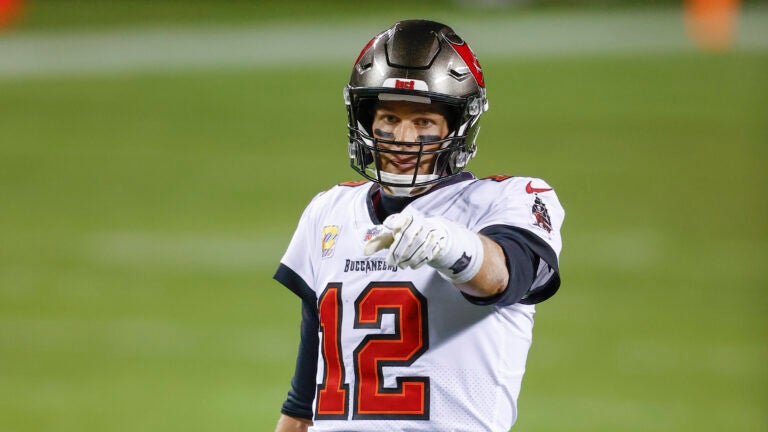 As Tom Brady prepares to play on the biggest stage in American sports for the 10th time, people at home are still looking to find out more about him.
Fans have taken to Google to search and learn about specific parts of Brady, whether it pertains to his play on the field or his personal life.
The most Google-searched question related to Brady is "What is Tom Brady's net worth?" That question is searched on Google on an average of 63,700 times per month, GolfSupport.com found. (If you're wondering, the answer to that is $200 million, according to Yahoo! Sports.)
The second-most Google-searched question would seem to suggest that fans are also wondering how long Brady's been playing football. "How old is Tom Brady?" is searched 59,250 times per month. Brady is 43, making him the oldest player to play in the Super Bowl. He'll turn 44 in August.
Fans are also interested in Brady's love life. The third-most Google-searched question is "Who is Tom Brady's wife?" That question is searched on average 32,000 times per month. Brady's relationship and marriage to Giselle Bündchen has been highly publicized over the last 10-plus years.
The next three searched questions are "What is Tom Brady's annual salary?" "How many Super Bowls has Tom Brady won?" and "Where does Tom Brady live?" Those questions are asked on average 14,400 times, 12,750 times, and, 12,500 times per month, respectively.
Brady's salary saw a change this season when he signed a two-year, $50 million deal with the Buccaneers, earning him $25 million this season. Brady's currently a six-time Super Bowl champ, but that might not be for much longer as he can win his seventh Sunday. Finally, Brady lives in Tampa Bay now after signing with the Buccaneers. He has since moved on from his first Tampa residence, though, moving out of Derek Jeter's mansion for his own in Clearwater.
Some other popular questions searched about Brady on Google are "How tall is Tom Brady?" (He's 6-foot-4), "How many children does Tom Brady have?" (He has three, two sons and a daughter), and "Where did Tom Brady go to college?" (The University of Michigan).
There are also some questions that get searched frequently about Brady on Google that don't have simple answers. One of which is "Why did Tom Brady leave the Patriots?" Google's top-ranked response cites an ESPN report from last March in which Seth Wickersham reported that Brady had enough of Bill Belichick.
Another frequently asked open-ended question about Brady on Google is "Is Aaron Rodgers better than Tom Brady?" The ranked response says "The stats show that Rodgers is far more accurate. He throws more touchdowns, fewer interceptions, and has better accuracy. Tom Brady throws for more yards, wins more games, loses less and leads in both fourth-quarter comebacks and game-winning drives."
And it appears people wonder who is the bread-winner between Brady and Bündchen. A frequently searched question is "Who is worth more Brady or Giselle?" Bundchen appears to have the upper hand there. Bündchen's net worth is over $400 million while Brady's is $180 million, The Independent found in 2019. 
Get Boston.com's browser alerts:
Enable breaking news notifications straight to your internet browser.