Tom Brady
'I'm thankful to be here': Tom Brady Sr. describes his 'harrowing' battle with COVID-19
Brady Sr. was hospitalized for 18 days.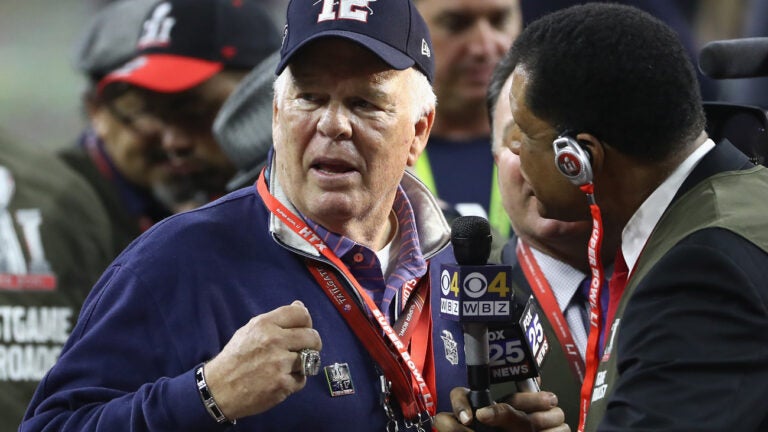 The father of Tampa Bay Buccaneers quarterback Tom Brady detailed his experience with COVID-19 in an interview on NFL Network's "NFL GameDay" ahead of Super Bowl LV. Brady Sr. told Andrea Kremer that he thought he and his wife, Galynn, were taking a lot of precautions with the coronavirus. However, in September, the couple visited an urgent care center after having a cough and not feeling well. Less than an hour later, Brady Sr., who is 76, found out he tested positive for COVID-19.
The positive test began the fight for his life.
"The next day I couldn't breathe," Brady Sr. said. "We walked into the hospital and that was the last time I saw her (Galynn) for 18 days.
"I had pneumonia as well as COVID. They were pumping me with oxygen. If your lungs don't absorb the oxygen, then we're going to have to put you on the ventilator. It was a harrowing experience."
"I had no interest whatsoever in winning or losing, I just was interested in taking the next breath."@TomBrady's parents sat down with @Andrea_Kremer to detail Tom Brady Sr. overcoming COVID and the excitement of getting to see his son play in his 10th Super Bowl 👇 pic.twitter.com/VEX0vQooIo

— NFL GameDay (@NFLGameDay) February 7, 2021
Galynn tested positive for COVID-19, too, but her symptoms weren't bad enough to force her to be hospitalized. One of the couple's daughters stayed at home with Galynn as she kept waiting for news on her husband.
"Every day it was just waiting for the doctor to call," Galynn said. "It was like, 'Well, he's in stable condition.' And I hated that word, 'stable.' It was just so unnerving."
Galynn said that their son called the hospital to try to speak to his dad every morning.
"His dad is his hero. So, I know he was worried," Galynn said.
Brady Sr. said he just "wanted to survive."
"It's serious," Brady Sr. said. "If we're not wearing masks, we're really missing the point."
Kremer pointed out that their son isn't seen wearing masks often and Brady Sr. said he talks with him about wearing a mask.
"He's 43-years of age" Brady Sr. said. "We keep harping on it. He probably takes 45 pills a day. So far, God willing, he's still healthy. But the answer is yes, we do (harp on him to wear a mask)."
Brady Sr.'s health issues didn't end after his battle with COVID-19. When he arrived home on Sept. 23, Brady Sr. collapsed in his home and tore his "knee up."
The entire Brady family will be attending Super Bowl LV in Tampa Bay.
"It's joyful. It never gets old," Galynn said.
"I'm jumping out of my skin to get back there and see these kids and grandkids," Brady Sr. said. "That's one of the great benefits of this weekend for us is being able to get together with our family that we haven't been able to give hugs and kisses to for a year. And root for the Buccaneers!"
Correction: An earlier version of this story misspelled Andrea Kremer's name. Boston.com regrets the error.
Get Boston.com's browser alerts:
Enable breaking news notifications straight to your internet browser.