Tom Brady
Sean Murphy-Bunting captured Tom Brady's locker room reaction to Super Bowl win
"This man is a legend, dog."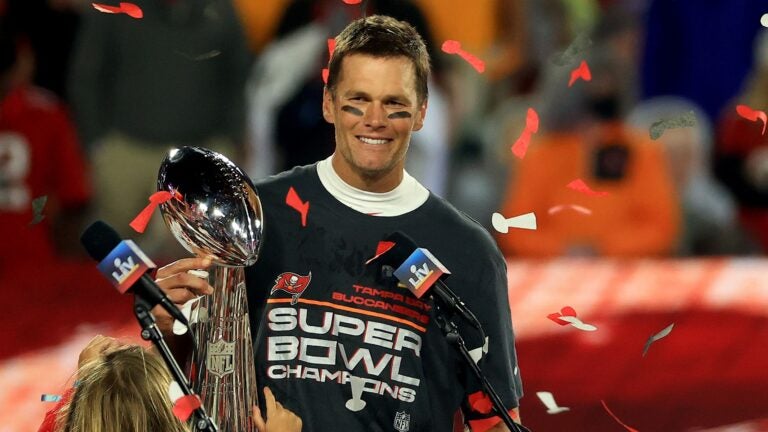 Brady won his seventh Super Bowl title on Sunday, leading the Buccaneers to a 31-9 win over the Chiefs.
With the game being held at Raymond James Stadium, the Buccaneers were able to celebrate in the confines of their home locker room. Several members of the Bucs certainly enjoyed themselves as they popped bottles of champagne, smoked cigars, and danced to celebrate their title. Some players also recorded the festivities, showing their live celebrations on social media platforms.
Cornerback Sean Murphy-Bunting was one of the few Buccaneers to capture the moment live, showing he and his teammates' celebration. Brady was seen in Murphy-Bunting's video at one point, but it didn't look like he was celebrating. Instead, Brady was at his locker, taking care of his own business.
"Tom is over there in his own little world," Murphy-Bunting said in his video. "Look where Tom is, right there. Y'all see him? He been did this. He don't care. This man is a legend, dog."
This is nothing new for Tom Brady 😂 🐐

(via @MrSeanyB1) pic.twitter.com/B6m3iNbu4D

— SportsCenter (@SportsCenter) February 8, 2021
While Brady's excitement wasn't visible in the short clip, he did express his joy on multiple occasions following Sunday's win. Brady celebrated on the field with his kids during the Lombardi Trophy ceremony, in which he was named the MVP of the game.
"I'm not making any comparisons," Brady said during the trophy presentation. "Being out here and experiencing it with this group of guys every year is amazing. This team is world champions forever. You can't take that away from us."