Tom Brady
Tom Brady reportedly texted Tyrann Mathieu a 'lengthy apology' after Super Bowl LV
"I never really saw that side of Tom Brady, to be honest."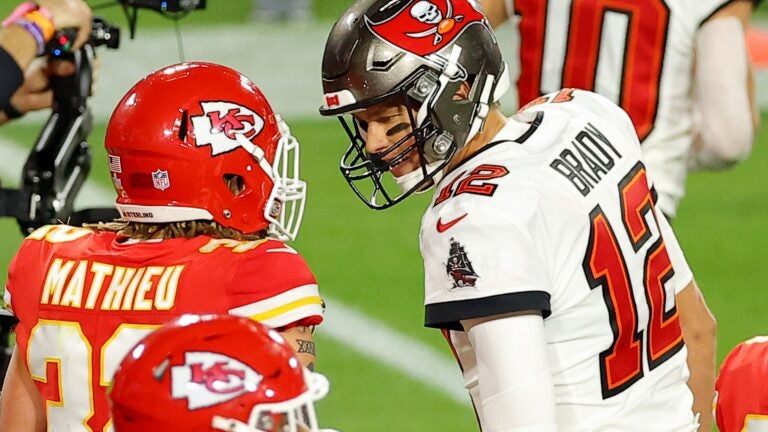 The Buccaneers' quarterback texted Chiefs safety Tyrann Mathieu a "lengthy apology" for his role in the multiple confrontations the two had during the game, ESPN's Jenna Laine reported Monday.
The first confrontation came nearly halfway into the second quarter. After Brady connected with Rob Gronkowski for their second touchdown of the day, Brady exchanged some words with Mathieu, appearing to say that he would target him throughout the game.
Brady and Mathieu had another confrontation on the Buccaneers' next drive. In the waning moments of the first half, Brady led the Buccaneers on a touchdown drive, connecting with Antonio Brown in the end zone to put the Buccaneers up 21-6. Mathieu, who was covering Brown on the play, pointed his finger in Brady's face and said something to him. Brady chased Mathieu and said something back to him before the two were separated.
Mathieu received a 15-yard unsportsmanlike conduct penalty, which was his second penalty of the drive.
Tom Brady told Tyrann Mathieu he was coming for him, went after him, then reminded him.

GOAT. pic.twitter.com/CqLdCMkpMV

— Joe Pompliano (@JoePompliano) February 8, 2021
Speaking to reporters after the Chiefs' 31-9 loss, Mathieu was ready to move on.
"I thought I played as hard as I can today," Mathieu said. "Listen, Tom Brady's a great quarterback. I never really saw that side of Tom Brady, to be honest. But whatever. No comment. It's over with. I'm done with it."
However, his postgame actions on Twitter didn't necessarily indicate that. The star safety sent out a pair of since-deleted tweets, voicing his displeasure over the moment.
"He called me something I won't repeat but yeah I'll let the media throw me under bus as if I did something or said something to him," Mathieu wrote in one tweet. "…go back to my previous games against TB12 I showed nothing but respect. Look at my interviews about him…I show grace."
In a second deleted tweet, Mathieu wrote "He's clearly chasing me but I got flagged… lol."
According to ESPN, Brady's apology was focused around his respect for Mathieu, with the quarterback expressing contrition for getting caught up in the heat of the moment.
Get Boston.com's browser alerts:
Enable breaking news notifications straight to your internet browser.