Tom Brady
Morning sports update: Tom Brady discussed 'not smart' Lombardi Trophy toss in 'Good Morning America' interview
Brady admitted that he "barely" remembered leaving the boat afterward.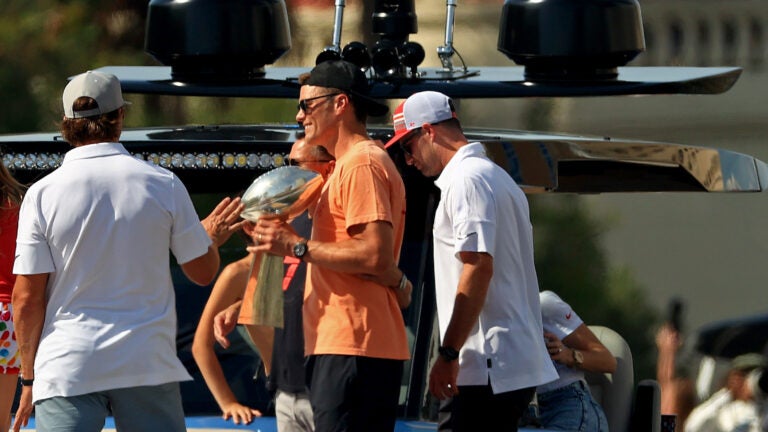 The Red Sox rallied from multiple deficits on Tuesday night to defeat the Rays 6-5 with a dramatic 12th inning walk-off hit from J.D. Martinez.
J.D. CALLING IT A NIGHT!!!! pic.twitter.com/EJSnnxKan8

— Red Sox (@RedSox) April 7, 2021
Also on Tuesday, the Bruins defeated the Flyers 4-2 thanks to Patrice Bergeron's hat-trick and 40 saves from goaltender Jeremy Swayman in his first career NHL start.
And the Celtics were unable to find answers in a 106-96 loss to the 76ers. Boston will face the Knicks tonight at 7:30 p.m.
Tom Brady on Good Morning America: Almost two months after leading the Buccaneers to a Super Bowl win, former Patriots quarterback Tom Brady is still enjoying some offseason time with his family.
The 43-year-old was interviewed by former Giants pass rusher Michael Strahan at Disney World for a segment that aired on Wednesday's "Good Morning America," and discussed an array of topics.
Most notably, Brady talked about his experience at the Buccaneers' celebratory boat parade after winning the championship.
"There was not a lot going through my mind at that point," Brady explained. "That was not smart for a couple of reasons. One is if we drop it, that's a little bit of a problem. But the worst thing that could happen is the edges on that trophy are so sharp — and had those things clipped one of my boys on the other boat, it would have been an ugly, ugly parade."
Brady admitted that he "barely" remembered leaving the boat afterward (a video moment that went viral), explaining that he enjoyed the experience despite a general aversion to public life.
"I had a lot of fun, and I don't get to do that — it's hard to relax and when you're out in public, and there are phones, not that I would do anything but it still doesn't feel like comfortable for me my personality to have people filming," said Brady. "So I tend to just stay at home more and I don't go out a lot."
His departure from the Patriots in 2020 was referenced in a few moments, including a discussion of Buccaneers head coach Bruce Arians (and the implied differences with Bill Belichick).
"He's a great motivator," said Brady. "He's got a great feel for the team, a great pulse for what's going on in a locker room, great intuition, great evaluation of talent. When you're in one place for 20 years, you think that's the only way, and I think when you go to a different place you realize, 'wow, there's another way that people do things.'"
As for going on rides at Disney World, Brady acknowledged that it isn't his forte.
"I'm horrible. I go on the simplest rides and my head is spinning."
Trivia: Michael Strahan was selected by the Giants in the second round of the 1993 NFL Draft. Earlier in that round, the Patriots selected a future Pro Bowl linebacker. Name that linebacker.
(Answer at the bottom).
Hint: He played for New England from 1993-2000, as well as one additional season in the NFL with the Panthers in 2001.
More from Boston.com:
Franchy Cordero's unorthodox Green Monster catch from Tuesday:
Franchy, meet the Monster.
Monster, meet Franchy. pic.twitter.com/E6wWx11ldj

— Red Sox (@RedSox) April 7, 2021
From earlier this week: Former Patriot Willie McGinest spoke out against anonymous pre-draft analysis.
"It's just a coward hiding behind some myth," McGinest explained.
.@WillieMcGinest has something to say to those doubting Justin Fields 🔥@justnfields | @OhioStateFB pic.twitter.com/u9GXa4sZev

— NFL Total Access (@NFLTotalAccess) April 5, 2021
On this day: In 1985, the Celtics won their 62nd game of the season defeating the Knicks, 114-102. Larry Bird led Boston with 38 points, nine rebounds and 10 assists. Robert Parish added 20 points and 21 rebounds.
Daily highlight: What else could it be but Christian Vasquez's clutch, game-tying 9th inning home run?
THIS IS WHAT WE CALL 𝐂𝐋𝐔𝐓𝐂𝐇: pic.twitter.com/mVanA1SwPF

— Red Sox (@RedSox) April 7, 2021
Trivia answer: Chris Slade
Get Boston.com's browser alerts:
Enable breaking news notifications straight to your internet browser.