Tom Brady
5 takeaways as Tom Brady loses charity golf match for 2nd year in a row
"I feel like I have a lot of work to do on my golf game."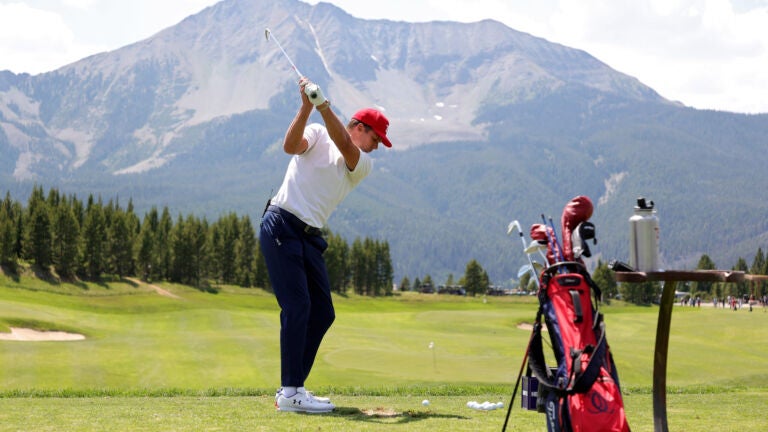 Tom Brady got reflective on Tuesday after he and Phil Mickelson lost The Match 4 — the latest iteration of the charity golf match featuring professional golfers and professional athletes (who are decidedly amateur golfers).
Brady and Mickelson hung on through 16 holes, but Aaron Rodgers and Bryson DeChambeau pulled away thanks to Rodgers' putting and DeChambeau's thunderous drives.
Brady was left feeling sorry for his partner.
"Phil is 2-0 here without me and 0-2 with me," Brady said ruefully. "So I feel like I have a lot of work to do on my golf game."
Brady started strong, hitting a phenomenal drive on the third hole.
But he struggled to straighten out his game as the afternoon wore on. Meanwhile, Rodgers and DeChambeau seemed to gain steam after an impressive chip by DeChambeau found the pin in the early going.
Here are five takeaways from the afternoon's proceedings.
As usual, the event raised a ton of money.
According to the broadcast, Tuesday's event raised enough money for 6.3 million meals for Feeding America and $2.7 million for My Brother's Keeper — an effort created by former president Barack Obama to "address persistent opportunity gaps facing boys and young men of color and to ensure all youth can reach their full potential."
Obama himself appeared on the broadcast to thank everyone for their involvement (and to needle Charles Barkley). The broadcast invited him to participate in the future. That seems unlikely to come together.
Brady predictably missed Rob Gronkowski
After one particularly bad drive, Brady joked that he missed Gronkowski, who can make the best out of his bad throws.
The broadcast managed to track Gronkowski down to chat with Brady. Gronkowski didn't stay long, but he did manage to get a shot in at Rodgers, noting that "Aaron looks more lazy now than I did in retirement."
Rodgers was asked about his future but didn't bite.
The broadcasters took their time asking Rodgers about his future with the Green Bay Packers, and danced around questions about the reigning MVP's status for several holes. Even Rodgers' fellow competitors expressed some curiosity.
"I'm standing 30 feet away from Aaron Rodgers, the leader of the Packers," Brady said while speaking to Gronkowski, before quipping, "I think."
Finally, the broadcast used a (somewhat clumsy) bridge to ask the question. Noting the presence of bears near the course, Rodgers was asked if he plans to play when the Packers take on the Chicago Bears in October.
"I don't know," Rodgers said with what looked like a forced smile. "We'll see, won't we."
Charles Barkley told Rodgers the secret would be safe with him.
"Charles, I'll tell you this week in Tahoe, and you can leak it," Rodgers said.
"I got you," Barkley said, sounding surprised.
Brady's golf ball was pretty on-brand
Brady engaged in some light banter throughout much of the match, but perhaps his greatest flex was his actual ball, which featured the numerals of all his Super Bowl victories.
At one point the conversation circled around to the Patriots' victory over the Falcons in Super Bowl LI.
"Even for me, every time it's on, I have to sit down and watch it," Brady said. "'Did that really happen?' You just watch the sequence of plays, and that was pretty epic. …
"I've been in some great ones, that one is obviously second to none."
At one point, Barkley anointed Brady the greatest athlete of all time in any sport, not just football. Still, even GOATs struggle sometimes.
"[The Falcons game] was much easier than this crazy, stupid sport I'm playing right now," Brady chuckled.
Big Sky, Montana was an incredible setting
Many Twitter users noted that they wanted to book vacations to Big Sky after watching The Match, and it's easy to see why: The views were breathtaking, particularly from drone footage in between holes.
Be prepared to pay if you are checking the availability of flights to Billings. Daily rates at a local hotel roughly three miles from the Moonlight Basin appear to range from $350-500.
Also be prepared for bears, because there are clearly plenty of bears.
Wherever the next iteration of The Match takes place, the views on Tuesday will be difficult to beat.
Newsletter Signup
Stay up to date on all the latest news from Boston.com