TV
2023 Super Bowl commercials: Watch all the Big Game ads
Watch all the best ads from the big game — including spots for Dunkin', Sam Adams, and more.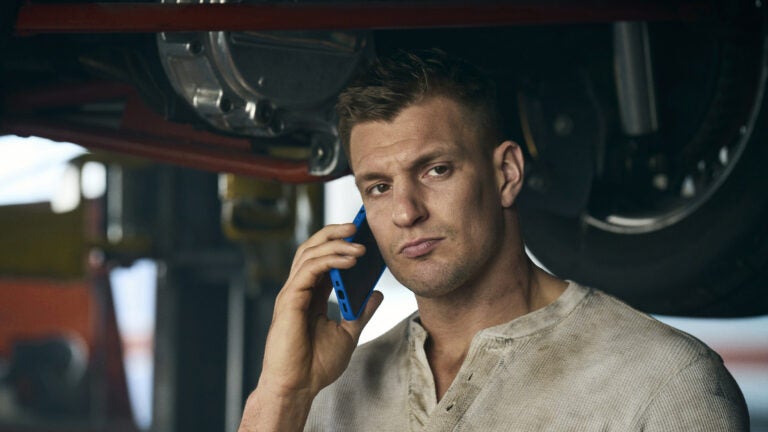 Super Bowl LVII proved to be a game for the ages, with the Kansas City Chiefs pulling off a last-second win over the Philadelphia Eagles, 38-35. And for those fans who tune into watch the halftime show or the Super Bowl commercials, there was plenty to enjoy as well.
Even amid a time of economic uncertainty, companies once again paid top dollar to advertise during the Super Bowl. FOX, which aired Super Bowl 57, said back in September that it had already sold 95 percent of its ad inventory for the game, with several 30-second ad spots going for more than $7 million, setting another record.
Ben Affleck showed up twice in Super Bowl commercials: First as a Dunkin' employee in the coffee chain's first big game ad, then in the trailer for "Air," the upcoming film from Affleck and Matt Damon.
Elsewhere during the big game, Jaylen Brown dunked all over Giannis Antetokounmpo in an ad for Google's Pixel phone, Sam Adams imagined what Boston would be like if people were actually nice, and Rob Gronkowski missed a field goal on live television.
Here are all of the 2023 Super Bowl commercials that aired during the big game.
"Air"
Following the debut of its first full trailer on Thursday, Matt Damon and Ben Affleck rolled out a Super Bowl spot for their upcoming film "Air" (in theaters April 5), which marks the first time Affleck has directed his childhood friend on the big screen. (Read more about the movie here.)
Amazon
In one of the few ads that went directly for an emotional appeal, Amazon's Super Bowl commercial starred a dog named Sawyer whose family is too distracted by all of their gadgets to realize how badly he needs a friend.
Avocados from Mexico
Anna Faris stars as Eve, who eats an avocado in the garden of Eden. Flash forward to the present day, when no one is ashamed of nudity and everyone is naked, including the Statue of Liberty.
Booking.com
Melissa McCarthy stars in a musical number for the travel site about her desire to go on a trip "somewhere, anywhere."
Bud Light
Miles Teller ("Top Gun: Maverick") and his wife Keleigh Sperry Teller dance to customer service hold music while drinking a Bud Light.
Budweiser
In a regional ad, a diverse group of people share a six-pack of Budweiser — a voiceover by Kevin Bacon showcases the "six degrees of Bud." Although he's not shown, the ad is a nod to the "Six degrees of Kevin Bacon" meme — the idea that anyone in the entertainment business can be linked to Kevin Bacon in six connections.
Busch Light
A mountain man talk talks about surviving the outdoors in an ad that stars singer Sarah McLachlan spoofing her well-known and oft mocked animal-advocacy ad that uses her song "Angel."
Crown Royal
Musician Dave Grohl thanks Canada for a variety of things that come from Canada, including Crown Royal and even football.
Dexcom
Singer Nick Jonas returns for the second year in an ad that highlight's Dexcom's glucose monitoring system.
Disney
To celebrate its 100th anniversary, Disney showcased a century of indelible characters, from Mickey Mouse to Mulan.
Doordash
Celebrity chef Matty Matheson, Wu-Tang Clan's Raekwon The Chef, and Nickelodeon's stop-motion-animated Tiny Chef help a DoorDash shopper find the best products.
Doritos
Music stars Jack Harlow, Missy Elliott, and Elton John team up in an ad for Doritos Sweet & Tangy BBQ that shows Harlow abandoning his rap career to focus on the triangle, a Doritos-shaped musical instrument.
Downy Unstoppables
Downy initially kept the identity of its celebrity pitchman hidden, with an unidentified actor in the laundry company's 2023 Super Bowl commercial teaser hiding his identity with a hoodie. Eventually, the company revealed the not-so-hidden secret that it was actor Danny McBride, renamed Downy McBride for these spots.
DraftKings
The online betting site shows stars including skateboard mogul Tony Hawk and singer Ludacris discussing DraftKings' free bet offer at a party at actor Kevin Hart's house.
Dunkin'
For its first-ever Super Bowl commercial, Dunkin' enlisted it's No. 1 fan: Ben Affleck. The Cambridge native worked the drive-thru window at a Dunkin' in Medford, with wife Jennifer Lopez surprising the actor before asking for glazed doughnut.
E*Trade
The financial services firm kept up with its long-running approach of featuring babies in its ads, this time putting the infants at a wedding.
Experian
West Newbury native John Cena is back as Experian's pitchman in their 2023 Super Bowl commercial, cheerily informing a little girl about how to boost your FICO score.
FanDuel
FanDuel has teamed up with Rob Gronkowski for its 2023 Super Bowl commercials, with the former Patriots tight end set to attempt a field goal on live TV during the big game. If Gronk makes his kick, fans who wagered at least $5 on the Super Bowl will win a share of $10 million in free bets. (But mobile sports betting won't roll out in Massachusetts until March.)
In a series of teasers released before the Super Bowl, Gronkowski begins to practice for the "Kick of Destiny," and is put through the paces in an '80s movie training montage by former Patriots kicker Adam Vinatieri.
Farmer's Dog
The subscription dog food service goes for the heartstrings with an ad showing a woman going through life's milestones with her dog.
"Fast X"
Universal was one of several studios to tease their upcoming summer tentpoles with Super Bowl commercials, airing a spot for Vin Diesel's "Fast X," the tenth film in the Fast & Furious franchise.
"The Flash"
Warner Bros. joined the movie trailer fun during the Super Bowl as well, posting a trailer for "The Flash" (in theaters 16) teasing Michael Keaton's appearance as Batman.
General Motors and Netflix
Actor and comedian Will Ferrell drives different GM electric vehicles through different Netflix shows, including "Bridgerton" and "Stranger Things," to announce that Netflix will feature electric vehicles in its original shows.
Google
Google promotes its Pixel photo editing tools "Magic Eraser" and "Photo Unblur" with a 90 second spot featuring Amy Schumer, Doja Cat and NBA star Giannis Antetokounmpo.
"Guardians of the Galaxy Vol. 3"
Disney released its newest teaser for "Guardians of the Galaxy Vol. 3," which hits theaters May 5.
He Gets Us
"He Gets Us," an ad campaign promoting Jesus and Christianity, aired a pair of commercials during the Super Bowl as part of a larger $100 million campaign created by The Servant Foundation.
Heineken
In an ad for the company's nonalcoholic beer Heineken 0.0, "Ant-Man" star Paul Rudd chats with his six-legged pal about the beverage's benefits. (Given that "Ant-Man and the Wasp: Quantumania" hits theaters five days after the Super Bowl, you can bet on seeing an ad for the upcoming Marvel film during the big game as well.)
Hellman's
The mayo brand shows actors Jon Hamm and Brie Larson in a fridge with a jar of Hellmann's mayo — to drive home the point that Hellmann's would go well with a "ham and brie" sandwich.
"Indiana Jones and the Dial of Destiny"
Disney released a new teaser for its upcoming Indiana Jones sequel, which swings into theaters June 30.
Jeep
To celebrate Jeep's new 4xe hybrid lineup, the automaker debuted a spot full of woodland critters dancing along to an electric jingle.
Kia
The automaker's Super Bowl commercial chronicled the adventures of "Binky Dad," a driven father who will stop at nothing to retrieve his baby's forgotten pacifier.
M&Ms
In what will likely become an extended campaign, actress Maya Rudolph advertised her "new and improved" M&Ms, dubbed Ma&Yas, which are candy-coated clam bites.
Michelob Ultra
Michelob Ultra's two ads are set at Bushwood Country Club, the fictional country club in "Caddyshack," and star a bevy of stars and athletes: tennis great Serena Williams, actor Brian Cox, Dallas Cowboys quarterback Tony Romo, soccer player Alex Morgan and boxer Canelo Alvarez.
Miller Lite, Coors Light, & Blue Moon
Was this a Miller Lite commercial or a Coors Light commercial? Or was it a Blue Moon commercial?
NFL
The Super Bowl is already one big advertisement for the NFL, but that didn't stop the league from airing an ad featuring a massive flag football game.
Paramount+
Sylvester Stallone and his daughters Sophia, Scarlet, and Sistine set up camp on Paramount Mountain.
Peacock
In an unusual move, Peacock's ad for its "Poker Face" show starring Natasha Lyonne makes a nod to other commercials in the broadcast including ads for M&Ms and Google Pixel.
Pepsi Zero Sugar
In ads for Pepsi Zero Sugar, Ben Stiller, and Steve Martin discuss the craft of acting and how you can't be sure whether they're truly raving over the soda's new taste or giving a million-dollar performance. Bonus: Stiller's spot features "SNL" alum and Lexington native Rachel Dratch kicking the actor in the face.
Planters
Jeff Ross, Natasha Leggero, and other comedians hold a "roast" for the Planters spokescharacter Mr. Peanut.
PopCorners
"Better Call Saul" may have wrapped up in 2022, but the "Breaking Bad" universe is back in the spotlight in the 2023 Super Bowl commercial for PopCorners. Aaron Paul and Bryan Cranston are back together as Jesse Pinkman and Walter White, sitting in the distinctive RV they used on the AMC show to cook up something much more illegal and addictive than any popcorn-based snack.
Pringles
Anyone can get their hand stuck in a Pringles can, according to Pringles' latest Super Bowl ad effort, including singer (and Nantucket native) Meghan Trainor.
Rakuten
The online shopping site tapped "Clueless" stars Alicia Silverstone and Elisa Donovan to recreate a scene from the 1995 hit and convey that Rakuten gives shoppers cash back on purchases. Designer Christian Siriano also appears as a student.
Ram
Ram's ad for its Ram 1500 REV electric pickup spoofed pharmaceutical ads for erectile dysfunction by showing drivers worried about "premature electrification."
Remy Martin
Michelob Ultra wasn't the only alcoholic beverage company to employ Serena Williams for their 2023 Super Bowl commercial: Remy Martin tapped the recently retired tennis star to promote their cognac.
Sam Adams
For its regional Super Bowl commercial, Sam Adams is bringing back its lovably obnoxious spokesman, Your Cousin from Boston. To help spread the word about what it calls an "easier-drinking" and "brighter" beer, the Boston Beer Company imagined a "brighter Boston" for its ad. Yankees fans are welcomed with open arms, South Boston residents willingly give up parking spots, comedian Lenny Clarke invites a stranger to the ballet, and Celtics legend Kevin Garnett writes a book about spreading love instead of talking trash.
Skechers
Snoop Dogg wears different Skechers throughout the day with cameos from Martha Stewart and others.
SquareSpace
Adam Driver contemplates the fact that "SquareSpace is a website that makes websites" and splits into multiple versions of himself.
T-Mobile
To promote its 5G home internet, John Travolta sings a version of "Summer Nights" with "Scrubs" stars Donald Faison and Zach Braff touting its benefits. In a second spot, actor Bradley Cooper and his mom team up for a blooper-filled spot.
Temu
Temu, an e-commerce platform, asked viewers to "shop like a billionaire" in its big game ad.
"Transformers: Rise of the Beasts"
Before airing its spot for "Paramount Mountain," the film studio released a teaser with Porsche for its upcoming "Transformers: Rise of the Beasts," which hits theaters June 7.
TurboTax
A man dances in front of a fountain to showcase the free time people will have if they let TurboTax professionals do their taxes for them.
U2:UV Achtung Baby Live at the Sphere
Was that a UFO in the sky? No, it's just a deeply confusing commercial for U2's upcoming show at The MSG Sphere, a soon-to-open Vegas venue.
Uber One
Uber's ad for its membership program shows hip hop mogul P. Diddy working to create a hit song for Uber One. The ad features singers of famous hits, including Montell Jordan ("This is How We Do It"), Kelis ("Milkshake"), Donna Lewis ("I Love You Always Forever"), Haddaway ("What is Love") and Ylvis ("What Does the Fox Say").
WeatherTech
WeatherTech went for a working-class appeal in its 2023 big game ad, with the company touting its American-made vehicle weatherproofing products.
Workaday
In the first Super Bowl ad from the enterprise software company, actual rock stars Ozzy Osbourne, Billy Idol, Joan Jett and others complain that office workers shouldn't call each other "rock stars."
Material from the Associated Press was used in this report.
Get the latest Boston sports news
Receive updates on your favorite Boston teams, straight from our newsroom to your inbox.