Playing nine innings while assuming J.D. Drew will be day to day until August . . .
1. I'm not saying the two aggravating losses in Baltimore took a terrible toll on interim manager Brad Mills, but the photo to the left? That's what he looked like before this road trip started. Man, the Sox bullpen can age a man in a hurry. Okay, all silliness aside, it would be nice to see Mills get a legitimate managerial shot of his own once this season is complete. He's been Terry Francona's sounding board, vice principal, and strategic counselor for a pair of world championship winners, and Francona is the first to say that Mills's organizational skills and ability to act as a respected liason between the manager and his players have been invaluable to the Red Sox's success. Here's hoping he gets a team of his own to run, because people smarter than me believe he'll be a fine manager someday, despite the results of the past couple of days.
2. This week's discovery from the addictive and potentially life-altering SI Vault: a March 22, 1982 feature, written by Steve Wulf and titled, "Let's Play Ball, Dad," on a pair of emerging young stars whose fathers were well-known in big league circles: Baltimore's Cal Ripken Jr. and Montreal's Terry Francona. Not sure whatever happened to the Ripken boy, but Francona seems to have turned out okay, finding his true baseball calling after his playing days. I hadn't heard a lot of the stuff on Young Tito, and I especially liked this snippet, when he's talking about first signing with Montreal out of college.
[Expos Director of Player Personnel] Jim Fanning wanted to send his new acquisition to Class A ball, but Terry insisted he could play in Double A, at Memphis. "I still can't believe I had the nerve," says Terry. "I go into the meeting and I say, 'What's this garbage about sending me to A ball?' As it turns out, Mr. Fanning had said the garbage." But Fanning capitulated, and Terry went to Memphis and hit .300. "Mr. Fanning was right, though. I hit a weak .300."
After reading that, you get a sense for why he's so fond of Dustin Pedroia. When he was young, he was just as brash.
(And as bonus Tito coverage from SI, here is his Faces in the Crowd writeup from 1976, when he was a high school senior. I highly recommend clicking on the "view this issue" link to see his ridiculously goofy headshot.)
3. Maybe it's because the Celtics are commanding center stage right now, but you know the mentality of Red Sox fans has officially changed for the better when the team can lose four games in a row and 5 out of 6, and yet the prevailing mood is that it's a mere hiccup, everything will be fine, and the mighty Rays will be overcome in the long run. It's so much more fun being a fan when you don't expect the worst and your faith is . . . well, rewarded.
4. I'm fairly confident in saying that Kevin Cash won't approach his current stats – .375 batting average, 147 OPS+, .910 OPS – once the season is done. But even if he reverts to his career average of .188, he's already a borderline folk hero in my mind for proving once and for all that Doug Mirabelli isn't the only person on the planet who can squat and catch a knuckleball at the same time. Cash is a heck of a defensive catcher, and Tim Wakefield doesn't seem to miss Mirabelli in the slightest. Neither does anyone else.
5. I suspect Clay Buchholz's trip to the disabled list has less to do with an owie on his fingernail, and more to do with keeping him on pace for no more than 175-180 innings. The hiatus is probably a wise idea from a mental health perspective as well. While I expect Buchholz to be one of the ballclub's most dependable starters by the end of the season, he's having Arroyo-like command problems with his fastball, and he's suffering though the growing pains that most young players must endure before fulfilling their potential.

6. Julian Tavarez's unique brand of crazy will be missed around here – I'm pretty sure we'll never see a pitcher roll the ball to first base again, at least on Francona's watch – but the hideous 6.39 ERA and 67 ERA+ will easily be replaced, most likely by Mike Timlin. If Manny, Tavarez's brother in lunacy, is okay with him leaving, so am I.

7. It's a good thing footage of Manny's catch (the "7-High 5-4-3 double play," as the Herald cleverly called it) and the ensuing hilarity is all over the internet, because Dale Arnold still hasn't told me exactly what happened.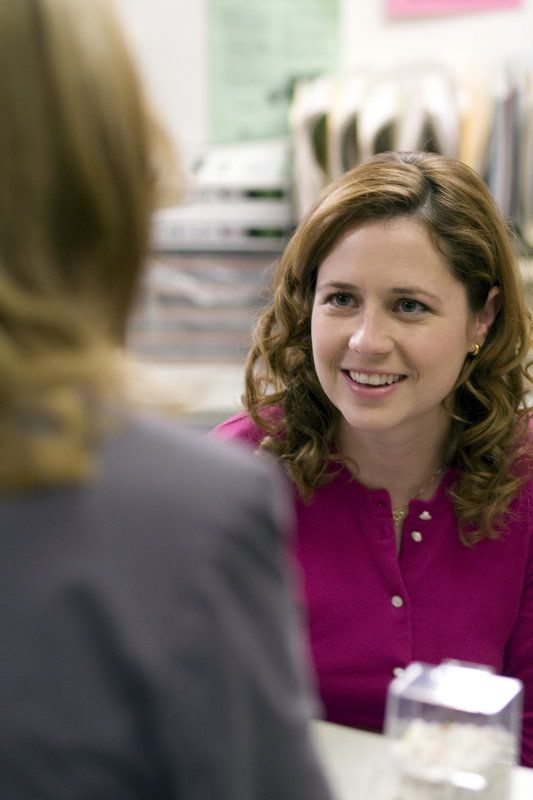 (NBC.com
Photo)
8. I'll admit, "The Office" often disappointed during this uneven, writers' strike-abbreviated fourth season, to the point that I occasionally caught myself trying to pinpoint the exact moment when Fonzie soared over the shark. (Michael and Dwight driving the car into the pond was usual conclusion.) But tonight's season finale restored my faith, for it was absolutely classic "Office" – Michael making oblivious and ill-considered decisions out of desperation and loneliness, the return of the old familiar romantic tension between Jim and Pam, unexpected but believable plot twists (Prison Ryan!), a brilliant misunderstanding between the new HR person and slow-but-sly Kevin, redemption, longing, subtlety, countless hilarious lines, and even a Jim/Pam prank on Dwight for old times' sake. For the third straight season, the best episode was the last. Turns out there was no shark in that pond after all.
9. As for today's Completely Random Baseball Card:


I have no idea who this guy is, but the shades suggest to me that he is all different kinds of awesome.