Playing a long overdue nine innings while being dumbfounded that '06 white flag Jason Johnson is back in the major leagues. Can Kevin Jarvis be far behind? . . .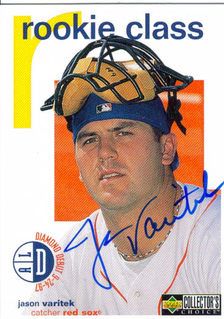 1. It seems the majority around here is conspiring to deny that the captain has no clothes – I swear the Red Sox radio crew commended him for hitting a routine fly ball to the warning track a few days ago – so I'll just come out and say it: Jason Varitek is finished as a productive major league hitter. Finished. It's over. It's okay to admit it. He's hitting .213, and that's what he is – a .213 hitter. He can't hit a decent fastball anymore, and when you can't hit a decent fastball, you might as well change your name to Grebeck. He's 36 years old, catchers tend to age in dog years, his bat has always been on the slow side, and now the thing is about as quick as Sean Casey. I admire Varitek, and understand that his value is somewhat greater than his batting average would indicate, but I don't understand why it's so taboo to admit the truth: His bat speed is gone, and it's not coming back. It happens to all of them, even gritty, gutty captains who run out every predictable 6-4-3 grounder.
2. So now that Jed Lowrie has won over the faithful with his spot-on Bill Mueller imitation lately, here's the question that must be asked: Will Julio Lugo get his job back when (or if) he returns from his injury? I'm not saying Terry Francona is loyal to a fault when it comes to his veterans, but if he coached the Patriots, Drew Bledsoe would still be the starting quarterback. Then again, Lugo was so consistently brutal that even Tito might be able to resist writing his name on the lineup card. Come to think of it, this might be the ultimate test for him.
3. Nick Cafardo probably would file this under Apropos of Nothing, but I'm going to call it Cool Things You Notice While Poking Around Baseball Reference.com For A Lost Hour (because that's way catchier): Derek Jeter's career OPS+ is 123. Nomar Garciaparra's? 125. Given that Nomah is a shell of what he was a decade ago, it stunned me that he would still hold any advantage over the living monument the Yankees play at shortstop . . . but then, it's awfully easy to forget just how great and beloved he was during his Boston heyday. Despite his acrimonious departure from Boston (hey, that sounds familiar), he'll always be one of ours, and it's nice to see him enjoy something of a resurgence with the Dodgers recently.
4. I'm trying not to be too alarmed by the whupping the Blue Jays put on Josh Beckett today, and though the 4.34 ERA is certainly unbecoming of a pitcher of his ability, I tend to agree with Dave O'Brien's assertion that it was little more than "one bad afternoon." Though he admittedly threw some meatballs today, the Beckett I've seen lately bears a strong enough resemblance to the true ace of a season ago, and I think the Sox are equally encouraged, this hiccup excepted. Anyway, I'm always wary of the Blue Jays; Toronto's pitching coach, Brad Arnsberg, had the same role in Florida when Beckett was on the staff, and I've always suspected he's the first to notice when Beckett is tipping his pitches or develops some sort of tell in his delivery.
5. A field goal's worth of thoughts on the Patriots: 1) Tom Brady could have his sore foot amputated and his other leg in a cast from roast-beef-lovin' toe to his hip, and I'd still rather see him taking the snaps than Matt Cassel. I'll never understand why the Patriots don't have a serviceable, proven veteran as a backup. 2) I'm pretty sure John Lynch was brought in for the sole purpose of making Rodney Harrison look fast. 3) I'm beginning to think I'm the last person in New England who thinks Chad Jackson is going to pan out, and that includes those standing on the Patriots sideline.

6. Daisuke Matsuzaka is 14-2 with a 2.76 ERA, he's whiffed 103 in 121.7 innings, and his adjusted ERA of 163 is second only to Cleveland's Cliff Lee in the American League. Yet I don't think you'd find many Red Sox fans who would make a case for him as a Cy Young candidate, probably because he's exasperating to watch (he's walked 72 batters second only to Daniel Cabrera in the AL) even with his uncanny knack for wiggling out of self-made jams. But I do hope he gets his due credit for his important and often overlooked contributions this season. Who would have thought, given all the hype that accompanied his arrival last year, that he'd so quickly become unsung?
7. If you're not familiar with Lars Anderson, well, you will be soon. The 20-year-old first baseman, widely regarded as the best power prospect in the Boston organization, is off to a sizzling start at Portland since his promotion a month ago, posting a 1.081 OPS through 28 games with five homers in 90 at-bats while drawing comparisons to the likes of Justin Morneau. And if his engaging recent interview with Baseball Prospectus's David Laurila is any indication, Anderson might be just as appealing off the field as he is on it.
8. Coco Crisp has officially become a player only Jimy Williams could love, a maddening Darren Lewis/Damon Buford amalgam who plays fine defense but couldn't hit a home run with wiffle ball and your 4-year-old's giant red plastic bat. So my question is this: Why the bleepity-bleep can't Coco hit anymore? Have we ever heard an adequate explanation for this? He had back-to-back terrific seasons in Cleveland prior to coming to Boston, but he's never resembled that dynamic .300-15-70 hitter here, and it's become apparent he never will. It can't still be the lingering effects of the broken finger he suffered early in '06, can it? His decline in what should be his prime seasons is a mystery.
9. As for today's Completely Random Baseball Card:


Because sometimes, it really is random.