A brief tribute to some ancient pitchers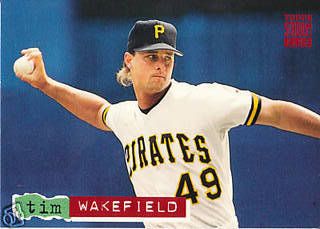 In the wake of Wake's clinching victory — and really, how sweet was it that the senior member of the Sox (in service time, if not quite age) outdueled that whippersnapper Cliff Lee? — it seems like an appropriate moment to tip our ballcap to a handful of pitchers we've been watching since they were young and we were young-er . . .
* * *
Four semi-fun facts about the Phillies' 45-year-old Jamie Moyer, a 15-game-winner this season:
1. He broke into the majors as a 23-year-old with the 1986 Cubs. His teammates included 31-year-old Dennis Eckersley, 20-year-old Greg Maddux, and 27-year-old Terry Francona.
2. At age 33, he went 7-1 for the '96 Red Sox in 23 games (10 starts). On July 30, he was traded to the Mariners for outfielder Darren Bragg. Bragg is seven years younger than Moyer, and has been out of baseball for four years.
3. According to baseballreference.com's similarity scores, his best comp statistically is David Wells. It's a reasonable comparison on the mound, but he's Moyer's polar opposite in every other aspect of life. (By the way, did you see Boomer at the Yankee Stadium farewell? Shockingly, he looks like he's in better shape than he was during the prime of his career. I wouldn't be surprised if he got a start this weekend for the Yankees.)
4. Moyer has 245 victories, 177 of them coming after the Red Sox traded him. And somewhere, Bob Lobel just twitched.
* * *
On April 17, the Red Sox lit up Mike Mussina for the second consecutive start, tagging him with five runs and seven hits in three innings and raising his earned-run average four starts into this season to 5.75.
He looked cooked, like Catfish Hunter in '79, a once-great pitcher whose guile could no longer mask his fading ability.
At that point I would have guessed that he'd would announce his retirement sometime during the season. Not even Mussina himself could have suspected then that he'd end up being the closest thing the Yankees had to an ace.
Mussina is 19-9, with a 3.47 ERA and an 123 ERA+, and with one more start, he could secure the first 20-win season of his outstanding, if not particularly spectacular, 18-year career.
With 269 victories and a .637 career winning percentage, I'm officially convinced that Mussina deserves to be enshrined in Cooperstown someday. The way he's pitched this season, that day is probably a year or two further down the road than we'd ever have imagined five months ago.
* * *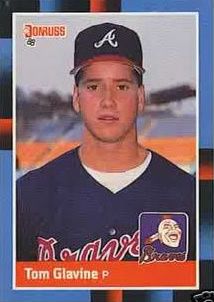 When I was in college in the sparsely settled wilderness of Orono, Maine in the late '80s and early '90s , we got TBS but not NESN on cable, so I often found myself watching the Braves instead of the Sox when I was supposed to be doing my homework.
(Did I ever mention I pulled a 0.9375 GPA my first semester? It's true. I couldn't even spell GPA until I was a sophomore.)
Anyway, I grew attached to that collection of misfits, a fast-fading Dale Murphy and all the Oddibe McDowells, Gerald Perrys and Dion Jameses that Skip Caray and the crew so drolly told us about every night, loss after ugly loss.
So I had both feet on the bandwagon when the Braves, bolstered by the simultaneous rise to stardom of the likes of David Justice, Ron Gant, Tom Glavine, and John Smoltz, pulled off their worst-to-first routine in 1991. (They were the '08 Rays before their time.)
I stopped following them closely once they signed Maddux and turned into the Yankees South (and once I got a better cable provider), but I still admired those players from the early years.
Take this as my roundabout way of saying I hope Smoltz and Glavine can wring another decent year or two out of their scarred pitching arms, because as long as they're still throwing a baseball for a living, that wildly fun and improbable '91 season — and for that matter, my college years — won't seem so long ago.
A Steve Avery comeback would also be cool.

* * *
Recently, and for the first time all season, I caught myself wishing the Red Sox rotation included Curt Schilling. This is his time of year.
Besides, if he had a playoff game or two to pitch, that would leave him less time to call sports radio.
* * *
So this is supposed to make me feel bad for Roger Clemens?

Clemens was sitting at home in hurricane-ravaged Texas, in front of a battery-operated television on his living room couch, when the team delivered a final crushing blow to its former star.
Clutching wife Debbie's hand on one side and mother-in-law Jan Wild's on the other, Clemens tuned in to his final team's last home game hoping for some recognition for helping win two World Series titles, Wild said.
But that Rocket never launched.
When the team played the video celebrating its greatest players at every position, the steroid-scandal-scarred Clemens was nowhere to be seen.

It was predictably hypocritical of the Yankees to pretend Clemens never existed the other night while the Rocket's Brothers In PEDs — Andy Pettitte, Chuck Knoblauch, and Jason Giambi — got the True Yankee treatment, but the truth is that all of this is his own fault. Not that the truth has ever been a consideration of his at all, of course.
Maybe I'm heartless, but wouldn't call Clemens's fate sad. I call it justice.
* * *
As for today's Completely Random Baseball Card:


In sort of a related note, this post was probably inspired by my own "I'm-Rapidly-Heading-For-A-Life-Of-Metamucil-And-Shuffleboard" moment from last night: While watching the Indians' Josh Barfield at the plate, I mumbled, "He looks nothing like his dad" . . . and then realized I remember his dad, Jesse, when he was a rookie. But back to the point: Josh Barfield looks (and hits) nothing like his old man. I'm now very suspicious that there was a cover-up of a Blue Jays scandal in the early '80s and he's really Lloyd Moseby's kid.