Welcome everybody to the wild, wild west
Let's hold off on our look back at the Bill James Handbook projections for another day (or month). After all, it's now October (and you know what that half-wit Dane Cook says about that), our minds are focused on the Angels and tonight's opener, and so it just seems right to spin through a special pregame edition of Nine Innings instead . . .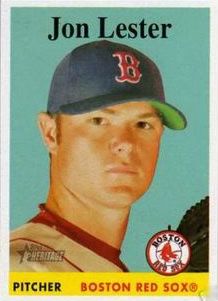 1. You tell me who wins tonight's game, and I'll tell you who's going to win this series. (How's that for getting to the point? So unlike me.) But I mean it. If Jon Lester comes out and pitches the way he did in September — actually, the way he did during practically his entire breakthrough 16-6, 3.21 season — and the rested, favored, and supposedly ready Angels struggle to generate offense, you have to figure thoughts of "Here we go again" will creep into their heads, and the banged up Sox will no longer be underdogs against a franchise they've defeated in their last nine postseason games. But if Lester struggles, the Angels ' jackrabbits generate a few runs, and the Teixeira/Guerrero/Hunter thumpers do their thing against the pitcher who has been the Sox' de facto ace virtually all season, I fear that all of those prognosticators who are picking the Angels to gain redemption in this series with relative ease will be proven right. I think you know where I stand on this — I could not have more faith in Lester. Sox win tonight. Sox take the series in four.
2. I was almost as encouraged by the inclusion of third-string catcher David Ross on the final roster as I was by the news that Mike Lowell and J.D. Drew were among the final 25, for this reason: It's a clear sign that Tito Francona intends to pinch hit for the mummified remains of Jason Varitek when the situation calls for it. One of the countless things I admire about Francona as a manager is that he consciously changes his approach in the postseason. He manages with more inning-to-inning urgency, whereas from April to September he always has the big picture and the long season in focus. There were a handful of times during the regular season when I'd catch myself screaming at the Samsung after Francona refused to hit for Varitek in a key situation. (Varitek, of course, either whiffed or grounded into a routine double play, depending if there was a runner on first). Ross's presence on the roster is all the proof I need that Tito is about to change his ways again.
3. I admire Lowell for trying to gut it out in this series, but unless he's secretly been fitted with a bionic hip in the last week, I can't imagine he's going to survive for long against the hyper-aggressive Angels. I hate saying it, because the 2007 World Series MVP is obviously an integral part of the Sox' championship hopes, but he's hobbling and wincing like a guy who needs the offseason to hurry up and get here.
4. If any other significant Sox pitcher besides Josh Beckett suffered an oblique injury so close to the postseason, I'd be worried-bordering-on-panic-bordering-on-a-tantrum. But I honestly believe Beckett is one of those true aces of October, like Curt Schilling before him, who can almost will himself to be successful in big moments, even if he doesn't have his best stuff and is not at peak health. To put it another way: If Beckett takes the mound for Game 3, he will deliver.
5. Can someone please explain the following stat to me, courtesy of longtime Friend of TATB Chuck Waseleski (who, from what I hear, is quite maniacal):
The Red Sox were 63-35 (.643) in games Coco Crisp started, 32-32 (.500) in
games that he did not start.
I always find myself rooting for Coco for some reason, so I'm glad to see this, but by most measures he had an adequate season at best (94 OPS+). So what am I missing here? Is this just a fluke? Help me, Stat Gurus! (Sending out bat signal to Keith Law . . .)

6. Three sleeper heroes for the Sox:
Jed Lowrie: He's pulled off a spot-on Mark Bellhorn imitation lately at the place, and we all know what The 'Horn did in Sept. '04.
Tim Wakefield: He's not currently scheduled to start, but he always ends up being a factor somehow, doesn't he?
Justin Masterson: He reminds me so much of D-Lowe in '98 it's scary. I wouldn't be shocked to see him pitching both the seventh and the eighth innings in a tight game.
7. And in the spirit of equal time, three for the Angels:
Howie Kendrick: His OPS is mediocre (.754), but the kid hit .306 and he's a line-drive machine. The Bill Madlock comparison is legit.
Gary Matthews Jr.: Sarge's son had a lousy year (78 OPS+), but he hit .316 with two homers in 19 at-bats against the Sox.
Erick Aybar: Heaven forbid he should torment the Sox as much as his brother does.
8. I know, I know, Manny's the most despicable person ever to walk the earth – he karate-chops clubhouse men and kicks puppies, or vice versa, blah blah blah. But could someone please send this along to Gerry Callahan. I'm sure he'll claim it's fiction, but at the least it's an interesting counter to the over-the-top, the-scum-wouldn't-visit-Walter-Reed hatchet job Callahan whacked him with on his way to L.A. The truth, as usual, is probably somewhere in the middle.
9. As for today's Completely Random Baseball Card: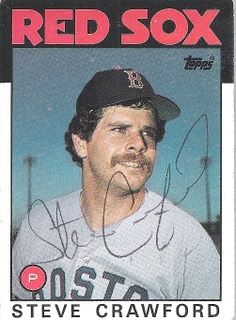 For karma's sake. And if you're old enough to remember 1986, you know exactly what I mean. (FYI, we used Hendu in this spot in the lineup before the Angels series last year.)