I nearly fell out of my La-Z-Boy laughing after the following exchange between Mike Gorman and Tommy Heinsohn during the Celtics' game the other night. (In fact, I even Twittered this. Still not sure what that means.)
Gorman, after an Eddie House 3-ball: "Who is the Celtics all-time leader in 3-point percentage?"

Heinsohn, droll as can be: "Not Antoine."
Heinsohn's pitch-perfect, whiskey-dry reply reminded me of a couple of things:
Tommy still has his fastball after all these years, bless his sarcastic soul.
Man, Antoine really did dent a lot of rims in his time here. I liked him, but I will never miss him.
And, most notably for today's purposes: Our favorite New England sports teams all have outstanding broadcasting crews, both on television and radio.
It's true. Gorman and Heinsohn. Gil and Gino. RemDawg and Orsillo. They're all good. After giving this a little more consideration — and checking in with some Bruins-savvy cohorts — I even ranked them, best to worst, with the caveat that I enjoy the duo rated last nearly as much as the one in the top spot. Hey, we're lucky that way. There are no more Glenn Geffners here.
As always, I expect you will tell me where I was right or wrong in the comments section . . .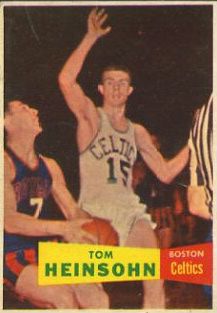 1. Heinsohn and Gorman, Celtics television: As good as it gets, locally, nationally, anywhere. Gorman and Heinsohn have been calling Celtics games together since 1981 (remember "SportsChannel New England"?), and their comfort with each other is obvious. Gorman isn't a relentless self-promoter like so many others in his line of work, so he doesn't always get his due in terms of media appreciation. But thinking Celtics fans sure as heck respect and appreciate him. He calls a game smoothly, has a short list of enjoyable but not overused catchphrases ("Allen for 3 . . . Got it!"), sets up Tommy like a savvy point guard . . . oh, and he also handles the crucial task of preventing Heinsohn from mauling Kenny Mauer or the Enemy Zebra of the Game. As for Tommy, while his constant harping on the refs can be a distraction, his knowledge of the game is unsurpassed and he doesn't even consider tempering his opinions. He's a local treasure, and you know what? So is Gorman. (Note: We also like Donny Marshall, who handles the road games in place of Heinsohn. But no one really replaces Tommy.)
2. Joe Castiglione and Dave O'Brien, Red Sox radio: Joe Castig, a member of the Red Sox radio team since 1983 (the Ralph Houk era), has become the voice of summer in New England, particularly to the generation of fans too young to remember Ken Coleman or Ned Martin. While he lacks the classic radio pipes — dogs in particular are not big fans of his work — he has a kind, jovial manner and clearly loves the Sox, to the point that his annoyance is barely disguised in his voice when things are not going well on the field. After all these years, he's as comfortable as your favorite faded Sox cap. And O'Brien's the ultimate pro. He has a polished voice — a nice contrast to Castiglione's –a good feel for the pace of the game, doesn't start jumbling his words incoherently in the biggest moments (WAY BACK!!), and unlike his most recent predecessor, the horrific Geffner, has apparently gone through puberty. He's the partner we wished Castig had all those years.
3. Don Orsillo and Jerry Remy, Red Sox television: There's been some backlash against the ubiquitous RemDawg in recent years, but I thought he toned down the hucksterism last year and got back to doing what he does as well as analyst — telling you why something will happen, not just why something already happened. He's still about as good as it gets. As for Orsillo, he's pleasant, and yes, I realize that's a lukewarm compliment. He's come a long way since he replaced sound-alike Sean McDonough in voice only before the 2001 season, but the first time he says something remotely critical about the Sox management or a player will be the first. (Whenever Tim Wakefield gives up, say, seven runs in 2 1/3 hideous innings, Orsillo never fails to call it a "tough outing." Drives me nuts.) That said, spend an hour or so jumping around to various teams' broadcasts on the the MLB.com package, and I guarantee you'll appreciate what we have in Remy and Orsillo pretty fast.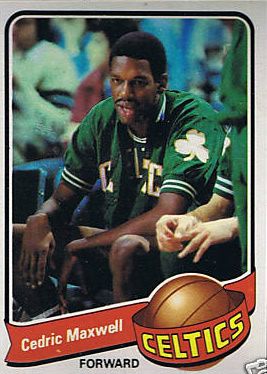 4. Sean Grande and Cedric Maxwell, Celtics radio: They might have the best give-and-take chemistry of any local tandem save for Gorman and Heinsohn, who have been working together since Grande was 11 years old. Grande's deep knowledge of the contemporary NBA comes through during every broadcast, although his introductory soliloquies sometimes run longer than one of my columns. Maxwell offers an appealing mix of casual humor and candid insight, and the difference between when he began and now is as wide as the gap between the 2006-07 Celtics and last year's champs. I'll never quite understand his bitterness toward Larry Bird, though I suppose it has something to do with Larry heartily endorsing the Bill Walton deal that sent Max to LA Clipper purgatory before the 1985-86 season.
5. Jack Edwards and Andy Brickley, Bruins television: I'm a casual Bruins watcher, at least in comparison to the other three major sports around here. And while I have my half-formed opinions of their announcers — Edwards is eager but prone to ridiculous proclamations, Brickley knows his stuff — I figured I'd turn over the keyboard to someone who hasn't missed a Bruins shift since before he was wearing double-runners. So I give you Matt Porter, one of our Bruins muckers-and-grinders here at Boston.com and the Globe, to give you an actual educated opinion on the TV voices of the B's:
Edwards is a fine announcer. He's technically sound, never leaves us lacking information. And he's creative, which is never usually a detriment to game-calling. However, some of his catchphrases can make you cringe, and he has dozens. So many that a hockey message board created a Jack Edwards Bingo card (which caused NESN to jump in front of the trend and create their own). Since you can't survive on junk alone, you need cool, clearheaded insight to balance Edwards's catch-phrase wackiness. And if Edwards a triple latte and a strawberry frosted, Brickley is a bagel and orange juice. He always delivers, providing Remy-level insight without the self-promotion, in an smart, easily digestible manner. He's one of the best color guys in the business, and we're lucky to have him.
So there you go. If you disagree, take it up with Ports.
6. Gil Santos and Gino Cappelletti, Patriots radio: Yeah, they've slipped some in recent years. The first time Joey Galloway takes one to the house this fall, I fully expect Gil to yell, "Touchdown . . . Harold Jackson!" Gino sometimes seems too preoccupied with squeezing in every last one of the out-of-town scores to notice that, say, Tom Brady has just been submarined in the knee by some obscure Chief. And it's probably time they replaced Mr. Magoo as the spotter. Despite the occasional frustrations and confusion, though, I still greatly enjoy listening to them call the game. Gil's booming pipes remain unmatched, and his call of Adam Vinatieri's first Super Bowl-winning boot still induces chills. ("It's good! . . . It's good! And the New England Patriots are Super Bowl champions!") Gino is like your beloved old uncle who doesn't really know the players as well as you do anymore, but remains good company on game day nonetheless. If these two are the worst we have to listen to, we must be the luckiest sports fans in the country.
Incomplete because I'm Hockey Dumb: Dave Goucher and Bob Beers, Bruins radio: In all honesty, I'm not sure the last time I listened to a Bruins game, but I'm pretty sure Pete Peeters was the goalie. So file this one under You Tell Me. But I've heard nothing but good things, especially about Beers.
* * *
As for today's Completely Random Baseball Card: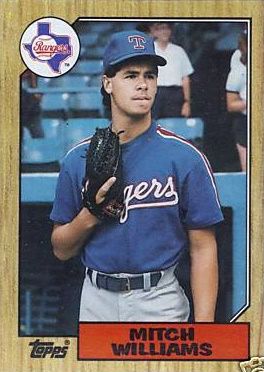 You might have heard former Phillies closer Mitch Williams's blunt and entertaining take on Curt Schilling this morning on WEEI — I believe the key phrase was, "He was a bad teammate." Or: "We were like oil and water."
But it wasn't the first time Williams has made his dislike for his former fellow Phillie public. After Schilling lost his bid for a no-hitter two years ago with two outs in the ninth inning at Oakland, here is what Williams had to say about it to sports radio station WIP in Philadelphia:
"I heard right after he lost it, and I pulled my car over and got the pom-poms out and was doing all kinds of cheers," Williams said during a guest appearance on the station, which played clips of Oakland's Shannon Stewart's two-out hit in Spanish and English. "You wouldn't have a French version? I could listen to that in every language.
"I've always said, if there was a big game I had to win, I'd want him to pitch it. Then I'd want to hit him when it was over."
Just so we have this straight, Mitch: Not a Schill fan?