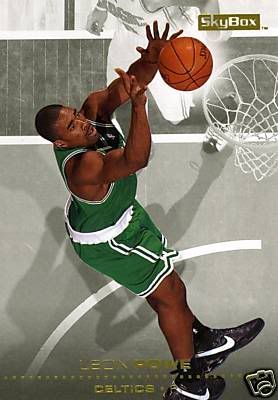 Our first thoughts upon receiving our daily dose of discouraging Celtics injury news were not about the team this time, but the person.
Poor Leon Powe. The number of lucky breaks the Celtics' tough and tireless backup forward has had through the years is right there on his jersey — 0.
All he seems to get are cruel twists. The latest: a torn ACL and meniscus in his left knee, suffered in the second quarter of the Celtics' 118-115 victory over the Chicago Bulls Monday night. He's out for the rest of the playoffs, and perhaps beyond.
We'll second the sentiments of coach Doc Rivers here: It's not fair that this happened to someone who's done "everything right." It's just not.
You know his story. Powe faced so much hardship and tragedy early in his life — including a fire that destroyed his family's home and a subsequent, extended stretch of homelessness — that it sounds like the script for one tear-jerker of a movie.
Such misfortune could have easily destroyed his spirit, yet instead Powe grew up to be a likable, easygoing man with a relentless work ethic. The Celtics have their share of admirable people on their roster, but none more so than Powe. In this story, you root for the happy ending.
No, Doc, stuff like this isn't supposed to happen to guys like Powe — and yet this is the third time he's been felled by a severe injury to his left knee. After his junior season in high school, as he was establishing himself as one of the elite prep players in the country, he blew out the knee, requiring reconstructive surgery.
Most of the major hoops programs backed off, and he landed at the University of California, where he promptly led the Pac-10 in rebounding and was named the conference's Freshman of the Year. But the knee still wasn't quite right, and further surgery — including a bone graft — cost him his entire sophomore season.
No problem — he bounced back with a sensational redshirt sophomore season, averaging 20.5 points and 10.1 rebounds per game, the first player to lead the conference in both categories in the same season. Still, after declaring early for the 2006 NBA Draft, he lasted until the 49th pick in large part because of lingering concerns about his knee.
And now, after establishing himself as a solid, dependable pro, he's dealt this. Another severe knee injury, and another poorly timed one, for Powe is set to become a free agent after the season's end. Some guys have all the rotten luck.

One of Powe's most valuable characteristics is his resilience, and here's hoping — and believing — he can come back. (The injury probably makes it more likely he'll return to Boston, strangely enough.)
I only wish we were so optimistic about his team's current chances without him.
Yeah, we can admit it now — it's not going to happen this year, even if Kevin Garnett does have a Willis Reed moment in him at some point this postseason. This Celtics' team — particularly Paul Pierce, Ray Allen, and Rajon Rondo — carries itself as a champion should, and they are going to be a very tough out in these playoffs. I hate writing them off. But the harsh reality is that if these young Bulls don't get them, someone else will, long before the Larry O'Brien Trophy is awarded.
Garnett's injury was the biggest blow to the Celtics' chances of winning back-to-back NBA championships, but Powe's injury will prove to be the fatal one. The Celtics had just nine — nine — points of bench scoring last night. The front line is perilously thin, to the point that Mikki Moore — he of the Mark Blount hands — is the top reserve, with Brian Scalabrine, who hasn't played since Feb. 23 because of post-concussion syndrome, attempting to make a courageous — or is it foolish? — return in time for Game 3.
There is simply no one capable of replacing Powe, a low-post grinder who is good for a couple of easy baskets per game. Remember, Powe earned his championship ring, most memorably with his breakout 21-point performance in Game 2 of last year's Finals, prompting LA coach Phil Jackson to pretend in the postgame press conference that he didn't know how to pronounce Powe's name. When you've been patronized by the Zen Master, you know you've done something right.
We'd love to see that scene repeat itself this spring. Unfortunately, Leon Powe's season is over, and his team's will be soon. There will be no title defense against the Lakers, no spring rematch. The best we can hope for are a few more victories as fulfilling and exciting as Monday night's along the way. Minus the usual attrition, of course.