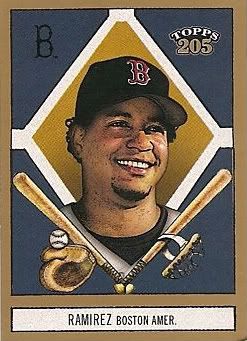 Since everyone and his 6-year-old has weighed in on Manny Being Busted the last couple of days, it was tempting just to sadly shake my head at his mutilated legacy and let the story pass without comment. Maybe you'll wish I'd done just that.
But as one of the last of the Manny Mohicans here in New England — yeah, I still thought well of him right up until the moment I saw the "Breaking News: Manny Ramirez Suspended 50 Games For Doping" headline flash into my Twitter feed yesterday — I figure I might as well throw in my 24 cents' worth. Not only for the sake of closure, but because there is one aspect in particular with this story that has me as frustrated as Big Papi after swinging through an 89 miles-per-hour fastball:
It is ludicrous to suggest that yesterday's sad revelation has any bearing whatsoever on the Red Sox' world championships in 2004 and 2007. Those titles are not tainted, no matter what the hypocritical Yankees fan in the next cubicle over tries to claim. To even suggest as much is to admit that you not only have a personal agenda in this (a deep dislike or jealousy of the Red Sox, for starters) or a complete lack of perspective regarding what will be recorded as baseball's Steroid Era.
The Red Sox' championships are tainted? Really? Then I guess that applies to — let's see — pretty much every other World Series winner of the Steroid Era. For the sport of it, let's quickly zip through the list, starting in 1995 after the players' strike through the Red Sox' victory in 2004, and see how many of those 10 teams have had a player implicated for performance-enhancing drug use at some point:
1995 Atlanta Braves: David Justice
1996 New York Yankees: Andy Pettitte
1997 Florida Marlins: Gary Sheffield, Kevin Brown
1998 New York Yankees: Chuck Knoblauch, Andy Pettitte
1999 New York Yankees: Roger Clemens, Chuck Knoblauch, Andy Pettitte, Jason Grimsley
2000 New York Yankees: Jose Canseco, Roger Clemens, Chuck Knoblauch, Andy Pettitte, Jason Grimsley, David Justice
2001 Arizona Diamondbacks: Matt Williams
2002 Los Angeles Angels: Troy Glaus
2003 Florida Marlins: Pudge Rodriguez (named in Canseco's book).
2004 Boston Red Sox: Manny Ramirez
So there you go. If the Sox' titles are tainted, then so is every single World Series in a 10-year stretch up until their victory. Especially the Yankees' last two championships. (I realize it's not entirely fair to pinpoint Justice and Pettitte, whose reported transgressions happened later than the mid-'90s. Then again, you know there are countless players on these rosters yet to be exposed. The point stands.)
I'll repeat what I said in today's chat — juicing was the way of the world during that era. Yes, it was sad . . . yes, it was shameful . . . yes, the entire scope of it becomes broader with each passing year. And yes, it has left a stain on our cherished game that isn't going to be removed for decades, not until baseball is cleaned up beyond all doubt and judgment has been passed all of the Bondses and Clemenses when it comes to the legitimacy of their Hall of Fame candidacies. The only mildly amusing thing about any of this is that A-Rod's name doesn't appear on the above list. Contrary to what your mom always told you, sometimes cheaters do win. He just doesn't happen to be one of them.
If you were blind or naive enough to believe for a moment that those 2003-04 Red Sox teams — two of the most productive offenses in baseball history — accomplished all of their feats of strength with a lineup that was entirely clean in the midst of the Steroid Era, then let me ask you this: When was the last time you saw a unicorn? If there's any solace to come from this, it's that I'm no longer ticked at Juicin' Jason Giambi for hitting two homers off Pedro in Game 7 of the 2003 ALCS. We got our revenge. The slate is clean, even if the players weren't.
As someone who greatly enjoyed Manny's seven-plus seasons in Boston, well, of course yesterday's news was disappointing, and not just because it gave a lifetime's worth of ammo for the loathsome bleaters whose personal venom toward him has little to do with baseball.
The first thought after it became clear he was not taking something for, as one hilariously erroneous report suggested, off-the-field performance: When did he actually begin using? Circumstantial evidence suggests it was sometime after the 2007 season, when he hit just 20 home runs, looked like a 35-year-old slugger who was losing his bat speed, and was obsessed about getting one more jackpot in free agency. But then, the drug he tested positive for — human chorionic gonadotropin — was something a steroid user takes to restore his testosterone after a cycle. It sure seems to me that it was nothing a novice would have the knowledge to use.
I suppose we'll never know the truth. If Manny told the whole story — when he started, why he started, what he took — he would be the first superstar to do so. But that's not his nature — he'll go underground can while Scott Boras looks for another ridiculous way to spin it. Sadly, we all know that pathetic routine by now.
I do have to admit — maybe I was naive, too, to a degree — that I didn't think Manny was a juicer. His swing is as gorgeous as a righthanded hitter's gets, with a cat's balance and no wasted motion. He isn't freakishly huge. He's had a number of phenomenal seasons, but not one ridiculous outlier like Bonds or Mark McGwire. I thought it was his natural talent and his dedication to his craft that made him the best hitter I've ever seen.
Silly me, I even bought this anecdote, written by Gordon Edes and published in the March 20, 2005 Sunday Globe.
Orlando Cabrera laughed at the notion that Manny Ramirez ever experimented with steroids. "My brother played with Manny in Cleveland," he said. "And Manny hated needles. Every spring, when they took their physicals, Manny would take off, and four, five guys would chase him down. He just hated needles. There's no way he would have ever juiced himself. He just worked hard. When we go on the road, Manny would be out of his room at 8 o'clock, going to the gym. And he practiced hard. He went out to Fenway Park many times to learn how to play the Wall, and he never — never — skipped going to the cage."
I always thought of that story whenever one of my buddies or readers speculated about Manny and PEDs. Maybe it was true then. Maybe something changed. Maybe Manny did start doping just recently. Or maybe Manny duped the Cabrera family.
He certainly duped the rest of us.
In this era, that's par for the course.

* * *
As for today's Completely Random Baseball Card:


Might as well end the week on a funny note. This anecdote didn't quite make the cut for today's media column, but it made me laugh and I thought it was worth passing along here. (See what I did there? That's called synergy.)
It comes from Don Orsillo, who was talking about how much he enjoys working with Dennis Eckersley on the Red Sox broadcasts — even through the Eck "sometimes forgets to have a filter," as Orsillo put it:
Orsillo tells a story about the first time he worked with the excitable Eckersley, when he filled in for Remy during a 2003 game against the Milwaukee Brewers. A Brewers pitcher named Ruben Quevedo was on the mound — ''he was a fairly large guy,'' Orsillo says diplomatically of the El Guapo-like 6-foot-1-inch, 245-pounder — and he was struggling, which was the story of his career. He finished with 14 wins, 30 losses and a 6.15 ERA in parts of four seasons.
After Quevedo allowed three runs in four innings, Eckersley offered his assessment of the burly Brewer:
''Not only is he fat, but he s—-,'' he said.
During the next commercial break, Eckersley turned to Orsillo for a quick critique.
''Was that too much?'' Eckersley asked.
''Yeah, you may want to temper that,'' replied Orsillo.

And on that note, have a good weekend, everyone.