Ten free minutes for me, 10 free throwaway lines for you . . .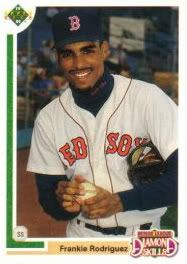 1. Listening to Red Sox player personnel director Mike Hazen discuss the future of last year's No. 1 pick, pitcher/shortstop Casey Kelly, during a radio interview with WJAB in Portland this weekend, I could help think back to a similar decision a previous regime had to make with Frankie Rodriguez. Like Kelly, Rodriguez was considered a premier prospect as a pitcher and as a shortstop. The Lou Gorman-era Red Sox chose to make him exclusively a pitcher. Based on his 5.53 ERA in parts of seven big-league seasons, it was not the correct choice. Kelly has been outstanding on the mound at two levels of Single A this season — he's currently at Salem after going 6-1 with a Gibsonesque 1.12 ERA at Greenville — but the Sox are intent on giving him a look at short after he reaches his innings limit. Not surprisingly, that's a more prudent approach to the pleasant dilemma than the one taken with Rodriguez 18 years ago.
2. I imagine Clay Buchholz is going to catch a lot of heat for his comments about his frustration at being with the PawSox, and maybe he should have kept his feelings to himself considering he is in Triple A because he was such a disaster during an extended stint with the Red Sox a season ago. But in another sense, I liked hearing that he's ticked, that he thinks he's "wasting bullets" in Triple A and should be in the big leagues. Not only because he's essentially right, but because he's going to be on a mission to prove he belongs once he gets to Boston — and he will get to Boston well before the season is done. Just a little patience, kid.
3. All right, now that I'm officially aboard the Brad Penny bandwagon, here's my revised version regarding what the Sox should do with their pitching surplus once John Smoltz arrives: Put Daisuke Matsuzaka on the DL with any alleged injury that they can come up with. If he resists that, either bury him in the bullpen or work Smoltz in as a spot starter — with those spots conveniently coming on days Dice-K is due to pitch. Actually, snark aside, I feel like the Sox will come up with a creative solution for this that doesn't involve a full six-man rotation (meaning Josh Beckett and Jon Lester will still pitch every fifth day), but one in which Smoltz, Penny, and Dice-K all get a decent share of work. How this can be done, I have no idea, but that's why they pay John Farrell the big bucks, right?
4. The coronation of King Kobe was too much for me last night — I lunged for the clicker with about five minutes remaining before I could discover if he now gets a throne to match Phil Jackson's.
5. David Ortiz, over the last 14 days. Thirty-eight plate appearances, 33 at-bats, 3 homers, 11 RBIs, .303 batting average, 1.001 OPS. So I ask you: Is it too soon to say he's back? Because it is very tempting, particularly after his Papi Classic bomb off A.J. Burnett.

6. I'm beyond skeptical that there's even a syllable of truth to the rumors, but . . . if the Patriots do sign Michael Vick, that will tell me two things. 1) Bill Belichick believes he can rehabilitate any troubled talent to the point that the player can help his football team. 2) Myra Kraft has stopped paying attention.
7. Every season, I find myself irrational excited about one or two players on the Patriots roster. (In a related note, I suppose I can now admit that J.R. Redmond will never rush for 1,000 yards.) This season's early candidates are linebacker Paris Lenon (128 tackles for the Lions last year) and a holdover from last year, safety/linebacker hybrid Tank Williams (a versatile toy for Belichick if his knee is sound.) I've formally given up on longtime binky Dave Thomas. Let me know who your Pats sleepers are in the comments.
8. Trevor Ariza made himself a lot of loot — and probably ensured his return to LA — with his performance in the Finals. Which is too bad if you're already pondering what Danny Ainge might do this offseason, because the 23-year-old, who averaged 11.3 points per game in the postseason, shooting 47.3 percent from 3-point range, is exactly the young Posey-like type of talent the Celtics desperately need to add to their bench.
9. If this doesn't bring Ken Tremendous and the boys at FireJoeMorgan out of their much-lamented sports-blogging retirement, then I'm afraid nothing will. I'm convinced ESPN put Steve Phillips in the booth with Morgan this year just to dupe us into thinking Phillips is smart.
10. As for today's Completely Random Basketball Card: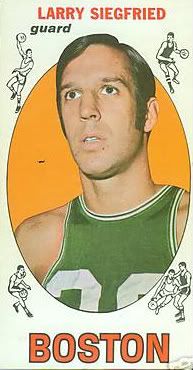 Quite a feat, Kobe. One more ring, and you'll have as many as this guy. (Yeah, yeah, sour grapes . . . but it seems only right that the Lakers would vote playoff shares to Courtney Lee, Jameer Nelson and George Karl.)