Check out this glowing scouting report from the 2007 Baseball America Prospect Handbook. Sound like someone you might want in Your Favorite Team's starting rotation?
About the worst thing any scout will say about [him] is he's a No. 2 [starter] rather than a No. 1 . . . There's disagreement about whether the number of quality pitches he possesses is five six or seven . . . His best is a forkball that dives at the plate . . . He finished an 11-inning win [in 2006] with a 97 mph heater . . . [He] can also make hitters look silly with a 12-to-6 curveball, a hard slider, and a changeup that acts like a screwball . . . There's talk he throws the mystical gyroball, a breaking pitch with double spin, but he denies it. [He] also has command and control of his pitches, as well as a feel for setting up hitters.
All right, so the gyroball reference was a tipped pitch. The pitcher who earned such rave reviews before throwing a single pitch in United States professional baseball is outcast-of-the-moment Daisuke Matsuzaka, who signed a six-year, $52 million deal with the Red Sox — after the club had paid a $51 million posting fee — in the winter following the 2006 season. And that report was rather restrained compared to some of the giddy praise that flowed from fingertips to keyboard after his dazzling seven-inning, 10-strikeout debut with the Red Sox against the mighty Kansas City Royals in April 2007.
Now, I'm certainly not suggesting he'll be as good, because I'm a believer that the 1998-2001 Pedro Martinez was a once-in-a-fan's-lifetime gift from the sports gods, that Petey did things on the mound that we'll never witness again. But in terms of anticipation leading up to a start, then having an absolutely thrilling performance justify every single word of hype . . . well, if that wasn't straight out of the Vintage Pedro playbook, I don't know what is. [His next start] just cannot get here soon enough.
Yep, that was me. I wrote that. I compared him to Pedro Martinez even as I tried to resist, and I'm ashamed. As punishment, I will listen to Bob Costas talk about Mickey Mantle for 24 hours nonstop, the equivalent of aural waterboarding. In all seriousness, it's clear in retrospect that the "Japanese Pedro" stuff fell somewhere between hyperbole and nonsense and we probably should have known it at the time, despite all the international intrigue that surrounded Matsuzaka and his imaginary gyroball. Nobody could be that good. Well, you know . . . except for Pedro.
Today, 24 hours after the Red Sox put his disastrous 2009 season on what may be a lengthy hiatus with a tired and perhaps World Baseball Classic-damaged right shoulder, we're left to ponder exactly what Daisuke Matsuzaka is. While much about his future is cloudy today, we can find some clarity in his past, and this much we do know about the enigmatic 28-year-old:
Save for the occasional spectacular glimpse, during his two-plus seasons with the Red Sox, we've rarely seen that pitcher who was supposed to be a No. 2 starter at worst. But almost as frustrating as Matsuzaka's performance this season is the notion that he's some kind of colossal bust, which has manifested itself in more tasteless "Just send him back to Japan!" comments on this blog than I'd care to admit. Why is perspective always the first thing to go among many fans when a player struggles?
To call Matsuzaka a flop with the Red Sox is beyond foolish, particularly if you put those oversized early expectations on the shelf long ago. As Terry Francona has noted multiple times recently, Matsuzaka won 33 games in his first two seasons in Boston — 36 when his three playoff victories are included. If he had enough career decisions to qualify, he would be on the fringe of the top 50 all-time in winning percentage, even with his 1-5 mark this season. And after his 18-3, 2.90 ERA last season, it was Matsuzaka, and not Jon Lester or Josh Beckett, who received a vote in the American League Cy Young voting.
That is not a pitcher who failed to hold up his end of the bargain. That is not a pitcher that you sell low in a trade or bury deep in the bullpen. That is a pitcher making a significant contribution to a team that has two postseason appearances and one World Championship since his arrival.
Of course, even his most ardent supporters understand the fans' general frustration with the Matsuzaka Experience. He could not be more aggravating to watch, and that often includes when he is going well. He habitually throws so many pitches to get through five innings that he tends to tax the bullpen even on his winning nights. Sometimes it seems like the at-bat hasn't truly begun in his mind until the count on the batter is 3-2. It is neither aesthetically pleasing nor a nice way to pass a summer night to watch a pitcher constantly trying to wiggle his way out of jams of his own making.
And that repertoire raved about in the Baseball America snippet? Apparently, he left a couple of those five, six, or seven pitches behind in Japan, and a couple of miles per hour on the radar gun were lost somewhere in translation. Or maybe he left them on the mound at the WBC, the bane of every competitive pitcher's existence but a nice source of revenue for the likes of Dr. James Andrews.
No matter how this plays out for Matsuzaka — and there has to be some concern inside the walls of Fenway that his arm is running low on bullets after so many high-leverage innings through the years — the truth is that the Red Sox will be a better baseball team if he can find his form of his first two seasons stateside, before his statistics began to look like something straight out of the Toby Borland Collection. The "get 'im gone" approach is shortsighted bordering on the ignorant.
No, he's not what he was supposed to be. But what he was during his first two seasons with the Red Sox was plenty good enough.
With three years left on his Red Sox contract and his career at a puzzling crossroads, here's hoping he can return to driving us crazy in victory once again.
* * *
As for today's Completely Random Football Card: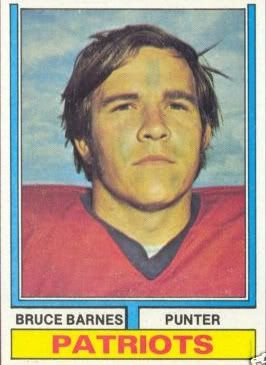 Here's one for the Patriots' old-timers: Is his kid a better golfer than he was a punter? I'm assuming a resounding yes.