Matsuzaka puts Red Sox in big hole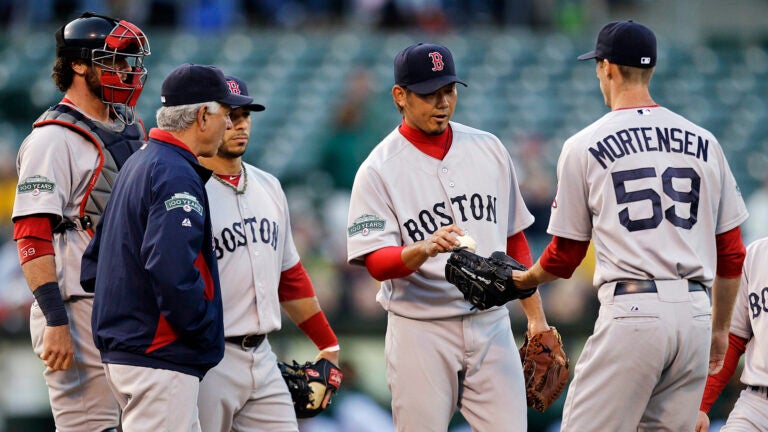 OAKLAND, Calif. — Daisuke Matsuzaka assured the Red Sox he could pitch against the Oakland Athletics on Monday despite a sore muscle on the right side of his neck.
But once he took the mound, that optimism proved badly misplaced. Matsuzaka, who gave up five earned runs, could not get out of the second inning in a game the Red Sox lost, 6-1, before a crowd of 17,434 at Oakland-Alameda County Coliseum.
A sore trapezius muscle is the latest in a litany of physical issues that have turned Matsuzaka (0-3) into an expensive spare part for the Red Sox. The issue affected him in spring training and again in May. Now it appears likely to send him back to the disabled list.
"Leading up to the start, my neck tightened up a little bit and I ended up not being able to throw a bullpen,'' Matsuzaka said via his interpreter, Jeff Cutler. "I focused on getting myself into condition to pitch tonight. I went out there tonight and ended up not being to get my arm through.''
Matsuzaka answered only three questions before a Red Sox staff member ended the interview session abruptly.
"The decision will be made sooner than later,'' Matsuzaka said when asked about going on the disabled list.
One of the team's best starters in his first two years after being signed out of Japan at a total cost of $102 million, Matsuzaka has been one of the worst in the four years since.
Matsuzaka is 16-18 with a 5.17 ERA and a 1.49 WHIP since the start of the 2009 season.
Monday was the third time in his Red Sox career that Matsuzaka has lasted one inning in a start. In 2009, also in Oakland, he allowed five runs in one inning and went on the DL the next day. A repeat of that scenario is possible.
"Dice obviously didn't have his good stuff tonight,'' manager Bobby Valentine said. "We were hoping he was going to work through it. As it turned out, he didn't work through it.''
With Clay Buchholz expected to come off the DL later this month and Franklin Morales and Aaron Cook pitching well, Matsuzaka may not be needed for a while. He has a 6.65 earned run average in five starts since returning from elbow surgery.
The dispirited Sox managed only six hits, five singles. Clayton Mortensen and Mark Melancon allowed one run in seven innings of relief of Matsuzaka but the offense never got in gear against Jarrod Parker (5-3). He allowed one run over 6⅔ innings.
Adrian Gonzalez was 1 for 4, extending his hit streak to 13 games. It's the longest active streak in the majors.
Josh Reddick, whom the Red Sox traded to Oakland in December in the ill-fated deal for Andrew Bailey, drove in two runs with a home run and a sacrifice fly.
The Sox are 2-3 on a road trip that has two games left.
The Sox took a 1-0 lead in the first inning, Daniel Nava leading off with a double against Parker and scoring on a single by Dustin Pedroia. That drew loud cheers in Oakland Coliseum. Nava grew up 30 minutes away in Redwood City and Pedroia about 90 minutes away in Woodland.
Matsuzaka got two outs before his first pitch to Reddick was a belt-high 91-m.p.h. fastball over the heart of the plate. Reddick is a notoriously aggressive hitter and he hammered the ball over the fence in right field for his 19th home run.
The second inning was complete unraveling. Seth Smith led off with a drive to center field that Ryan Kalish tracked down. But the ball ticked off his glove and was charitably ruled a double.
"Personally I thought I should have caught it,'' Kalish said. "I was there.''
Matsuzaka then walked Derek Norris. Another former Red Sox outfielder, Brandon Moss, was next. Matsuzaka threw him the same pitch he did to Reddick, only at 89 m.p.h. It was driven over the scoreboard in right field, giving Oakland a 4-1 lead.
Brandon Inge followed with a single before Cliff Pennington walked on four straight fastballs that were high and outside.
That was enough for Valentine and Matsuzaka was finished after 28 pitches and nine batters faced. By those measures, it was the shortest outing of his career.