Will Middlebrooks out of the Red Sox lineup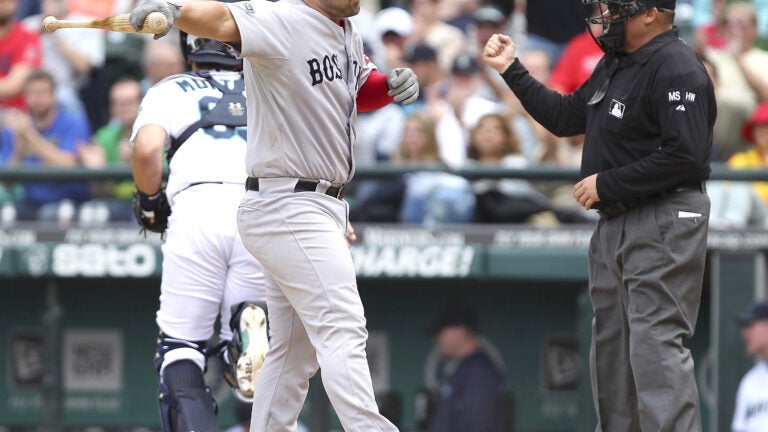 OAKLAND, Calif. — Will Middlebrooks, who strained his left hamstring in Seattle on Sunday afternoon, was not in the lineup for Monday night's game against Oakland.
But the 23-year-old rookie wasn't on the disabled list, either. In what has become a regular event this season, the Red Sox played with a short roster while trying to determine what to do.
Middlebrooks left Sunday's game after an awkward slide into second base in the ninth inning. He had occasional hamstring tightness earlier this season, but this was worse.
"He feels better today than he did yesterday and better than he expected to be today,'' manager Bobby Valentine said. "That's the only news we have and that's good. It's not discolored and that's good. But it's going to be some days . . . maybe DL; maybe a few days. It's just one of those injuries.''
Nick Punto started at third base, leaving the Red Sox with only two position players on the bench — backup catcher Kelly Shoppach and utility player Brent Lillibridge.
"We'll see how we go through tonight,'' Valentine said. "I wouldn't be surprised if we have someone here tomorrow.''
The only infielders on the 40-man roster not in the majors are first baseman Mauro Gomez and shortstop Jose Iglesias. Valentine said he did not like the idea of using Mike Aviles at third base.
Pawtucket had Pedro Ciriaco playing third base on Monday. The Red Sox recently signed Andy LaRoche, who has five years of major league experience at third base.
If Middlebrooks is going to be out for any length of time, the Red Sox may have to pursue a third baseman on the trade market.
Punto is capable of playing the position but entered Monday night's game hitting .200. Lillibridge has started only seven games at third base in his career. He is hitting .157 this season.
Ellsbury goes deep
Jacoby Ellsbury was 1 for 2 with a walk and a two-run homer for the Gulf Coast League Red Sox in Fort Myers, Fla. He also played six innings in center field.
Ellsbury is 2 for 6 with four walks in three games for the GCL Sox. He is scheduled to play for them again on Tuesday, then join Double A Portland later in the week.
Carl Crawford worked out with Portland on Monday and will play for the Sea Dogs on Tuesday night at Hadlock Field against Trenton. Crawford was 3 for 14 with five walks in five GCL games.
Crawford told reporters in Portland he feels good physically, his left elbow having responded well to playing left field while in Florida.
Scott Podsednik started in center field for Triple A Pawtucket on Monday against Rochester. He was 1 for 4 and scored in his third rehab game.
Podsednik, who is on the disabled list with a groin strain, may not be far away from rejoining the Red Sox.
Ryan Sweeney was running in the outfield before the game and said later he is preparing for a rehab game on Thursday, possibly with Portland.
He has been on the disabled list since June 17 with a fracture in his left big toe.
"I feel pretty good,'' he said. "I don't know how many games I would need before I can come back.
"They told me it's a timing issue with the other guys in the outfield. But physically I'm getting there.''
Sweeney has been running with a special insole in his cleat to protect his toe.
"I can swing a bat pretty well. I just need to see some pitches and see how I cut in the outfield,'' he said.
Once Sweeney, Podsednik, Crawford, and Ellsbury are ready to return, the Red Sox will have a lot of roster decisions to make, with both the 25-man major league roster and the 40-man roster.
"[GM Ben Cherington] and his guys have done such a great job,'' Valentine said. "I think in the next 10 days they're going to be so challenged. I can't even recite to you all the options and the decisions that have to be made.''
Carpenter starts up
Remember Chris Carpenter? He's the righthander the Sox received from the Cubs as part of the long-delayed Theo Epstein compensation deal.
Carpenter had surgery to remove bone chips from his elbow during spring training, but he returned to the mound on Monday and pitched an inning in the GCL game. He allowed one hit.
Carpenter, whose fastball approaches triple digits, has shown promise as a reliever. He is on the 60-day disabled list.
Feeling better
Aviles was back in the lineup after being scratched Sunday because of flu-like symptoms. He came off the bench in the ninth inning when Middlebrooks got hurt and played two innings.
"Everything hurt yesterday, even my teeth,'' Aviles said. "I was on the couch in the clubhouse. But when Bobby asked, I went out there. I knew I could play a few innings.''
Stranding them
Entering Monday night's game, Vicente Padilla had kept 22 of 30 inherited runners from scoring. Andrew Miller had stranded 22 of 23. "Both of those guys take a lot of pride in that,'' Valentine said . . . Dustin Pedroia (of Woodland, Calif.) and Daniel Nava (Redwood City, Calif.) had a pile of family and friends at the game.