Hingham High girls' crew focuses on Head of the Charles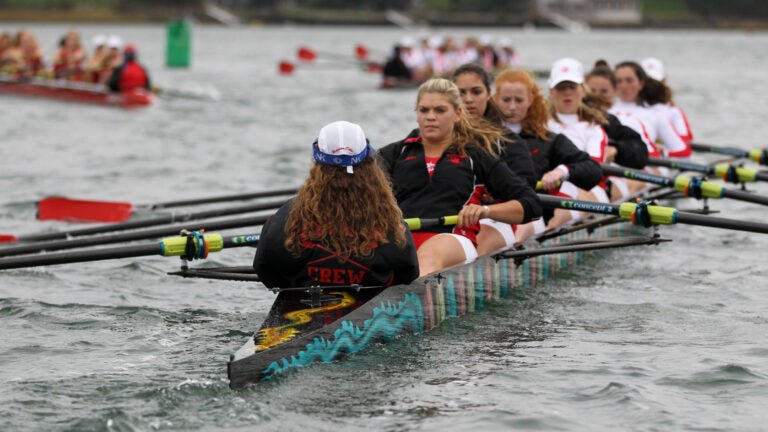 As the rain picked up across Hingham Harbor Wednesday afternoon, the waves began to crash, and the girls on the Hingham High crew team picked up their speed, putting their arms and legs into overdrive to keep up with the challenging current.
Through the wet and wind, coach Dusan Nikolic, at the wheel of a launch cruising alongside, yelled to his rowers that it was time to move inside because of the inclement weather.
The girls lifted their $35,000 boat out of the water and carried it up next to the "boat house,'' which in reality is a trailer. The rowers, wet and tired, walked over to the ergometer machines situated under a roof to protect them from the rain. The ergs/rowing machines allow the girls to continue their training on land.
This is a normal practice for the boys' and girls' rowing program at Hingham High. Despite being the largest athletic program at the high school in terms of numbers — 97 rowers — the crew team receives less funding than any sport.
There are no showers, bathrooms, or changing areas in their makeshift boathouse. Most of the money goes to financing, and repairing, their expensive boats.
The majority of the funds collected by the team is conducted through fund-raising, like canning at local stores and more creative events, including the "ergothon'' they run every spring in downtown Hingham. The Harbormen seek sponsors to pledge for every 10 meters they row. That money is used for equipment; athletic user fees fund pay for facility use, coaching costs, race registration and insurance.
The girls will row 5 kilometers on their ergs, the same distance as the upcoming Head of the Charles Saturday and Sunday.
The world's largest two-day rowing event, the Head, will be a test for the Hingham girls, who captured the points' trophy at the 3d annual New England Junior and High School Regional Championships held on Lake Quinsigamond Oct. 7. Two varsity boats finished first and another second.
"It's a very challenging thing for this team to operate because we don't have all the benefits that some other teams might have such as a boathouse, hot showers, place to change, locker room,'' said Nikolic.
"They have calm water, not salt water. We have a lot of obstacles here that we try to deal with. We don't see them as a burden. We see them as something that motivates us to work even harder, because if we can be the best with all these obstacles, it's a very satisfying thing to know.''
Their persistence and dedication is paying off.
Senior captain Emma Whalen is weighing scholarship offers from the University of Texas and the University of Miami.
"All the work I've put in has paid off, and it's not going under, and I have a future in the sport at least through college,'' said Whalen. "It's definitely something I've wanted to continue doing, so for someone to tell me they want me to row for them is really exciting.''
Hard work is an understatement.
In addition to training in wet weather occasionally, rowers practice six to seven days per week. In the "offseason,'' Nikolic puts together a training program that consists of weight lifting, cycling, running, and even yoga to keep the girls flexible and to build core strength.
"I think the hardest part is the mental aspect,'' said Lily Snow, a senior captain.
"It's hard to just try to keep pushing yourself even though you know your legs are about to fall off and your back hurts and you just want to stop. It's the mental push you always have to give yourself. I always say to my team, 'Stay strong. You can do it' because it really is mentally very difficult to keep pushing yourself.''
Hingham is motivated after its top boat placed 38th out of 75 boats at last year's Head of the Charles with a time of 18:56.
"We're hoping to go even faster and just try to beat our time from last year,'' said Snow. "It's more about personal achievement than anything else.''
Senior Eliza Daniels, who has committed to row at UCLA next year, says the Head is like no other race.
"I'm excited,'' she said. "There's so many spectators, and usually for head races, it's tough to stay motivated because it's so long,'' she said.
"You lose momentum, but every inch of the Charles there's someone cheering for you no matter where you are, so there's so much energy going through, which I love.''
"I heard that rowing could really bring you places for college and open doors and opportunities that I wouldn't be able to have normally, and I'm really excited to continue my passion for this sport,'' she added.
The opportunity to row at the collegiate level, on scholarship, has generated more interest in a program that was started in 2006. Next spring, the coaches will likely have to make cuts for the first time.
Though private schools, such as Noble & Greenough in Dedham, have fielded crew programs for a number of years, the sport is in its infancy in public schools. Until Milton High started a program in the spring of 2011, Hingham was the only public program from schools south of Boston.
For Hingham, the focus this month is clearly on the Head of the Charles, and the girls' high school race Sunday afternoon at 1:50.
"Last year, we got into the top 50 percent, which gave us a secure entry for this year,'' said Nikolic. "Usually people do have to go through a lottery, because it's a very popular regatta. It's the biggest regatta in the world, and so our goal this year is to be in the top 15 boats.''